Today's WooCommerce store owners may use email marketing solutions to nurture potential prospects over time. While marketing technology has advanced over time, email remains the most effective way to communicate with clients on a long-term basis.
You may engage with your target audience, give updates about their purchases, and even send more relevant messages based on each customer's behaviour on your store with the proper email marketing tools. When used appropriately, your marketing approach can increase customer lifetime value and foster greater client loyalty.
Fortunately, there are a number of plugins and integrated technologies available for WooCommerce site owners who want to link their store with their email marketing strategy. Here's a list of the best email marketing platforms for WooCommerce.
Sendinblue
Sendinblue is one of the most well-known email marketing solutions on the market, and it's built to operate with a variety of website platforms, including WooCommerce. The WooCommerce Sendinblue plugin is available for free download and installation on your website.
The native integration synchronizes all of your customer data with Sendinblue and combines all of your messages into a single inbox. By integrating WooCommerce transaction data into the Sendinblue environment, you can further categorize your contacts depending on their purchase habits.
It's also a breeze to integrate Sendinblue with WooCommerce. To install the plugin, simply log into your WooCommerce account and go to the Extensions section. You can effortlessly develop and send appealing newsletters with improved email deliverability and customization aspects from there.
Pros:
Unlimited email support is excellent.
WooCommerce integration is simple.
Easily synchronize all of your contacts and product information.
Create easy-to-read newsletters with drag-and-drop functionality.
Send transactional and marketing SMS to your customers.
There were also sign-up forms.
Facebook ads are also accessible.
Cons:
It's not the best scalable email tool for ecommerce
It may take some time to get used to.
Pricing:
The Sendinblue WooCommerce plugin is free to download, but you'll need a Sendinblue account to send emails. Beginners can use the free version, while paid packages start at $35 per month for the lite version of the email marketing service, or $65 per month for the premium solution, which includes landing pages, Facebook advertisements, and numerous users.
Omnisend
Omnisend is a clean and convenient email marketing platform designed to make it simple for business owners to create precisely developed campaigns for their clients. Companies may send SMS and email messages using the Omnisend platform, which integrates various channels for better advertising options.
The Omnisend drag-and-drop email designer makes it simple to change your content when used within your WooCommerce store, owing to a native integration. To include item information in your mailings and campaigns, you can sync your product catalogue with your email marketing campaign. There's even direct access to your WordPress contact database and extensive reporting.
It's simple to use, and it has a great selection of popups and landing pages for your marketing campaigns.
Pros:
Excellent analysis and reporting
Designer using a simple drag-and-drop interface
A wide variety of popups and landing pages are available.
Emails with suggested products and abandoned carts
For beginners, there is a free version accessible.
SMS marketing is also supported.
Cons:
It's quite easy to overspend on Omnisend
A limited number of complimentary copies are available.
Pricing:
Omnisend's WooCommerce connection is included in one of the company's price plans. If you only need basic functionality and access to up to 250 contacts, there is a free version available. Email marketing starts at $59 per month for 500 contacts, while standard email solutions start at $16 per month for 500 contacts.
3.MailPoet
MailPoet is another amazing email marketing solution that comes with its own native WordPress and WooCommerce integration. The integration allows you to manage your complete email marketing plan directly from your WooCommerce dashboard, making it easy to track customer journeys, segment marketing campaigns, and increase conversion rates. To help you get started, there's even a free plan for businesses with up to 1,000 users.
The MailPoet WooCommerce plugin includes GDPR-compliant signup forms that will automatically add emails from your target audience to your WooCommerce list. You may also set up automated email marketing campaigns to greet customers or follow up on abandoned carts.
Pros:
Dedicated WooCommerce and WordPress plugins with extensive income tracking and reporting
Forms should be placed on your checkout page.
Recommendations generated by software and abandoned shopping carts
Customers can be segmented in a variety of ways.
WooCommerce's drag-and-drop editor
Automated emails and newsletters sent automatically
Cons:
Options for email templates are limited.
There are several restrictions on email scheduling.
Pricing:
As previously stated, MailPoet's free plan is quite liberal, allowing you to send unlimited emails to up to 1,000 subscribers. You'll need a paid account if you want to remove the MailPoet branding and access more detailed email statistics and revenue reporting. For the most basic features, prices start at roughly $13 per month.
Constant Contact
Constant Contact is a multi-functional solution for engaging your consumers across numerous channels and is another wonderful option for email marketing automation in WooCommerce. You may choose from a wide choice of email marketing templates, as well as integrations with social media platforms like Instagram and Facebook, allowing you to contact customers wherever they are.
Constant Contact may be the WordPress plugin for you if you're searching for an email marketing platform that can handle everything from product recommendations to marketing calendars. The WooCommerce integration makes it simple to sync contacts, segment your audience for more tailored messaging, and much more.
You can even drag and drop things from your product list into email marketing campaigns to give your audience a more engaging experience.
Pros:
There are numerous tools available for simple automation.
Social media and website integrations
Forms of registration and landing pages
Editing by dragging and dropping
Tools for creating websites with artificial intelligence
Cons:
Customer service can be slow at times.
No special plan for beginners.
Pricing:
A free trial is provided to assist you get a feel for Constant Contact's capabilities and see what it has to offer. However, there is no such thing as a free plan that lasts forever. The initial paid packages start at $20, and the price rises as the number of contacts you have increases.
All of Constant Contact's basic services include unlimited email sends, signup forms, integrations, apps, and other features. On the basic plan, you can even obtain support for up to five users.
Mailchimp
Mailchimp is an easy-to-use tool with its own built-in CRM and a slew of useful features. It's probably one of the more well-known email marketing solutions on the market. You may simply discover a variety of ways to engage and convert your customers with the Mailchimp email marketing plugin.
From cart abandonment to ecommerce business updates, you'll be able to design full automation techniques. The Mailchimp system includes cross-selling and upselling technology, as well as segmentation, to help you get the most out of your email list.
Access to various analytical reports is also included in Mailchimp's WooCommerce features, so you can observe which of your email marketing campaigns are having the most positive influence on your customers.
Pros:
Functionality that is simple to use
CRM solution that is integrated
Multi-step omnichannel selling trips
There is a lot of help for newcomers.
Built-in intelligence and send-time optimization
Several template choices
Cons:
Reporting options are somewhat limited.
Scaling your capabilities might be costly.
Pricing:
Mailchimp has a free plan that allows you to connect with up to 2,000 contacts, but you will have to deal with Mailchimp branding. Premium plans start at $9.99 for the "essentials," with data-driven automation and optimization tools costing at least $14.99. Premium functionality is also available for $299 per month.
Conclusion:
There are a variety of ways to integrate email marketing into your WordPress site and WooCommerce store. WooCommerce isn't just good for SEO; it's also good for integrating a variety of other important technologies, such as Google analytics and HubSpot CRM, as well as Amazon sales and, of course, email marketing.
Many of email marketing platform alternatives listed above provide free trials so you may try them out before investing. Before you start spending money, it's a good idea to try out a few possibilities to be sure you've found the ideal email marketing tool for you.
Too many apps for one WooCommerce store? Try this!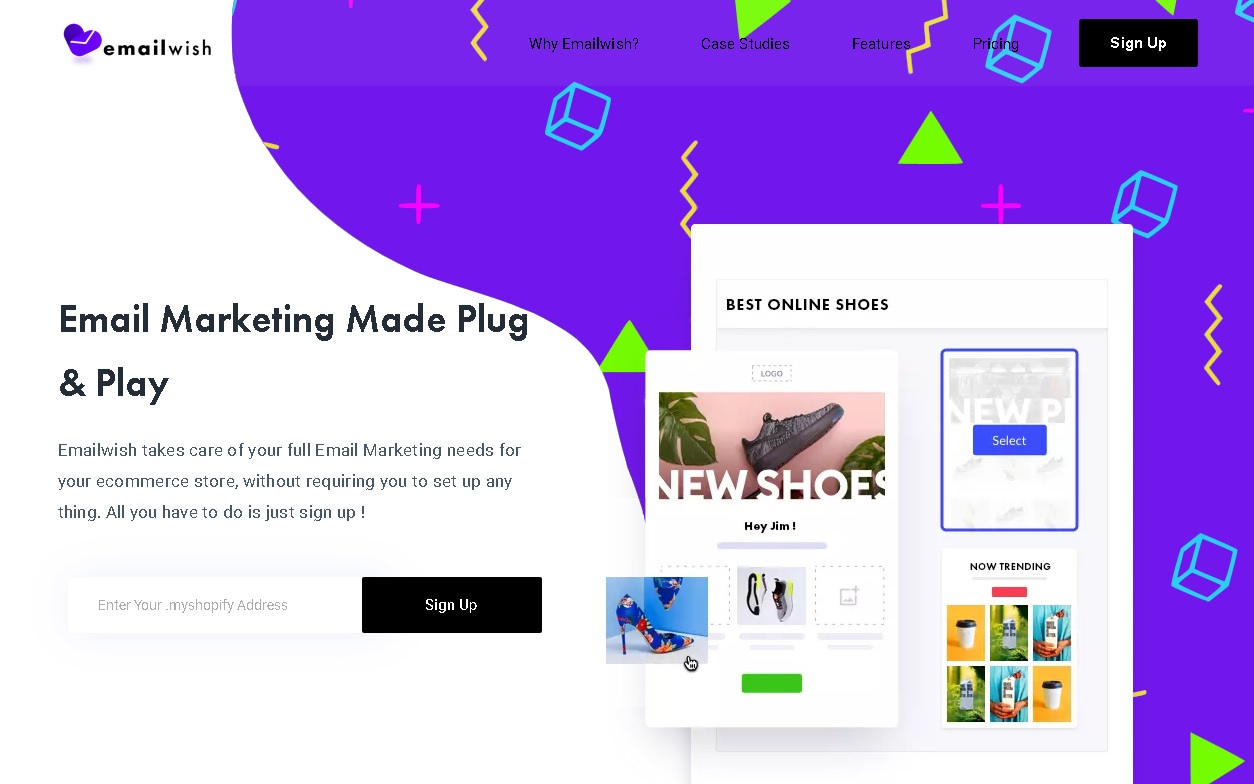 Emailwish is an all in one app that offers chats, reviews, email marketing, pop ups, abandoned cart notifications, email automation templates for all the services under one hood. It has been built by combining the features into one single app, which has most of the process automated for customer ease.
Using Emailwish you can handle multiple tasks in one place easily after investing some time setting things up such as email automations and rules as to what reply should be given to whom and on what condition, when should the app send review requests to customers who bought your products (instantly or a few days later?) and as what pop is supposed to be shown on which page and when.
The feature to Chat is also inbuilt in Emailwish where you can chat to your customers who are replying to you on different platforms to be received on one single platform by you. Emailwish also collects customer data and your previously collected data and they seamlessly flow into Emailwish once you have integrated the app with your WooCommerce store.
The best part of Emailwish is that the app is charged based on number of emails that you will be sending to your customers and not on any other parameters, such as number of times pop ups are displayed and all. Another good thing about this app is that it automates most of commonly required responses and automations by itself and you do not even need to code, you just need to specify the conditions.
An app with all these features and option will be costly, is what you are thinking right? But no, see the prices for your self. They are unbelievably affordable.
Beginner – $25/month (upto 30,000 emails, with $0.9/1000 emails after crossing limit)
Advanced – $99.95/month (upto 120,000 emails, with $0.87/1000 emails after crossing limit)
Enterprise – $399.95/month (upto 480,000 emails, with $0.85/1000 emails after crossing limit)