Email marketing is a terrific approach to increase conversions, sales, and repeat business for your firm.
The cherry on top is that it's not only inexpensive, but also relatively simple to implement – especially since the great majority of your store's emails can be automated in response to customer activities.
Of course, some email marketing campaigns are better suited to Shopify than others, such as those that provide direct interfaces, allow you to send triggered emails (such as abandoned cart campaigns), and allow you to access your shop data directly from your email marketing software.
We've tried to save you some trouble. So, we tested a number of email marketing apps for shopify. The results have been complied into this article where we talk about the best email marketing apps on shopify.
Omnisend
Omnisend was designed from the ground up to be an e-commerce platform. As a result, it'll work with practically any e-commerce platform you're utilizing (other than Shopify). Its feature set has been optimized to guarantee that your Shopify business has all it needs to thrive. Omnisend, like ActiveCampaign, offers more than just email functionality. It supports SMS marketing and, by utilizing data from your store, will improve your paid promotional operations.
The forms are what we like best about Omnisend. Omnisend makes collecting new emails for e-commerce firms a breeze. For a low price, Omnisend competes with all enterprise-level email platforms.
Pros:
Email editor with drag-and-drop functionality.
Forms and popups creator that is simple to use.
Tools for segmentation that are quite effective.
There are numerous connectors with various e-commerce platforms.
For its capabilities and value for money, it is very reasonable.
Excellent reporting.
Cons:
A number of technicalities are associated with learning the system
Limited designs of email templates to chose from
Pricing:
Free for up to 500 emails a month, Standard: Starts at $16/month, Pro: Starts at $59/month.
SendinBlue
Don't forget to use your transactional emails to their full potential. SendinBlue manages all of your operational, transactional, engagement and re-engagement emails, and transactional emails and SMSes in one place.
Without any technical knowledge, you can effortlessly integrate your customer data from Shopify to your SendinBlue email marketing account, configure your automation workflows, design your emails, and send them out.
A free Shopify software from SendinBlue makes designing email automation flows and launching email campaigns a breeze.
Pros:
Even the free account is quite effective as it has multiple features.
It provides a more personalized customer experience by managing transactional and engagement emails.
Enhance transactional email deliverability (to avoid the spam folder).
Triggers for cart abandonment.
Heat map and real-time analytics.
SMS integration is possible.
Cons:
When it comes to customer service, it's not the finest.
When it comes to automation builders, there is a steep learning curve.
The template selection, according to some reviewers, is rather limited.
Pricing:
Free option for up to 300 emails a day, Lite: $25 p/month, Essential $39 p/month, Premium: $66 p/month.
Moosend
Moosend is a robust email marketing automation platform that lets companies of all sizes create, manage, and execute email campaigns.
Email analytics, A/B testing, a drag-and-drop email editor, and list segmentation are among the software's most useful features. It also allows for advanced customizing with its templates and aids in the creation of speedy landing pages.
It only takes a few minutes to connect Moosend to your Shopify store. You don't need any coding knowledge to get started, and it only takes a few minutes. Actions from your Shopify store can be used as triggers for your automated campaigns.
Data from your Shopify store is instantly collected and kept, allowing you to construct custom email lists that only send to the most qualified prospects.
Setting up automated email sequences for payments, new orders, cancelled orders, and abandoned carts is also quite easy in Moosend. Moosend also provides effective services to understand the ways of customer retention.  
Pros:
Moosend's automation capabilities are unrivalled.
There are eight different workflow choices available in the free plan.
The software allows you to send limitless emails to up to 1000 people.
With a variety of built-in, configurable templates, creating newsletters is simple.
Cons:
Some functional bugs need to be fixed for better performance.
Limited analytical capacity.
Pricing:
Free for up to 2000 subscribers. Then starts at $8/month.
ActiveCampaign
ActiveCampaign is a sophisticated marketing automation software, and its Shopify integration makes syncing customers between your Shopify and ActiveCampaign accounts even easier.
Although ActiveCampaign is known for its email marketing capabilities, it doesn't end there. It serves as a hub for all of your digital marketing efforts. From clever sponsored advertising to SMS and more, we've got you covered.
Pros:
Excellent segmentation capabilities, as well as the ability to sync customers across many lists.
Automation builders that are both powerful and simple to use are, in our opinion, their best feature.
Excellent client service.
Provides industry's best email deliverability.
Effective switching from another email platform due to their free migration services.
Cons:
Limited functions available in the email editor tools.
The workflow setup has a steep leaning curve.
Price difference between two packages is very high.
Pricing:
Lite: $9, Plus: $49, Professional: $129, Enterprise: $22
ConvertKit
ConvertKit is a low-cost email marketing service that is ideal for artists, musicians, and other creatives that sell their wares on Shopify.
Their user-friendly, graphic design makes selling your products simple and straightforward.
While it is aimed for those who aren't particularly tech-savvy, it also includes complex capabilities like visual automation builders and integration with over 90 platforms and suppliers.
Pros:
User-friendly.
Customer service is excellent.
A free migration service is available.
Upskill your email marketing skills with this free online course.
Create a landing page with the help of a landing page builder.
There is no coding necessary, which is ideal for novices.
Cons:
The editor is so simple to use that people with advanced skills can feel it mundane.
Pricing:
Free for up to 500 subscribers, Complete option starts at $29 p/month.
Klaviyo 
Klaviyo is a robust email marketing and automation platform that provides a 360-degree picture of clients as well as a comprehensive set of functionalities. This is one of Shopify's greatest free email marketing apps.
Klaviyo allows you to segment and analyze your customers, improve personalization, automate specific communications, and boost your return on investment.
Pros:
There's a free tier that includes unlimited A/B testing.
Data and analytics that are really useful.
Ads on Facebook and Instagram are integrated.
Tracking and reporting depending on the return on investment.
Other major ecommerce platforms are compatible.
Cons:
The free tier allows for a limit of 500 emails and 250 contacts; further charges apply.
On their website, they do not give prices for additional charges up front.
Expect subpar customer service and to wait a long time for an answer.
Many reviews mentioned that Klaviyo took up to 24 hours to review their campaigns, so keep that in mind while planning your ads.
Pricing:
Free for up to 500 emails and 250 contacts
MailChimp
Because of their excellent marketing and endearing monkey-fied style, MailChimp is frequently the first email newsletter tool that comes to mind for all email marketing requirements.
MailChimp has a free subscription that allows you to send up to 10,000 emails to 2,000 subscribers per month. This is great news for individuals and small businesses, as most of the tools are available for free. Their in-built CRM is another option available with their free membership. If you're a small business seeking for an all-in-one solution, this could be just what you're looking for.
They also offer pay-as-you-go plans, which are more cost-effective for low-volume clients while also including features like automation and integration.
Pros:
Importing your own email templates is very easy.
Multiple integration options are available for integrating with online presence across various social media platforms.
Comparative metrics.
The logo can be easily removed.
Cons:
MailChimp reserves the exclusive right to suspend your account which might result in problems for your business.
Having a membership-based site with MailChimp can be difficult.
Email templates have to be mostly created by the users for themselves.
The interface is a bit awkward and can feel like a time killer for many users, especially the ones who have used other email marketing apps before.
Pricing:
Free Trial, Essential plan available for $14.99 per month and a pro plan available for $24.99 per month
Conclusion:
When it comes to selecting the best tool for your Shopify email marketing plan, it's crucial to first define your needs and objectives before deciding on the features you want.
Don't forget to double-check that you're getting the most out of any other programmes or software you've already purchased.
Reading reviews is a wonderful method to get a sense of what other Shopify merchants and marketers thought of the app. However, we strongly advise you to make an effort to fully utilize the free trials in order to locate the perfect match.
Too many apps for one Shopify store? Try this!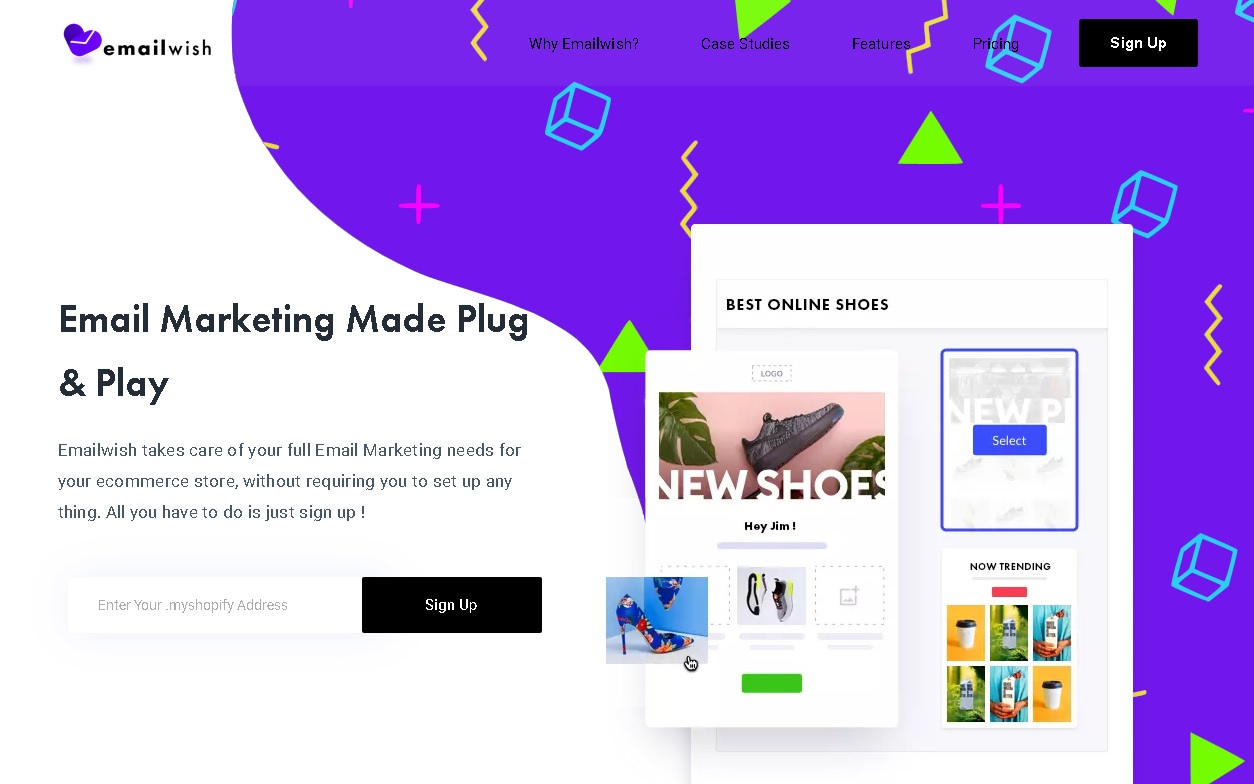 Emailwish is an all in one app that offers chats, reviews, email marketing, pop ups, abandoned cart notifications, email automation templates for all the services under one hood. It has been built by combining the features into one single app, which has most of the process automated for customer ease.
Using Emailwish you can handle multiple tasks in one place easily after investing some time setting things up such as email automations and rules as to what reply should be given to whom and on what condition, when should the app send review requests to customers who bought your products (instantly or a few days later?) and as what pop is supposed to be shown on which page and when.
The feature to Chat is also inbuilt in Emailwish where you can chat to your customers who are replying to you on different platforms to be received on one single platform by you. Emailwish also collects customer data and your previously collected data and they seamlessly flow into Emailwish once you have integrated the app with your Shopify store.
The best part of Emailwish is that the app is charged based on number of emails that you will be sending to your customers and not on any other parameters, such as number of times pop ups are displayed and all. Another good thing about this app is that it automates most of commonly required responses and automations by itself and you do not even need to code, you just need to specify the conditions.
An app with all these features and option will be costly, is what you are thinking right? But no, see the prices for your self. They are unbelievably affordable.
Beginner – $25/month (upto 30,000 emails, with $0.9/1000 emails after crossing limit)
Advanced – $99.95/month (upto 120,000 emails, with $0.87/1000 emails after crossing limit)
Enterprise – $399.95/month (upto 480,000 emails, with $0.85/1000 emails after crossing limit)