$230,000 USD in sales in the first year without starting with much money to begin with. This is the case study of our founder Ankit, detailing how he grew his new dropshipping business without any prior experience in e-com industry. In the next year, Ankit was able to achieve over $300,000 USD in sales, bringing the two year total to over $500,000 USD Although $500,000+ is not a lot of money but we sincerely feel that this guide can help people who are just getting started with dropshipping, irrespective of what their starting budget is.
What is Dropshipping ?
Dropshipping is something which is getting popular these days. If you don't know what dropshipping is, here is a short introduction.
Drop shipping in truest sense means a fulfillment/shipping method where a store doesn't handle shipping/fulfillment.
This can be achieved in two ways. Either the seller buys stock and a third party handles the fulfillment process or the seller doesn't buys stock and the fulfillment is handled by the supplier on a one-to-one basis.
In this one-to-one basis, when a store sells a product, it purchases the item from a third party and has it shipped directly to the customer. As a result, the merchant never sees or handles the product. This method minimizes risk since the seller doesn't have to buy products in bulk and has to only buy them after he has made a sale.
It is that method of not buying stock is what is known Dropshipping on the internet and that's what we will focus on in this article.
Dropshipping isn't just installing Oberlo and getting traffic through 5$ ad-sets on Facebook as taught by most of the gurus on YouTube and Facebook groups. It is just the basic idea of selling without having to care about fulfillment and shipping. How you execute is up to you.
How to get started with Dropshipping ?
There seems to be a lot of disinformation on internet which strictly lays down a few steps as a guide to do Dropshipping. The typical guide includes, Get a Shopify Store, do $5 ads on Facebook, install Oberlo to fulfill the orders (assuming you are dealing with multiple vendors). Keep adding new ad sets while closing the old ones till you get lucky and get sales.
If you get lucky and have some initial success, if you are starting a different store and doing different products, you start from square one. You are again left at the mercy of these 5$ ad sets and hoping to get lucky.
I do not believe in that. We have been able to achieve results in a systematic way which doesn't require you to rely on luck but instead focuses on a systematic approach to get sales which requires basic logic and mathematical skills.
Shopify vs Woocommerce ?
Knowing your budget and making choices for the long run.
The first thing you need to figure out, is your budget and then be smart about how you utilize it. Although it feels like a no-brainer, but it is something so many people do not plan for. I have seen so many people spending all their money on ads within a month and then ultimately quitting. If it is your first online business, you won't make money within the first week unless you are lucky or unless you have been working in the internet industry for some time. Don't expect to get lucky and give it a thought on how long you want to keep working . A student will always have less budget but more time than a person with a day and night job. Hence the strategies will vary person to person because their own style of doing things and the resources they can put in will also be different. Always ask yourself how much you can put in, both in terms of time and money and what are your expectations.
Some people would want quicker results, many would be willing to give it what it takes, no matter what. This is where you need to evaluate what suits the best for you. I myself, never go into a project with hopes of getting rich quick and I suggest you do the same. When there is uncertainty I always try to last longer. I have used Woocommerce and Shopify both.
There is a common misconception out there that you need to start drosphipping from Shopify and put your money in Facebook ads to gain visitors. It is simply not true. If the budget is less, I suggest that one should create a website on Woocommerce and initially market the store through organic ways. To last a full year, all you have to put in is $50, assuming you have no other job to support the business and you are short on budget, Woocommerce will be the best option.
There are pros and cons of both the systems. You can self host Woocommerce but you cannot do it with Shopify. Shopify hosts the website for you. If you are self hosting Woocommerce , you do not have to pay a monthly fees to Shopify or Woocommerce , you just have to pay for the host.
A host is a computer which hosts your website. There are many hosting companies out there, from prices ranging from 10$ a year to $1000+ a month. We at Emailwish use Siteground hosting for some of the things and I have personally used Siteground for a few of my past other projects because it is decently priced and has a great support. It is well known company and have a hosting plan dedicated for Woocommerce hosting.  If you are willing to sign up with Siteground, please signup using this link .  ( It is an affiliate link, which means we will get a portion of the sales )
But be advised, there are many other perfect hosting companies out there which are much cheaper than Siteground . Siteground works for us because of their fast customer support and the cost turns out to be less than 100$ for the whole year including the domain. Along with easy customer support which can do the task of the initial set up for you.
Woocommerce is open source, which means you can even modify it the way you want to (provided you know how to code), hence it provides much more options. It's plugin and theme ecosystem is much older & diverse compared to Shopify's app & theme system and hence you get  is comparatively cheaper and better options on Woocommerce.
Shopify is a bit more convenient. If you are using Shopify, there aren't too many variables during website building process hence for beginners, the process is more streamlined and easy. Woocommerce hosted on a potent system is very capable but it can be a bit confusing for a beginner. Woocommerce is not a rocket science by any means but a bit complicated if compared to Shopify.
If I have to start any new project with little budget or if I am experimenting with new ideas and have time on hand, I would try to trade my time instead of money. If you are in the same boat, I suggest that you start with Woocommerce .
Personally I use both, Shopify when I know for sure that I will make a profit very soon, Woocommerce when I know that the project will take long time to start generating profit.
It is important to not bleed money, knowing how long you will last and plan accordingly. $30/month on Shopify might not be a huge amount initially but if you are not making a profit, it soon starts taking its toll.
An extra $300 you save on Shopify might get you the perfectly designed logo and photos for your store.
If you are thinking to get rich in 1 or two months it won't happen. But making a profit the first month is quite.
So to conclude, use Shopify if you have the budget for it, use Woocommerce if you do not. Shopify is the easier out of the two while Woocommerce is cheaper option (free but you will need a hosting account)
Steps to Dropshipping
After deciding which platform to work upon, dropshipping can be divided into three main steps.
According to us, dropshipping process is a simple 3 step process
1) Picking a product & sourcing it.
2) Designing a stunning looking store
3) Product Marketing
1) Picking a product & sourcing it.
I always try to build niche stores because the target audience is not broad. It is easier to target when the audience is not broad. In a broad audience, it is quite hard to understand your users because they are of many different types. When the target audience is broad you do not know what to offer them, what they like, etc.
To come up with your ideas just brainstorm with your friends or yourself and see what you can sell. After that  first thing you need to do is see if  the product has any demand. To check that you need to go to  Google trends , it not only helps you validate if your idea has demand but it also helps you to find out the ideal time to start working on your store store .
Google trends doesn't show the exact demand but rather it shows relative demand on a scale of 1-100 so it is good tool to quickly figure out the trends for a product and the time period in which the demand goes up. From the following graph one can see the ideal time to start selling hoodies is just before September because searches (and hence demand)  for hoodies start picking up during that period and start declining just after Christmas.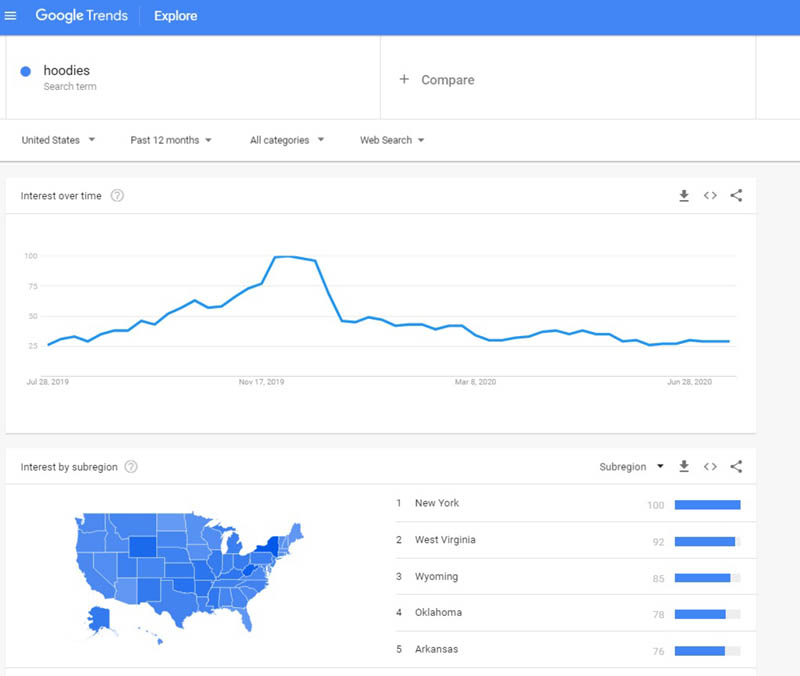 You can use keyword planner to access the exact demand on particular keywords. Google keyword Planner is also a free tool provided by Google which is available once you sign up for google ads. You can use this link to sign up for Keyword Planner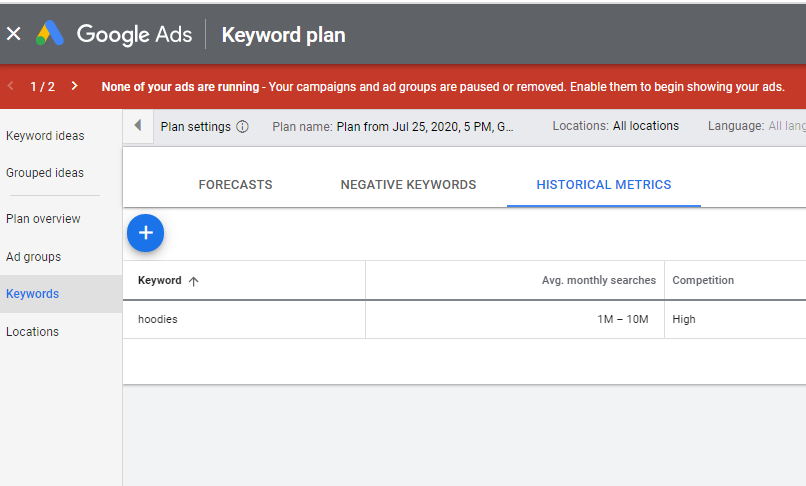 Once the product is validated, you can easily source your items from the below websites.
Out of all these, the popular ones are Alibaba & AliExpress
Alibaba is more for wholesale hence the prices are usually cheaper while AliExpress is the retail version of Alibaba. You can always talk to the suppliers and negotiate the price. I also suggest you to avoid POD (Print on Demand) apps because they are usually the middlemen , instead you must  source them directly from AliExpress/Alibaba itself. You can just type "custom" in front of your query and find out the products to get the suppliers which do POD. for e.g if you need a POD T shirt, you can just type "Custom T shirts" and you will find many suppliers which do that.
2) Designing a stunning looking store
I see so many boring stores being made everyday. It is the first relevant thing a potential customer sees about your business and it is very important to make it look professional and good looking. A good looking professional store is very important. It not only builds trust but makes your product look high value. It gives an appearance that your brand is trustworthy. You can tailor your store to create a brand of your type.
To get ideas for your store, go to Dribbble.com and get some inspiration on how modern stores look like. Dribbble is a place where designers share their work. Even while dropshipping you must make sure that your store looks appealing and looks like a brand. In the long run, that's what your aim should be, to turn it into a brand eventually.
Here is a checklist  that should be taken care of to make the website look professional, beautiful and highly converting.
Brand . Brand is the identity of the business. And it is important to make it stand out from the rest of the clutter. Website and packaging is the visual identity of the brand. Website has mainly 3 visual elements. The font, the color and the theme. We recommend that you use up to 2 fonts on your whole website, including your pictures. We prefer to use just one and make our headings bolder instead of using a different font.  The fonts too have feminine and masculine characteristics so when you pick one, you should always consider the demographics of the people you want to target.
When it comes to color, The background should be dark if you are trying to portray luxury (not always) and white when it comes to other things. Along with a maximum of two accent colors. One of these two colors should be a bold one and the main color of your brand and the other color should be the complimentary one. We prefer to use just one.  It is important that you do not use more than 2 colors because if you do, it confuses people.
There are many themes which are provided by Envato   and can be taken into consideration. We try to go with themes which are simple yet not boring. Something which is not too over the top.
Website Speed . There are countless number of studies showing how website speed is a huge factor in conversion rate.  According to Cloudflare (and many others) , there is a direct relation between website speed and conversion rate. Not only that, it is also a factor(out of many) in SEO. Google ranks faster websites higher in SERPs (Search engine results pages).
Google has developed a tool for determining website speeds called Page Speed Insights  There are also many third party tool which measures the speed of your web pages, one such is  GTMetrix . On both these tools , you just have to enter the website URL to determine the page/website speed. |Your goal should be making your website as fast as possible. (Try that you score is 85+ on Google speed Insights for both mobile and desktop and your website loads within 5 secs)
Photos & Background The photos used for the products must have a similar background to the whole website background. For e.g if the website has a white background, the background used in the photos of the products must also be white or similar to it. The first image of each product shouldn't have any text or labels on them. Try that all the pictures do not have text or labels which are not a part of the product, for e.g steps on how to use the product shouldn't be there.  Ensuring these two things make sure that your store looks professional and high value. If you have store selling t shirts, hoodies, coffee, mugs, any POD items, paintings, bottles etc you must try to find  professional mockups for them. For e.g below is the mockup of paintings. These mockups are easily available on internet for free. (and sometimes paid). We prefer mockups editable by Photoshop. It takes two minutes to edit them and create pictures. To find them, all you have to do is search "mockup psd" on google, preceded by the product name, for e.g "photo frame mockup psd".  You can also add "flat lay" & "top view " in your search terms to get specific angle. We prefer these top angles because they make everything look clean and professional, the product appears clearly and if right design and color contrast is used, the photos demand attention.

Hero Image  For the Hero Image or the top banner image on your main website, the same principles as above must be followed. A few other things should be taken into consideration. You must remember that the Hero image is the first thing visitors might see (unless ofcourse they come to a different page first), so it is like a face of your website. It should be used to introduce your visitors to the website.  The main text should be clear, plain background so it can be read clearly. You must try that the text is not part of the image but it has been over-laid on top of it, this ensures that the text is not pixelated and is easily readable on devices of all sizes.   The text should be precise and should clearly mention what the whole website or the product being featured is about. Along with the introduction to the website in general, you must also try to make a sale, so giving a link to your top seller can be a good idea. And hence you must place a call to action button on the banner leading them to a product you want to sell or which is already selling well.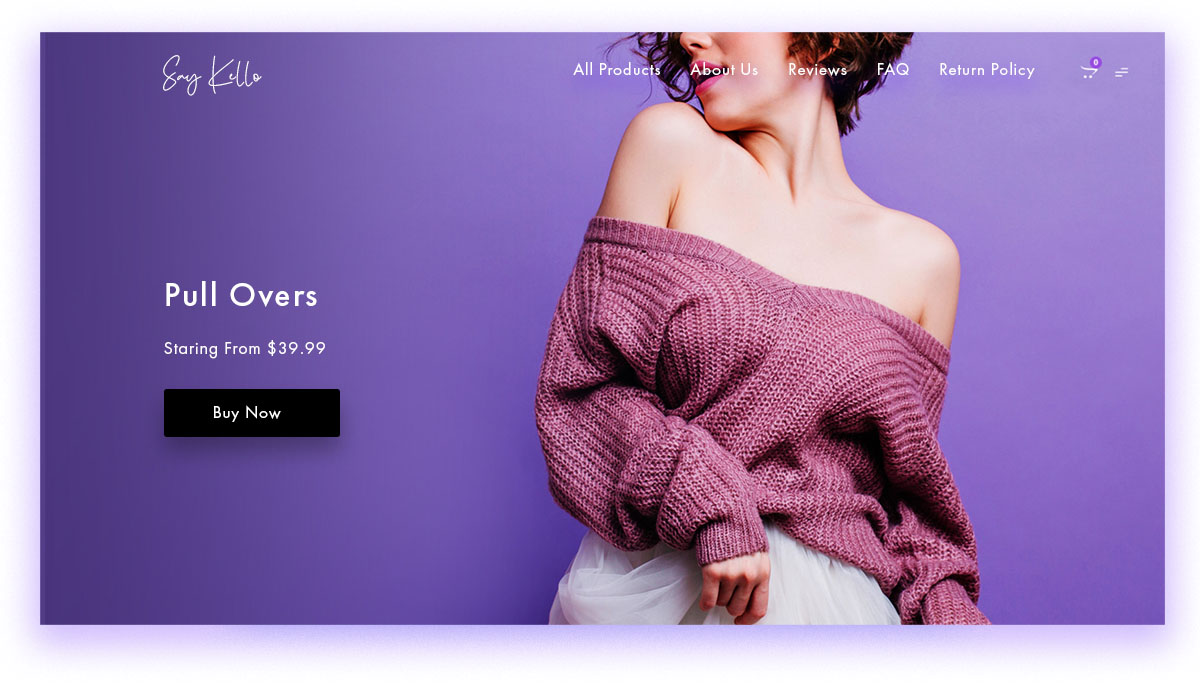 Effortless The design of the website should be kept the customer's ease of use in mind. In other words, the website should be effortless for the user to use. The design of the website should be in such a way, that the user should be doing less to see what he wants to see and do what he wants to do. If a website has only one product, it doesn't make sense for it to show the cart page before making a purchase. Hence it should be skipped. Not only that, many times the user is impulsive and hence we shouldn't allow them the time to rethink their decision. Other things include making them scroll less on the product page to click on the add to cart button. Your objective is to get them to buy from you, so it should be kept as simple as possible. Not hidden away in a layer of pages and clicks.
Reviews. You can ask your friends to review the product and put it on your store. (Because everyone hates fake reviews). Just make sure that the reviews are not on the same date or posted over a short span of the time. All reviews with shiny 5 stars scream that the website and the reviews are fake, so make sure that the reviews are genuine. This will take care of the initial trust issues the users have while purchasing from an unknown websites. When the orders start rolling in, that's when you will can actually turn these reviews into more sales. Once the product is delivered to the customers, you can ask them to review the product in exchange for a discount which will encourage repeat sales. If they do not like the product, you can ask them how you can improve the overall experience, apologize and still give them a discount to make it up for the bad experience.
There aren't many apps in the market to automate this whole process. Loox does half of this job and charges  $10 for  100 emails.
We at Emailwish take care of the reviews and automatic emails related to it, charge only $25 fora whooping 30,000 emails which can be used for a variety of purposes, automate this whole process so you won't have to set it up yourself and come with a lot of other features. Click here to install Emailwish to your store 
Popups, discounts & Countdown timers: When you are dealing with popups, discounts  and countdown timers, you should always ask yourself a question, if your brand is for the  long term or short term. It's true that Popups, discounts and countdown timers can increase sales but it also gradually takes away the trust from your  brand and hence in the long run it hurts sales. Have you seen any prominent brands showing countdown timers on their products  ? Have you seen Apple discounting their products ? Same goes for popups and sales. But of course when you are starting out, we do not have the budget of big brands like apple. But it doesn't mean we cannot learn a few concepts from them. Try that there aren't many popups on the website,  a single popup on your website for collecting email leads is fine. Make sure that this popup doesn't appear as soon as a user enters your website. Also make sure that it isn't displayed on mobile phones. You can also implement sales notification app, however it shouldn't be displayed on the mobile devices.  Same goes for discounts, if all the products are on discount all the time then it screams that the website is not trustworthy, however providing discounts sometimes on some products on special occasions is fine. We suggest that you show countdown timer only on Cart pages because if you show it on the product pages, in the long run people will stop trusting your brand.
Chat App
Email Marketing App
Important Pages Shipping, FAQ and Return Policy
Facebook pixel installed on your store.
Google Analytics
Google Search Console  It's a tool created by google which help you measure your site's Search traffic and performance. If SEO is your goal to gain traffic, this is something you definitely must focus on and must integrate in your website.
If all this is a bit overwhelming for you , we do design stores at  Wedoshopify. 
3) Product Marketing
We recommend you that you shouldn't spend money into things you don't have an in-depth  understanding of, for e.g. ads.  Unless you are already making a profit and want to upscale and bring in sales from a variety of other things or you can sustain spending on ads.
Once again, you have to remember, your goal should be to last as long as possible.
Do not be the average Joe who spends $2000 on Facebook ads and quits. Be smart about it. Facebook advertising works the best when it's pixel gets data. The more the data, the better it gets.
Instead we recommend exploring other options as well. If you want to start with advertising, we recommend you do it the right way.
a) Advertising
b) SEO & Content Marketing
c) Affiliate & Influencer Marketing
d) Email Marketing
a) Advertising (section not complete)
Google Ads
Our goal has always been to track as many things as feasible and minimize the number of variables which helps us to pinpoint the exact reason for making/not making a sale.
For this reason It is important to understand how ad companies like Google and Facebook make money. At any given time ad space or impressions (the number of times the ad can show) is finite and to maximize revenue, ad companies need to make the most out of it. Either the ad companies charge on impressions(the number of times the ad shows) or clicks.
To provide value to the buyers, most ad companies prefer to charge on the basis of number times an ad has been clicked upon.
Now let's understand how much these ad companies earn for say 100 units ad impressions.
This is the definition given by google for CTR.
CTR is the number of clicks that your ad receives divided by the number of times your ad is shown: clicks ÷ impressions = CTR. For example, if you had 5 clicks and 100 impressions, then your CTR would be 5%.
Which means, to maximize google's profit (not yours), any advertiser with higher bid rate x ctr gets on the top preference. Because bid rate x ctr is the money ad companies make when advertisers are paying for clicks , and ad space is finite ( which it is) Ofcourse this is a simplified version of how it works and most of the RTB networks are more complex than this but the core principles are the same as explained above.
if your bid rate is low or your ctr is low, you won't get impressions. To increase the impressions, you put a high click rate initially so Google ( ad company) picks up your ad and shows it. If your ctr is low and if it's shown to many people (100-1000 impressions), your ad will be killed and most probably your ad sucks or your targeting sucks, If it's killed earlier or you think you need to show to more people to see if the ad really sucks, recreate the same ad.
If you have figured that out, and you are getting people on your website, and not getting sales, it jeans people don't find value in your content / product which means, your website looks like shit so people don't think what you are selling is worth it or the price is high.
Once you start getting sales, your job is to keep Google happy and stay profitable. it's cheaper to get a sale on Google initially but easier to scale on Facebook
xxxxxxxxxxxxxxxxxxxxxxxxxxxxxxxxx
This again applies to google shopping ads. Many will quit after spending 200$ in 1 month. Many won't even flinch.
But I always try to have at-least 100 -200 clicks before I start changing things.
I try to start the bids at around 0.3$ for any product.
It takes time for google to allot you space, if within the first 2 days I get 100 clicks then that means I am overpaying, no matter even if I am getting a profit, I will try to pause the campaign and start a new one with a lower bid just to test the waters. If it doesn't work out I will start the first campaign again.
There is no harm in starting the campaign from very low budget, because if you are not getting clicks, then you won't pay but will only spend your time. This again comes down to you, do you have the time ? I myself have time and money. On each step, it's you who will have to make a decision. Instead of giving a step by step process, I try to make people understand the concepts and give a rough strategy. If I give a straight forward strategy, people will copy it and it might not work for them in their case.
So asking about budget and clicks and when you should quit and when you should experiment will depend a lot on you. I understand the concepts, if I am unable to get results, I will tweak it and try to make it work, but can you do that ? You won't be able to do it before you understand the concepts. There is no step by step process which will work for all. There is no magic theme or design which will work for all. If that was the case all the websites would look the same and would have the same strategy.
Facebook Ads
Images of Facebook ads and more explanation
the more data you feed to Facebook pixel the better it becomes which will be utilized the most at the time of doing look alike audience ads.
Once a shopper has left your store, you might think there's no way to get them to return. Either their mind's made up and they're never coming back. But it's not true.
Re Targeting with Facebook is one of the fastest and most cost ­effective ways to reclaim lost clicks and conversions. It allows eCommerce website owners to directly reach shoppers who have visited their store, viewed specific pages, or abandoned their carts.
According to research, re-targeting ads sport a response rate up to 400% higher than non-­targeted advertising.
If you really have no advertising budget or don't want to take risks, I will advise you to start using Facebook re-targeting once you get some sales from organic methods. You will see that it will increase your conversion rate. In your ad copy put smiling faces of people who have already bought. You can ask these people to post a review for a discount. There are apps for that if you are using Shopify or you can do it manually to save a few bucks. On Woocommerce there are many plugins.
The next step after increasing your conversion rate should be getting more sales from fresh visitors which will be best done by Facebook Look Alike Audience.
PageView
InitiateCheckout
Search
AddPaymentInfo
Lead
AddToCart
b) SEO (explanation will be added)
c) Affiliate & Influencer Marketing (section not complete)
Influencer marketing is a hybrid of old and new marketing techniques, taking the idea of the celebrity endorsement and placing it into a modern day content-driven marketing campaign. The main difference is that the results of the campaign are collaborations between brands and influencers. It is mainly carried out on Instagram. Of course it is hard to get proper celebrities selling your product, but you don't have to target them. It is easier to target people who have 100k- 1m followers. Most of the influencers (not celebrities) are very keen to do business with other brands and just sending them a message is enough to get them onboard.
There are many affiliate apps in the market(both Shopify and Woocommerce ) affiliately and enlistly come into my mind since they are cheap
To grow my Instagram and connect with influencers who would promote my store for commission i used a bot. the bot not only saves a lot of time but does all the work in huge scale which won't be possible manually. for e.g messaging 3000 influencers in a month with my affiliate offer. It is important to know that you should be messaging influencers only. Not normal people. Even if 500 influencers agree and each gets you 4 sales, that is 2000 orders, but it might take time to get there.
There are many bots in the market. Earlier I used Socialcaptain, the the one i use now is www.instacaptain.com its cheap and easy to use.
You just have to signup and use their module of Auto-dm to message the influencers.
Spend your money which make things easier for you and is worth your money. You can dm the influencers personally as well but to do it regularly in huge amount you will need a bot.
d) Email Marketing (explanation will be added)
F.A.Q
Q Is dropshipping easy ?
A No, not at all. Selling is never easy and you shouldn't expect it to be easy. However it is not rocket science either. It is easy in the sense that you do not require a lot of money to get in, hence it is easier to get in.
Q How did customers react to  long shipping times?
A Most of them do not like it, but you can make them happy giving them discounts/ apologizing and giving them tracking number. If you
show them you care, its not a problem. Usually Epacket gets delivered within 2 weeks and DHL within 3 days. The first problem you need to tackle is figuring out how to sell. Rest can be figured out later.