How an email design can affect conversions.
Design is an essential part of every digital marketing strategy today. This is because it plays a huge role in deciding how effective your marketing campaigns will be. When it comes to email marketing, how you design your email can highly affect how many clicks and open rates you get. Let's be honest, nobody reads a complete email or newsletter. They just try to scan through the email for quick information in form of pictures or text highlights. A good email design will always highlight the key information such that it's quick to read and easy to understand.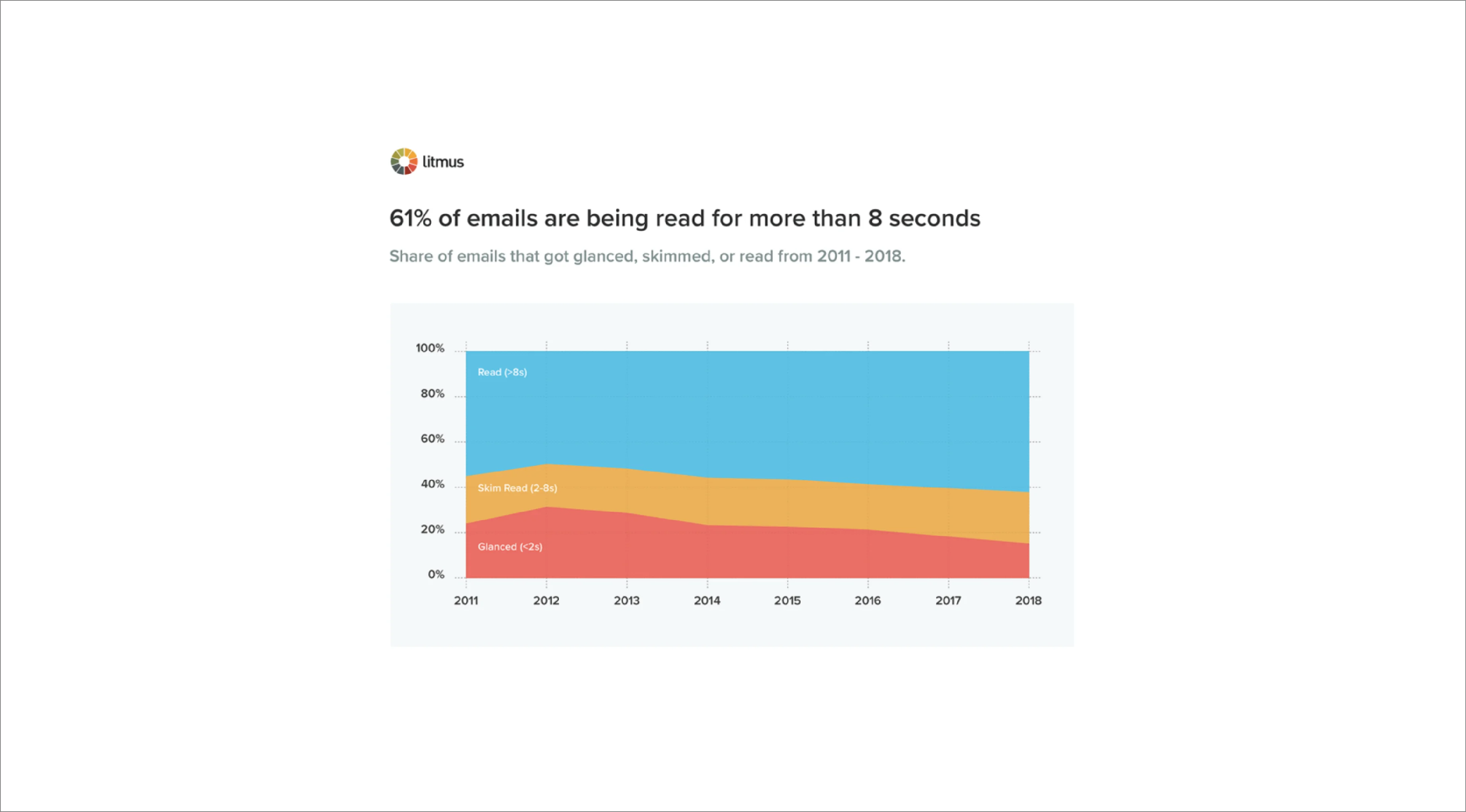 According to studies, a user's attention span lasts only 11 seconds while reading an email. Therefore it is important to work towards grabbing your user's attention within that time period. Playing around with various aspects of design, you can easily come up with the designs that get you more clients. There's no ideal way of designing an email, it's all about how you represent your key features in the most inviting way.
What is email design?
Email design refers to the creative way of putting together and arranging graphics, typography, and other elements to create an overall user-friendly and high converting email message. Email design depends a lot on the type of product or service you're trying to sell. However, some basic aspects such as the text size and placement, where to include CTA buttons are guided by common principles that drive conversions.

It is expected that by 2022, the number of people that use email will increase up to 4.3 billion. If we keep these statistics in mind, we can clearly see how much impact emails have on the market. So many new tools and techniques are made each day just to enhance the quality of emails and to improve user experience. The world of marketing has evolved to a point where every tiny detail matters when it comes to the success of a campaign. What words you use, how many images you use, what colors, text size, or text style you use, every detail can determine how a user will react to an email campaign.
The seven components of Email Design.

Your email design not only affects your conversion rates but also affects how people see your brand. Yes, Email marketing is a form of branding. This is why it is important to design your emails in a way that conveys your brand's mission and vision to the readers.
High converting emails are essential to business and this is why designers have sorted down a few guiding principles for a design that is conversion-focused. These are Conversion Centered Design Principles or CCD –
1. Attention –
Attention n CCD means how many clickable links are present on a page and what is the number of campaign conversion goals. The main aim of this design principle is to hook your user's attention to the action you want them to take.
2. Coupling –
Coupling is a qualitative measurement of a user's pre-click experience Vs their post-click landing experience. This design element is important for you to understand the relation between your CTA button page and your landing page. This will help in creating a similar email design as your landing page and establish a connection between the two.
3. Context –
This design principle associate with understanding your user deeply. Where they are coming from and what they are looking for. If you understand your users' problems, you will be able to offer them solutions and that is exactly what they need. Context means designing your email based on your knowledge of the users and their problems.
Studying your users in-depth will also help you narrow down your target audience and provide better services.
4. Congruency –
Congruency means putting together all the elements on a page so that they complement each other and produce a cohesive message. In a congruent design, every design element will be arranged such that they all come together to give a single message or make the user take the desired action. In the case of an email, it is the CTA button. Every other element in the email should lead the user to click on the CTA button.
5. Clarity –
To create an aesthetically pleasing design, it is not necessary to use complicated elements or texts. Keep your message simple and clear. Be very straightforward with your message so that your users know instantly if you can provide them the right solutions. The easier your message is to understand, the more chance it has to get high conversions.
6. Credibility –
It is always best to be transparent with your clients. Implement this in your text message and design. Use creative copy and verifiable social commentary as your testimonials. This will help you establish trust and loyalty with your clients which will naturally increase your conversion rate.
7. Continuance –
Your job doesn't end after people click on the CTA buttons in your emails. To establish loyal long-term relationships and retain your customers, you need follow-up emails like review request emails or thank you pages.
Tips for designing highly converting emails.
1. Identify your Goal.
Before starting to design your email, be very clear about your goal. Is it a direct sale, a promotion, or an update? It is the key to converting. This way you will be able to decide on an appropriate theme and color combination for your email design. Your creative copy, the send time, and subject line vary accordingly.

For example, look at this email from Missguided. the main focus of the email is to re-engage the users. The message is designed very simply and simple lines of text are used. This keeps the user's focus on the main message instead of distracting them with images or any other extra-ordinary elements. The message is then followed by a very exciting CTA button "treat yourself" which gets the user excited about what the store may have in store for him.
2. Use creative subject lines and headers.

We already know that a user's attention span is nearly 11seconds while reading an email. This means we need to come up with an email design that grabs a user's attention within that time frame. This should be applied to start from your subject lines. A good and catchy subject line is the first element of your email that will help you grab a user's attention.
After the subject line, comes the pre-header text. This pre-header text is followed by the subject line and gives the user a hint of the text in the message. If you do not enter a pre-header text. The email provider automatically uses the first few lines if your email messages as the pre-header text.
Using the first few lines of the email message as a pre-header text is okay but you have to be careful that it doesn't confuse the user in any way. Your pre-header text should also be intriguing enough to pique a user's curiosity and get them excited about what can be inside the email.

The next attention-grabbing thing is your email header. Headlines always create the first impression when a user is reading an email message or newsletter. Headlines are yet another way of quick information. This is why you need to make sure that as catchy as your headline is, it should be clear in its purpose and give the user an idea of what he can expect from the rest of the email. Therefore, in case the user does not read the whole message, your subject line, pre-header text, and headline should deliver the main part of your message so that if the user doesn't currently have time, he can save a message for later if he finds it relevant.
3. Use Explainer images.

If you are sending an email in which you need the user to take a certain action on your website, then it is better to use images that explain the steps to the user to perform that particular action. Link these images to the corresponding page to make it even easier for the user to visit your website and do what you need them to do. This way you can direct more traffic to your website and enhance the user-experience at the same time.
4. Use creative CTA buttons.

CTA buttons are the most important part of your emails. They get the users to perform actions that lead to conversions. The text, colors, and fonts used on a CTA button can highly regulate how many people click on them.
Avoid writing copy that makes the user feel like you're asking them to spend money or anything else in return for your services. Use creative copy such as "Treat yourself" or "See what I missed" that tells the user that they will gain something out of clicking that button. Don't use too catchy colors like the red color, for your CTA buttons that look more like a warning than an invitation. Use colors that complement the rest of your email design and message.
5. Don't use too much text.

No one has the time to read lengthy email messages. Use images and texts that help you get your message across. In product updates, using the images of new products along with clear CTAs to buy those products will be better to use rather than plain texts saying "XYZ is our new product".
Remember people are not going to spend much time reading your email until it provides them high value. Therefore, either provide high value information to your clients through your text or don't use too much text.
6. Create Mobile-friendly versions of your emails.

Last but not the least, create a mobile friendly version if your email design. People spend almost 1/4th of your time on mobiles. Thus, they are most-likely to check their emails on phone. It is easier to manage emails on a mobile rather than a computer. If you do not make a mobile-friendly version of your email beforehand, it's possible that your design gets misaligned in the mobiles and doesn't look as pleasing.
7. We're here to help!
With Emailwish, you get access to a large number of beautifully designed pre-built email templates. These templates are created by design experts that pu together each and every element with precision and the intent to sell. All you have to do is set the trigger and the timing for these emails so that they could be sent out on time to relevant people.
Conclusion
Design has always played a big role in making the first impression. Be it your website or your emails, design can be a big driving factor in conversion rates. Invest your money in a good email automation tool such as Emailwish that come with prebuilt email templates designed by professionals. This will help you enhance your brand's image and generate more sales.6