Do you want to know what the top WooCommerce sales popup plugins are?
WooCommerce is a great way to get your online business up and running. You should employ some sales plugins, particularly for creating popups, to increase your sales and earnings.
Popups have been shown to effectively capture visitors' attention and turn them into buyers.
We'll look at the finest WooCommerce sales popup plugins in this article to see how they can help you increase your online sales.
OptinMonster
The most powerful popup plugin on the market is OptinMonster. It's a SaaS (software as a service) platform that works with WordPress, WooCommerce, Shopify, and other website platforms. It also integrates with all of the most prominent email marketing strategies and platforms.
You can simply design visually attractive popups with OptinMonster and use them to collect emails, promote product sales, and more.
Lightbox popups, Fullscreen welcome mats, slide-in scroll boxes, floating bars, and other types of campaigns may all be created using it. Countdown timers can be added to any campaign to generate a sense of urgency.
You can start from beginning and create your own design with their drag and drop builder, or you can choose one of the dozens of professionally designed templates.
To display popups at the right time, you can use smart triggers like scroll-trigger, Inactivity Sensor, Timed Display Control, 2-Step Yes / No Email Opt-ins, and so on. Above all, its Exit-Intent technology allows you to show a tailored ad to your visitors just as they are about to leave. This is how you may turn visitors who are about to leave into subscribers.
Features:
Builder using Drag & Drop
Automated Behaviour in Real Time
Exit intent® is a technology that allows you to know when you're retargeting on the spot
There are over 75 popup templates available.
Features that allow for precise aiming
Targeting at the page level
Pricing:
The standard OptinMonster subscription is $9 per month and allows you to create limitless campaigns.
Popup Maker
The finest free WooCommerce popup plugin on the market is Popup Maker. The plugin is now active on over 700,000 websites. Furthermore, it gets a 4.9 out of 5 average rating from users.
You can use the plugin to make opt-in popups, slide-ins, modal forms, and EU cookie alerts. On the navigation to menu items, buttons, sidebars, and other elements, you can define popup triggers on a timed delay and click-based triggers.
It doesn't have as many complex targeting and trigger settings as OptinMonster and the other plugins mentioned above. However, if you purchase their paid extension plugin, you can receive the Exit-intent feature.
It works with all major WooCommerce form plugins.
Features:
Graphic content such as infographics, images, etc can be used
Supports cookies
Targeting the product pages is very easy
Can be integrated with the email marketing service providers
Pricing:
Popup Maker is a free popup plugin. The pro version will cost $87 for a single year for a single website.
TrustPulse
By instilling a sense of urgency among your visitors, TrustPulse can help you drastically increase your business orders.
You can easily integrate TrustPulse with WooCommerce and have a popup notice appear for every sale made on your site.
With TrustPulse's settings, you'll have complete control over when and how popup triggers and target audiences appear.
Features:
Notifications of orders in no time
There are numerous design alternatives available.
Tool for tracking conversions
Timed-Display Control
Runs on a SaaS platform.
Pricing:
Starting at $5 every month, you can use TrustPulse. Check out TrustPulse's Pro plan to get more features.
Splash Popup
WooCommerce Splash Popup is WooCommerce's official addon for marketing items. Lightbox popups can help you capture visitors' attention by displaying the most recent offers.
The plugin allows you to show visitors specific content based on their actions. For example, depending on the user's login status and cookie period, you can display a popup.
Features:
Cookie duration can be customised
Content that is targeted specifically
Customer service of premium standard
Special popups such the lightbox popups help in catching the user's attention
Pricing:
The cost of this premium plugin is $29 for a single year. With this plugin, you get a year of support and plugin upgrades.
Ninja Popups
Ninja Popups is a popular plugin that allows you to add popups to your store. It's a premium plugin with an average rating of 4.3 stars on the Code canyon marketplace.
The plugin creates attractive popups that can be used in your WooCommerce store. You receive a visual builder to design your popup to match the style of your website, as well as a lot of popup position settings.
Features:
Builder with drag and drop facility
Templates for responsive popups
Targeting at the page level
Integrations with email marketing
Popup animations come in a variety of styles.
Pricing:
You'll pay $24 for the plugin, which includes six months of support.
Beeketing
Beeketing is a software platform for eCommerce stores that includes marketing automation features. It has apps for a variety of platforms, including WordPress, Shopify, and BigCommerce.
Beeketing includes a Sales Pop app that displays real-time notifications for recent retail transactions. This social proof plugin persuades visitors to make a purchase before the item sells out.
Features:
Simple to use design
App for cart abandonment
Support for a variety of platforms
Feature of upsell notifications
Email sending assistance
Pricing:
The platform is completely free to use. Although the Sales Pop app is free, other associated apps are not and require a separate subscription plan.
Notifications for WooCommerce
Similar to TrustPulse, Notification for WooCommerce is a social proof popup plugin. By emphasising what other consumers have recently purchased, it generates a sense of urgency.
You may choose a time frame for recent orders from your WooCommerce store to appear as popups. Notifications for individual products can be turned on or off. Furthermore, you can place false orders for your newly released products.
Features:
Simple to use
There are 22 different pop-up templates available.
Feature for making fictitious orders
Style options that can be changed
Feature of AJAX loading popup
Pricing:
It's a free plugin with over 10,000 installations. On the Code canyon marketplace, a pro edition of the plugin is available. A single website and six months of customer assistance will set you back $30.
Conclusion:
OptinMonster is the greatest WooCommerce popup plugin, according to us. It's the quickest popup creator and comes with a tonne of conversion-boosting features.
It's also the most user-friendly, with lovely popup layouts and a robust drag-and-drop editor. It integrates with all major CRMs, email marketing systems, the top WooCommerce form plugins, and custom HTML forms, among other things.
It is more beneficial to show your popups at the proper time to the right users. Page-level targeting, personalisation, and event-based triggers are all available in OptinMonster.
With social proof and OptinMonster's sophisticated cart abandonment features, using a popup app can help you maximise conversions.
We hope this guide was useful in assisting you in selecting the finest WooCommerce popup plugin for your website.
Too many apps for one WooCommerce store? Try this!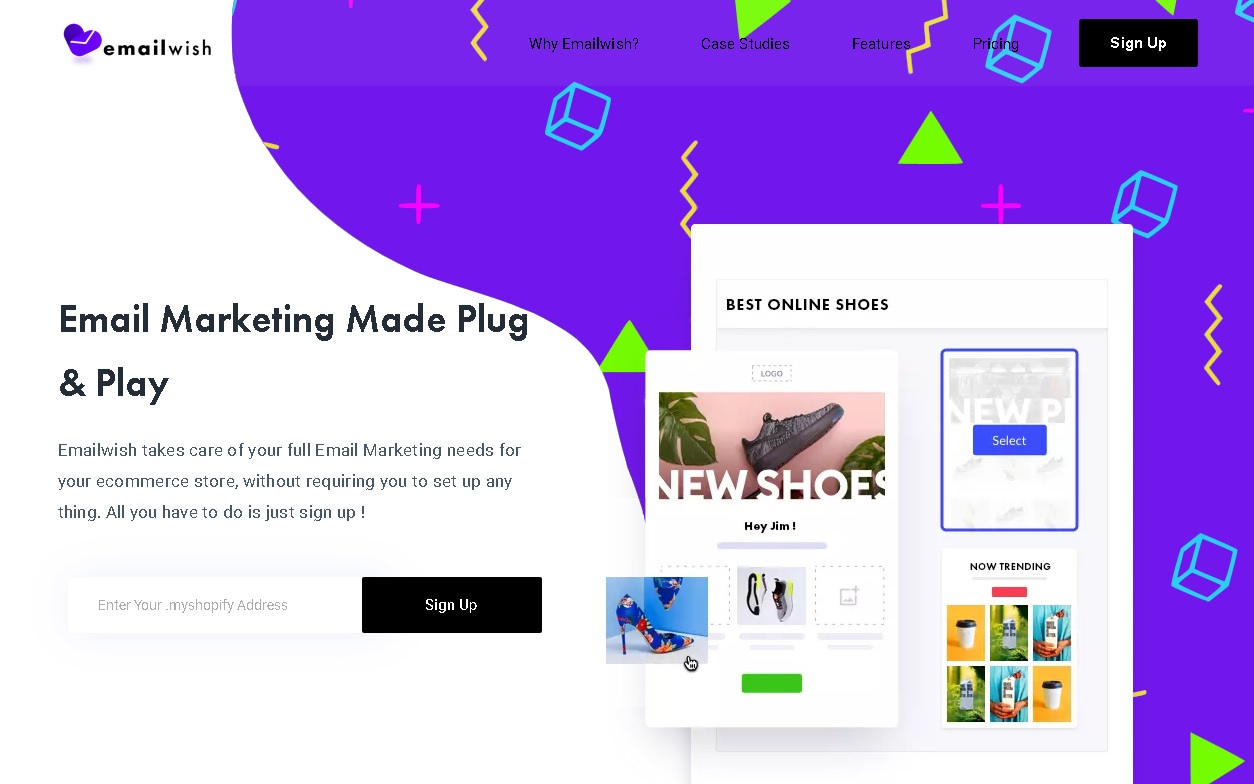 Emailwish is an all in one app that offers chats, reviews, email marketing, pop ups, abandoned cart notifications, email automation templates for all the services under one hood. It has been built by combining the features into one single app, which has most of the process automated for customer ease.
Using Emailwish you can handle multiple tasks in one place easily after investing some time setting things up such as email automations and rules as to what reply should be given to whom and on what condition, when should the app send review requests to customers who bought your products (instantly or a few days later?) and as what pop is supposed to be shown on which page and when.
The feature to Chat is also inbuilt in Emailwish where you can chat to your customers who are replying to you on different platforms to be received on one single platform by you. Emailwish also collects customer data and your previously collected data and they seamlessly flow into Emailwish once you have integrated the app with your WooCommerce store.
The best part of Emailwish is that the app is charged based on number of emails that you will be sending to your customers and not on any other parameters, such as number of times pop ups are displayed and all. Another good thing about this app is that it automates most of commonly required responses and automations by itself and you do not even need to code, you just need to specify the conditions.
An app with all these features and option will be costly, is what you are thinking right? But no, see the prices for your self. They are unbelievably affordable.
Beginner – $25/month (upto 30,000 emails, with $0.9/1000 emails after crossing limit)
Advanced – $99.95/month (upto 120,000 emails, with $0.87/1000 emails after crossing limit)
Enterprise – $399.95/month (upto 480,000 emails, with $0.85/1000 emails after crossing limit)