You've discovered the ideal post if you're running an e-commerce company and seeking for some techniques to enhance your Shopify conversions and drive more sales. After introducing the top review apps on shopify and the top chat apps on shopify, we bring to you the 7 greatest Shopify popup apps to enhance your conversion rates.
Quick Announcement Bar
It is a helpful Shopify app for announcements, as its name suggests.
You can, however, educate your customers via a display banner on your website. Visitors can see the page with a single click using the "call to action button" on the banner. So, without a developer, you can attain a limitless number of impressions. That's exactly what we're looking for right now. It's simple and quick.
You may offer tailored discounts depending on your business characteristics, express the holiday and promotion mood to your customers, and ultimately drive more sales with Quick Announcement Bar!
Pros:
Configuration
Scheduling
Setup is simple
A/B Testing is a method of comparing two options.
Targeting at a Higher Level
Customizable
Responsive
Cons:
A premium bundle is included with Button Animation.
Geo-targeting is only available as part of a premium plan.
Only premium bundle includes custom CSS.
Only premium bundle includes auto scheduling.
Pricing:
$9.99-$8.25 per month, or $99 once a year, depending on the pricing plan.
Better Coupon Box
Another popular Shopify popup tool for effectively converting more traffic into customers is Better Coupon Box.
With exclusive offers and discounts, Better Coupon Box helps you increase your conversion rate. To enhance your conversions, you can effortlessly capture leads to make more purchases and reclaim abandoned carts. A large number of individuals trust Better Coupon Box. I believe that offering a coupon code encourages individuals to make purchases.
Pros:
User-Friendly & Responsive
Advanced Targeting
Advanced Targeting is easy
Number of integrations are available
Cons:
The premium version includes all of the major features. So, it's free to download, but you'll need to change your pricing plan to use this tool correctly.
Pricing:
Premium features include: STARTER ($30 for three months), PRO ($54 for six months), PLUS ($99 for a year)
Sales pop
Sales Pop Shopify popup app aids in the development of social proof. It also displays the purchase actions of your store. The procedure is explained in the next part here:
When customers see what other customers are buying from your store, it creates a favourable vibe and motivates them to buy. As a result, it improves client engagement by providing a better experience.
So, if you're looking for a simple service that doesn't have a lot of features but yet converts well, this is the solution for you. It's unquestionably for you!
Pros:
Responsive and easily Customizable
Notifications in Real-Time
Free popups
Cons:
There are no advanced features.
There is no advanced targeting available.
There is no exit-intent trigger.
Pricing:
Free of cost
Popup window
Do you wish to inform your customers about upcoming specials or promotions? Pop-Up-Window improves the situation for you.
This Shopify popup app is a simple tool for increasing your marketing and sales. You can either utilise pre-made templates or create new images with text for your popup, and then establish some restrictions for it.
You can also include an email registration form that will automatically add new subscribers to your MailChimp or Klaviyo list.
Pros:
Mobile-friendly
Responsive integrations that are fully customizable
Optional Coupon Codes
Cons:
Technology with No Exit Intent
There is no advanced targeting available.
Doesn't provide Metrics for Advanced Tracking
Integration with MailChimp and Klaviyo is included in the pro premium plan.
With a basic plan, you can't provide the voucher to new customers.
Pricing:
Monthly charges range from $-12.95 to $-12.95, depending on the price plan.
Pixelpop popups and banners
Pixelpop allows you to take emails and sync them immediately to MailChimp, Klaviyo, Constant Contact, or Conversio mailing lists.
You can also motivate your consumers with special offers by putting a banner.
You may quickly construct popups to market your services, and you can also time them with exit-intent delays, page delays, and time delays.
As a result, Pixelpop popups and banners is one of the most effective Shopify popup apps for boosting conversions.
Pros:
Pixel Union Promo Bar provides premium customer service with Exit Intent Technology.
Different Popup Types and Themes
Advanced Frequency Controls for Responsive Advanced Targeting
Easy Analytics
User-Friendly interface
Integrations are easy
Cons:
Charged based on the number of times a popup is viewed.
The free package limits you to 500 monthly popup views.
Premium Plans come with time delays.
Pricing:
Free-$12-$24-$48 per month, depending on the pricing plan.
Privy ‑ Exit Pop Ups & Email
With Privy, you can develop your client list and enhance conversions from your Shopify store. How? Dig deeper and you will understand!
Popups and banners triggered by exit intent, flyouts, scroll boxes, and announcement bars are all ready to increase conversions.
Privy is utilised by a wide number of e-commerce enterprises, both small and large. People appreciate this Shopify popup app because it allows them to generate popups with targeting choices to capture customers' attention and take advantage of the auto-syncing contacts to MailChimp + Klaviyo feature. As a result, Privy is an effective tool for lowering cart abandonment and increasing conversions.
Pros:
Customizable
Adaptable to mobile devices
Email Autoresponders with Exit Intent Technology
Integrations for Redemption Tracking A/B Testing
Targeting at a Higher Level
Reporting
Cons:
With the free plan, you can't get rid of the Privy logo.
Only the premium package includes A/B Testing.
Only the premium plan includes advanced targeting rules.
With the free plan, you can't target displays by URL.
Pricing:
Various pricing levels range from $24 to $79 to $299 per month.
MailMunch
MailMunch is one of the top Shopify popup apps for converting website visitors, with over 400,000 businesses trusting it.
You can design attractive email popup forms and sync your email subscribers with your email service.
Pros:
Customizable
Adaptable to mobile devices
Technology Analytics for Exit-Intent
Autoresponder Integrations with a WYSIWYG designer
Affordable
Cons:
The prices are not what they appear to be. If you want a premium template, you'll have to pay $24.95, which is significantly more than the $5 or $10 premium plans.
A/B Testing, Analytics, High Converting Templates, and Coupon Codes are just a few of the tools available to you.
Only paid versions have drip campaigns, autoresponders, and a drag-and-drop builder.
Inadequate Customer Support
Pricing:
Free-$4.99-$9.99 each month, depending on the pricing plan.
Conclusion
There is a big problem if you run an e-commerce store and still don't employ a popup.
Of course, we can't tell you that it's a must-do. However, given the potential for increased conversions, we strongly advise you to add popups to your website right away!
Too many apps for one Shopify store? Try this!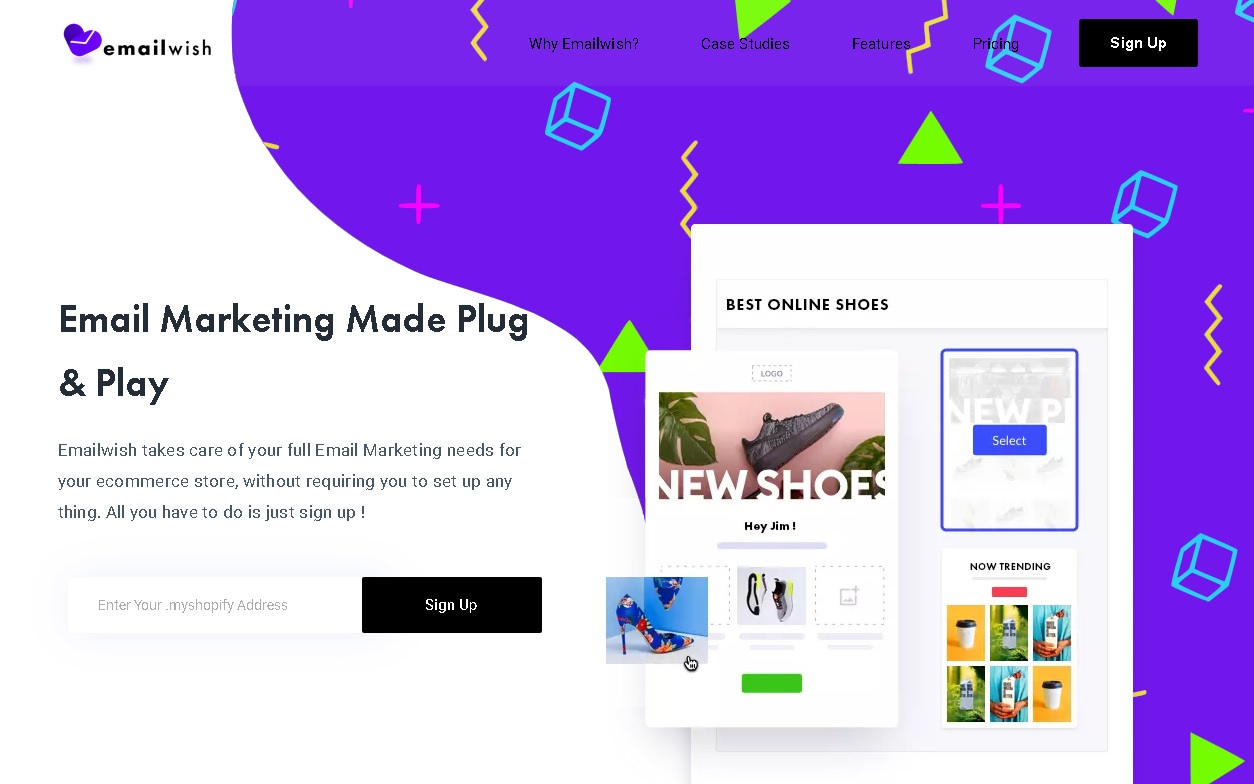 Emailwish is an all in one app that offers chats, reviews, email marketing, pop ups, abandoned cart notifications, email automation templates for all the services under one hood. It has been built by combining the features into one single app, which has most of the process automated for customer ease.
Using Emailwish you can handle multiple tasks in one place easily after investing some time setting things up such as email automations and rules as to what reply should be given to whom and on what condition, when should the app send review requests to customers who bought your products (instantly or a few days later?) and as what pop is supposed to be shown on which page and when.
The feature to Chat is also inbuilt in Emailwish where you can chat to your customers who are replying to you on different platforms to be received on one single platform by you. Emailwish also collects customer data and your previously collected data and they seamlessly flow into Emailwish once you have integrated the app with your Shopify store.
The best part of Emailwish is that the app is charged based on number of emails that you will be sending to your customers and not on any other parameters, such as number of times pop ups are displayed and all. Another good thing about this app is that it automates most of commonly required responses and automations by itself and you do not even need to code, you just need to specify the conditions.
An app with all these features and option will be costly, is what you are thinking right? But no, see the prices for your self. They are unbelievably affordable.
Beginner – $25/month (upto 30,000 emails, with $0.9/1000 emails after crossing limit)
Advanced – $99.95/month (upto 120,000 emails, with $0.87/1000 emails after crossing limit)
Enterprise – $399.95/month (upto 480,000 emails, with $0.85/1000 emails after crossing limit)