If you have a business website built off of WordPress, you can utilize some testimonial plugins to collect customer reviews on your website. You are putting everything in your business to make your customers happy. So why not let your customers speak about your business directly. Show your customer reviews on your website and use them to generate even more sales.
Here is a list of the top 10 wordpress testimonial plugins to help you collect client reviews and add social proof for your business. You can choose any plugin depending upon what type of testimonials you need. For example, you can collect reviews with photos, reviewers' name, their titles or business, etc.
1. Smash balloon – for Facebook and Twitter reviews.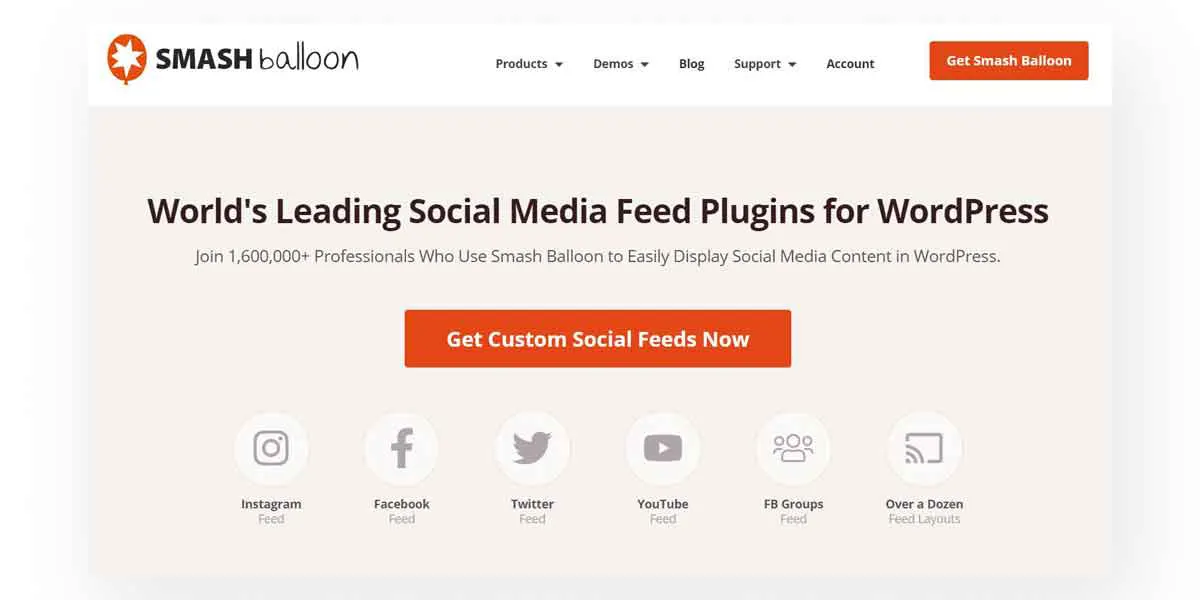 Facebook social reviews feed on Smash Balloon is an excellent choice if you already have some customer reviews on your Facebook page. You can show these reviews directly on our website instead of copying them from Facebook. This also saves you the trouble of collecting feedback for your products on your website from scratch.
That is not the only advantage of using customer reviews. These reviews come from actual people on Facebook. In case somebody raises doubt on your review section, they can look for the person on Facebook and check their review. This review extension will allow you to display Facebook reviews as testimonials in a sidebar or footer widget. Apart front this, you can also showcase them on either your landing page or individual product pages.
Similar to Facebook, you can use a Custom Twitter review feed from Smash Balloon to display your Twitter reviews on your website. Twitter reviews also come from real people and just like Facebook, people can look up these people and clarify any doubts they have against the testimonials on your website.
This is a great plugin with amazing features. One of them is that you can automatically moderate tweets and hide tweets with specific words hidden.
2. Site Reviews
Site reviews allows your visitors to submit feedback along with a 1 to 5-star rating. You can pin your best reviews so that they show up first when a visitor is looking at the review section. Using this plugin you can easily view, manage and respond to reviews effectively.
The best feature of this plugin is that you can easily moderate newly submitted reviews, approving them before they are actually posted on your website. Besides this, you can adjust the settings such that a user needs to login, to leave a review. This allows you to prevent unfair bad reviews from getting posted on your website.
3. WPForms.

WPforms is generally known to be the best contact form plugin for WordPress. However, we put it on our list because it can be used as an effective testimonial plugin as well. With over 3 million users, this plugin greatly helps you collect and manage your reviews in one place.
WPForms has a pre-built template pack add-on. You can use the testimonial form template from this pack and modify it according to your requirements. You can include any features you want in this form such as rating scale, upload a file option, and many more.
After a user submits his review on your website, it will first appear on your dashboard area. This way, you can review the testimonial before they are published. WPForms is known for its ease of use, it makes it unbelievably easy to collect and submit feedback for the seller and the buyer.
4. Thrive Ovation.

Thrive stands up to its name and helps your business thrive. It stands as one of the best WordPress testimonial plugins and helps you gather customer reviews easily. It helps you easily transform the wordpress comments on your website into a ready-to-feature testimonial. The testimonial will also include the name and avatar of the person who submitted the review.
Thrive can be easily integrated with Facebook and Twitter. Thus, you don't need to copy-paste your customer reviews from these two platforms. You can directly import them into the plugin's testimonial Rolodex and showcase them on your website.
Just like WPForms, this WordPress plugin allows you to easily create testimonial submission pages, forms, and posts. You can also send the link to these forms along with an automated message asking the customers for their feedback.
5. SeedProd.

SeedProd is currently the best-rated WordPress page builder plugin. Using this plugin, you can create beautiful web pages for your website using a simple drag and drop interface.
If you want ideas or are quickly want to create a new page, SeedProd is for you. It comes with several beautiful pre-built templates that you can either use as a reference or edit to fit your needs. You can create customized landing pages, sales pages, product pages, or even your website's homepage.
SeedProd contains a built-in testimonial block, you can re-design it according to your needs. Using these you can add the reviewer's name, title and upload an image. You can either use the pre-built templates or modify them as needed.
6. Strong Testimonials.

One of the easiest and most customizable WordPress plugins is Strong Testimonials. For example, using the custom fields extension for a clothing website's reviews, you will be able to gather detailed testimonials. These testimonials will include all the details such as the manufacturer and style. You can easily build multiple testimonial forms using this plugin.
It comes with an Advanced view feature which allows multiple display options. These include grid layout, testimonial slider, grid layout, etc.
It also allows you to import your reviews from Facebook, Google My Business, Yelp, WooCommerce, etc. The plugin comes with Captcha anti-spam form protection for greater security.
7. Testimonial Basics.

Testimonial Basics is a full-featured solution for your testimonial management problems. Among many other features, it comes with multiple display styles and a sidebar widget. You can easily backup and store testimonials or display them in content or widget areas. You can even group testimonials for a separate display. If you want to make changes to a testimonial template, you can add a title, location, and website. Besides these fields, you can still add two additional customizable input fields in your testimonial form.
This plugin uses Gravatar to generate photos of people who submit their reviews on your website. In the admin panel, you can easily edit and approve the received testimonials.
8. Testimonial slider

Testimonial Slider is a mobile-friendly WordPress testimonial plugin with an improvised user experience. It is an extremely flexible plugin that allows you to easily control the number of displays you want to include in a row or what primary colors you want to pick from the shortcode generator.
It is a fully responsive plugin and comes with two layouts – Grid and Slider. You can add testimonials anywhere on your website using the unlimited shortcode generator or the sidebar widget.
9. BNE Testimonials.

If you are looking for a plugin that adjusts itself as per the theme and styling of your website, BNE Testimonials is for you. Using this plugin, you can easily add reviews and testimonials anywhere on your website. Each testimonial contains a title, image, tagline, website URL, and message. You can also divide your testimonials into different groups. There are two layouts in the free version of the plugin. However, the paid version has two additional layouts – Masonry Grid and Thumbnail slider.
10. Toolset Testimonials

Toolset Testimonials is yet another WordPress Testimonial plugin that gives you full control over your testimonials. You can decide how a testimonial will look and feel on your website. You can also build testimonial screens easily without the need of writing long PHP codes.
It allows you to display testimonials in different ways. You can either display them in the form of side widgets, full pages, a slider layout, or a grid layout.
11. Emailwish Automations
Here is a bonus for you. Emailwish automations are available on the Emailwish WordPress plugin too. Using this plugin you will be able to use Emailwish Live chat and chatbots, include beautiful pop-ups, and collect reviews from customers directly on your website. With Emailwish, you get "Review request" and many other pre-built email automations, you can make changes to them as per your needs and you are good to go . Besides this, you can easily manage your customer reviews using Emailwish. Display your customer reviews most effectively and elegantly. Collect more photo reviews that drive up to 91% uplift in conversions. You can also use live chats and chatbots to directly connect with your clients.
Know more about Emailwish automations.
Conclusion.
Customer feedback is important, and businesses worldwide are trying their best to collect and utilize this feedback to bring in more customers. It is important to choose and utilize the right tools to collect and display customer reviews in an effective manner. These reviews should be easily accessible to the people who are visiting your website so that they can clear any doubts regarding your products and services and make an informed purchase. If there's any plugin that we missed, please let us know in the comments below. We love to read your reviews and suggestions.