Are you looking for plugins or apps to add to your Shopify account to make your business more seamless? then you are in the right place. If you are a newbie, then great, but if you are a seasoned businessman, still great because we have a product in this list that will help you reduce the number of subscriptions you buy and get rid of all the apps that only serve minimal purposes, and for that you need to read to the end of this article.
Make Dropshipping on Shopify Easier!
Dropshipping is getting popular these days. Many online store managers engage in dropshipping to earn hassle free due to the efficient process and minimum risk involvement. But what is Dropshipping? If you are planning on opening a store that works on the dropshipping concept, these applications as well as the Dropshipping Mega Guide will definitely come in handy.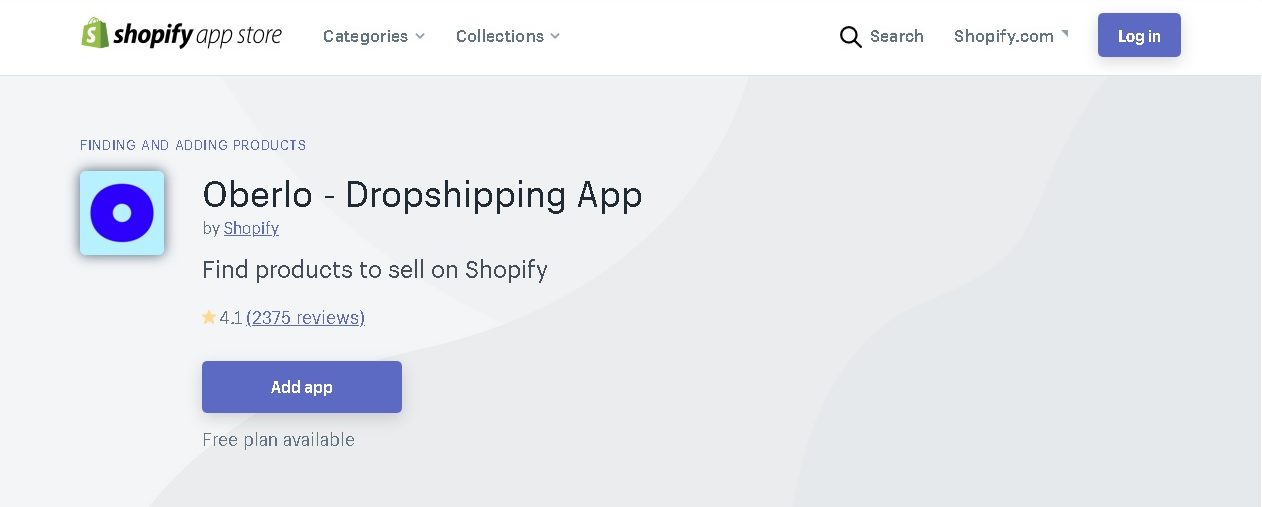 SHOPIFY RATING : 4.1/5
This app is for Dropshipping model stores that want to include and sell products from different companies. Oberlo ships the ordered product directly from the supplier to customer, without you ever having to even touch the product. It helps track these orders and also helps to find the trending products to Dropship to increase overall sales.
As a dropshipping app, it needs to makes sure products are delivered faster. For that Oberlo imports products before hand into warehouses. Countries such as Australia, Russia, USA, etc have such Oberlo warehouses.
Similarly, You can import the products to your store and Oberlo will fulfill the delivery. This way you can help deliveries get faster.
Pros:

Can be linked to AliExpress
A wide range of products and suppliers
Automatic order fulfillment
Free plans for first time users or users who want to try
Importing products beforehand in selected countries
Cons:

For each product you are paying through Aliexpress, you need to pay manually
Price plans:
Starter – Free (limitations : 500 products, no bulk orders, no tracking, no affiliate program, no multiple staff accounts)
Basic – $29.90/month (limitations : 10,000 products, no multiple staff accounts)
Pro – $79.90/month (All features enabled and 30,000 products)

SHOPIFY RATING : 4.6/5
Spocket Dropshipping by Spocket focuses solely on Dropshipping and features regarding it. Spocket offers products manufactured in United States and European Countries, who have the best technology in manufacturing in the world. Spocket claims to have best discount rates ranging from 30% to 60% so that you can stand out with best offers amongst your competitors. Spocket also has the stock auto update feature, this way you won't sell items that are out of stock, ever. Spocket also provides Real time order tracking to know where exactly your order is.
Pros:
Sell Products Manufactured in UK, EU countries, and US
Sell products at wholesale prices.
Suppliers can add store invoice with your store name, log and a personal note to the package before shipping.
Faster shipping in the US, UK, and EU regions.
Automated order processing.
Use Spocket with Shopify as well as WooCommerce platform.
Free plan is available.
Cons :
Dropshipping outside of the US, UK, and EU will be costly and time consuming.
No Package customization.
Cannot communicate directly with suppliers.
Price plans :
Free – (Can only browse product catalogue)
Starter – $19/month (25 unique products and email support only)
Pro – $49/month (250 unique products and 25 premium products only, branded invoicing and chat support)
Empire – $99/month (10,000 unique products and 10,000 premium products, branded invoicing and chat support)

SHOPIFY RATING : 4.3/5
Printful does what many printing houses can't do for you, and that's Printing On Demand. You can Print your products on demand based on the orders received, and it is directly shipped to the customer, you don't even need to stock up on anything. Printful has range of products to design on and sell them. They also have their on design generator for you to design your own products like shirts or any other clothing.
Pros :
Integrates with many platforms like Amazon, eBay, Etsy, Shopify, Woocommerce, Bigcommerce, Weebly, and many more
Automated order importing
Easy to customize your designs
Need not print in bulk, print only when you receive an order
Shipping with tracking is available
If product is not shipped, they handle the charges and other costs and possibly refund if needed
Cons :
You cannot control Printing quality, but you can check by ordering a sample before listing it
Longer duration on order fulfillment than usual
Cannot be returned nor refunded if ordered by mistake or wrong clothing size
They handle only product misplacing or lost during shipping and not wrong item or damaged items
Starting prices of some products will be higher and will allow very narrow margin of profit
Price plans : Totally free!
| | | | |
| --- | --- | --- | --- |
| Apps | Oberlo | Spocket | Printful |
| Rating | 4.1 | 4.6 | 4.3 |
| Dropshipping | Yes | Yes | Yes |
| Multi-Platform integration | No | No | Yes |
| Production on Demand | No | No | Yes |
| Worldwide shipping | Yes | Yes | Yes |
| Product import and export | Yes | No | No |
| Pricing | Free, $29, $79 | Free, $19, $49, $99 | Free |
Conclusion :
As an online store that is conducting Dropshipping concept of business, having these apps is the basics of such. But at present times, dropshipping business and applications have gone beyond just products and have introduced new concepts like production (or print) on demand allowing you to be more experimental in this game. Among these apps, if you are someone who wants to sell printed products or make use of your creativity in business, the Printful is the right option for you, else Oberlo seems to have the best hand in this concept of business.
Let your customers know that your Shopify store is trusted by others!
Customers trust stores that have good reviews or are popular and well known by their circle. But for a new upcoming store or off-beat store like yours, it is hard to gain customer's trust by having only good layout or good product description. They need something else, like a proof that they can rely on.
A new concept called Social proof is employed by online store managers, where, whenever a customer buys something through their store, they show it to others via a pop up. This creates a sense of urgency and helps build trust too. How? Someone just bought from your store and they witnessed it. That proves them that people rely on your store for their products and it helps your customer make a decision.
Not only that, this also creates a fear of missing out (FOMO for short), which creates urgency and increases the chances of sale. And you can do it too with these apps.

SHOPIFY REVIEW 4.7/5
Sales pop up pro by care cart is just like any other sales pop up app that uses live sale notification as an application of social proof to create the fear of missing out and a sense of urgency. What makes it different that it is greatly customizable and has been used by many store owners and has great overall rating making it one of the trust apps in the Shopify store
Pros :
Sales Notifications
Stock Countdown Bar
Countdown Timer
Add to Cart Notifications
Quick View Popup
Customizable
Timer display feature
Cons :
The app timer starts with UTC time and needs time to switch to your local time zone and will end up showing wrong time on your store page
Sample notifications are enabled which some times are confusing on how to turn off
The app sometimes forces users to review in order to continue using it even though the developers mention that it is optional
Price plan :
Free

SHOPIFY REVIEW 4.7/5
Sales Pop by Cart Kit is as named a Sales Pop app that reminds the customers of the products they are abandoning in the cart, and it gives them live social updates on every purchase on your site which gives them the fear of missing out and builds a sense of trust with the store and increases your sales.
Pros :
It has good layouts and customizable templates
Shows pop ups in real time of purchase
you have the option to anonymize the pop ups
Can set reminders for abandoned carts
Geo-location and open API are one of its features
Cons :
Current app version has bugs that charges the free users $29, sometimes before even using it
Certain app features are available only if you rate them
Some bugs have changed the site settings and users had to built from scratch
Too costly for just a sales pop up app
Price plans :
Free – 100 unique visitor / month
Growth 10k – $29/month (10,000 unique visitor / month)
Growth 50k – $49/month (50,000 unique visitor / month)
Growth 100k – $129/month (100,000 unique visitor / month)

SHOPIFY REVIEW 4.8/5
Sales Pop Master by Autoketing shows active sales notifications to your customers to build their trust on the store, and with its marketing tool, you do not need to invest anymore money on advertising, rather you can invest somewhere more important. In addition, the app provides customization feature for the sales pop in text, font, colour, position and theme matching. This app is optimized to run on mobile as well desktop devices. This app also offers you unlimited popups during installation to help increase your sales and transactions.
Pros :
Highlighted product pop-up
Stock countdown
Coupon code wheel
Quick view box, show customers in quick view, the details on the product just sold
Customizable Popups
Cons :
Not very detailed customization, such as the pop-up box colour and font
No insights and statistics available, thus you wont understand if you are making more sales or not, or whether people are clicking more on the popups or not, except via comparing sales manually
Current app version has bugs that do not show popups or do not allow users to change settings
Price plans : After 3-day trial
Basic – $9.99/month (Products added to cart, Countdown timer, Countdown stock Specific chart Pro design)

Pro – $14.99/month (Features in Basic plan, Countdown timer (Unlimited campaigns), Cart boost sales, Quick view, Coupon code wheel (1000 views), Countdown cart)

Advanced – $20.99/month (Features in Pro plan, Coupon code wheel (Unlimited views), Countdown timer (Unlimited campaigns), Quick view, Countdown cart)
| | | | |
| --- | --- | --- | --- |
| Apps | Sales pop up Pro by Care Cart | Sales pop by Cart kit | Sales pop Master by Autoketing |
| Rating | 4.7 | 4.7 | 4.8 |
| Support multiple platforms | No | Yes | No |
| Insights and Statistics | No | Yes | No |
| Stock count down | Yes | No | Yes |
| Coupon code wheel | No | No | Yes |
| Geo-location | No | Yes | No |
| Visitor count | No | No | No |
| Customization | Yes | Yes | Yes |
| Price | Free | Free, $29, $49, $129 | $9, $14, $20 |
Conclusion :
Sales Pop as a business boosting application is good, many cant deny it's importance, especially if you are a fresh new store. But how effective is a sales pop up is totally on you and your skills, how you customize it, how frequent it pops and many other points. Other than that, what tools these apps offer you will surely help you convert your sales.
Among the ones above, Cartkit is thoroughly used and tested is definitely more stable, but is very costly. Autoketing's application is cheap and tested, but doesn't offer important feature like insights.
If you are someone who wants to use this concept strategically and smartly then Cartkit's application should be the best, given some app improvements, and even if you are just employing the concept and aren't too serious, this application's free version or Sales pop by Care cart should do the job.
Let everyone know about your Shopify store!
No matter how old your business is, advertisements have always been the basic need to companies and businesses that want to grow and thrive in this competitive world. As Shopify allows you to add plugins or apps, below are some of the best apps that will do the advertising on google for you or help you do.

SHOPIFY RATING : 4.3/5
The Clever Google Adwords by Clever ecommerce uses Clever's technology launches the ads on multiple channels such as Google Ads search, displays and any shopping networks by 5 step installation.
You can create your own advertisement, giving you the creative freedom in the manner you want to attract your audiences to buy your products and helps you be more competitive.
Track all the Marketing campaign effectively and easily with useful features such as Account optimization, Dedicated Account Manager or Dynamic Re-marketing. Also get the scheduled reports about your campaign performance weekly.
Pros :
Automated keyword generation
Campaigns on Google search results and other Google sites
Re-targeting ads
Performance reports
Dedicated account manager
Multiple platforms supported
Cons :
Dreadful customer service, response time is too long or they don't respond at all
Buggy application, deletes other ads on your Google ads account
Low conversion rate according to users
Price plans :
Basic – Free (Very limited features)
Premium – $49/month (Most features except insights, YouTube ads, Multilingual campaigns)
Custom – $99/month (All features)

SHOPIFY RATING : 4.2/5
Apps released by the Storeya team , Google Ads & Google Shopping, are tools for Shopify store administrators to boost sales, raise leads or even generate high-quality traffic to your website.
It optimizes the bids in real time and matches the ads and keywords with the best relevant pages on your store site. Storeya's professional team can help you make personalised ad on biggest platforms.
Features such as Automatic bid optimizer, Geo-targeted visitors, Dynamic keywords and ads, and even Machine learning can help you employ the most suitable advertising method.
Pros :
Automatic bid optimizer
Machine learning and AI enabled
Geo-targeting visitors
Re-marketing
Dynamic keywords and ads (changes keywords and ads according to queries and keyword searched)
Cons :
Conversion is on you, they just drive audience which doesn't mean you will get sales for sure
Recurring payments (Needed to keep account active) but mentioned only when you use the app and not before hand
Highly Variable traffic, the app changes the amount invested to understand your needs but takes time to do so and results in less traffic every now and then or for a month
Price plans :
They are offering 33% discount on first month of use, after that the original prices are applied as given below :
Basic – $180
Standard – $500
Pro – $1500

SHOPIFY RATING : 4.6/5
Free traffic and easy ads by six ads is a free app that allows the user to place ads for free on other websites. It also employs targeted ads on Facebook, Instagram and Google. The ad software is automated to synchronize to the changes on your site made on the product bio, images or stocks. It stops showing ads if the store is out of stock for a product. If you as an user do not have accounts on Google and Facebook ads then six ads will set it up for you.
Pros :
Automated synchronization on stock availability and changes in product description
Free ads and pixel account setup
Free traffic feature
Analytic tool to understand which ad is driving traffic better
Cons:
Free traffic feature uses your Shopify store space to show ads in exchange for free traffic ads for you on other websites
You cannot control what ads are displayed on your ad space
Ad review takes 48 hours or more
Pop ups, they are the part of the free traffic plan and show ads for other websites which drive your traffic to their store
Price plans:
Free to install, but other recurring charges for ads are still charged within the app.

SHOPIFY RATING 4.9/5
Feed for Google shopping is an app made by Simprosys infomedia which does exactly what its title says. If you are new to the concept then what this app does is, it connects your shopify store with Google merchant center and allows you to easily bulk list or solo list your products that will be displayed on Google shopping feed when any customer searches for products that are in your listing.
This app allows you to bulk edit, filter and use other editing feature right through your Shopify store, Added features are that you can add product variety as well as add second Image as Product Image and Additional Images to your feed ads and submit SKUs As Product IDs.
Price plans :
$4.99/month – upto 500 products
$8.99/month – 501 – 1000 products
$13.99/month – 1001 – 5000 products
$17.99/month – 5000 – 10000 products
| | | | |
| --- | --- | --- | --- |
| Apps | Clever Google Adwords by Clever e-commerce | Google Ads & Google Shopping by Storeya | Free traffic and easy ads by Six ads |
| Rating | 4.3 | 4.2 | 4.6 |
| Google ads | Yes | Yes | Yes |
| Facebook ads | No | Yes | Yes |
| Instagram ads | No | Yes | Yes |
| YouTube ads | No | Yes | No |
| Re-targeted ads | Yes | Yes | No |
| Performance reports | Yes | No | Yes |
| Dynamic ads | No | Yes | No |
| Geo-targeted ads | No | Yes | No |
| Price | Free, $49, $99 | $180,$500,$1500 | Free + recurring charges |
Conclusion :
Ads are certainly a very important aspect in growing one's business. But they are just ads and conversion is on you always. Other than conversion, driving traffic is "ad's" responsibility and they can fulfill it as they see fit, usually the ones that are diverse in application can easily fulfill such requirements.
In the above app list Google ads by Storeya seems to be the best app for a person trying to go diverse but isn't tech savvy because Storeya doesn't offer performance reports or insights, but due to their diverse ad displaying platforms, the plans are quite costly.
Other than that if diversity isn't important and performance reports or insights are then Clever e-commerce's app is the next best choice.
Make your customers feel special by personalizing your emails!
Don't you feel special, when you aren't a regular customer but have only come back for the second time after months, and yet the store manager remembers you and gives you special treatment? It makes you feel comfortable and helps you make better choices to buy at their store, and chances are, along the flow you might buy something extra because you are feeling happy.
Similarly, when customers visit your store or whenever you contact them, if the customer feels that you have specifically mailed them with an e-mail, customized just for them, they feel special and appreciated. This way they will surely visit your store and will refer to your store in future too. Although subtle, this concept has fixed a customer for you, for now and for future too!
usually these things are a hassle and takes time, but with the apps below, it will reduce all the hassle and save your time and energy so that you can focus on something more important!
Klaviyo by Klaviyo

SHOPIFY RATING : 4.3/5
Integrating Klaviyo with Shopify will help you achieve more targeted communications in few moments. It collects your data from store and syncs with its database to create customized messages for each customer and helps drive more sales.
Klaviyo has another feature called Klaviyo flows which allows the users to automate email marketing using some coding. Apparently many people have found this feature tough to understand and use, thus very few people know and use this feature of Klaviyo.
If you are one of those people who have tough time understanding lines of code and their relations, then it is in your best interest to switch to Emailwish. Emailwish too offers email marketing and automation, its just that you do not need to code anything. All the coding is done by the app and their support. All you need to do is provide the conditions on which the email should be sent
Pros :
Dynamic forms and personalizations
Analyze behaviours and preferences
Detailed segmentation
Free of cost
Personalized automation
Targeted campaigns
Multi-platform integration
Email + SMS Marketing
Provide analytical insights
Cons :
Not so active customer support
Cannot delete multiple contacts at a time
Deleted contacts might get re-imported and start receiving mails
Lengthy process to suppress contacts to avoid mailing in future
External fees are applied for sms, mms and email via third party, thus they aren't fixed and isn't displayed in Shopify invoice
Automation requires some amount of coding knowledge, not possible by everyone to study coding just to automate limited responses
Price plans :
Free, only external service charges are applied.
Pop Ups, Email, & SMS by Privy

SHOPIFY RATING : 4.6/5
Privy is your one stop solution for contacting your customers on their purchase receipts, abandoned cart, and for offers and more. Using Privy you can send emails as well as SMS to remind them, also its offers pop-ups to promote discount and drive sales.
As an Email marketing app, Privy does offer more than that, but doesn't offer them together. You need to buy different plans to avail different features. This way monthly charges pile up and the app becomes costly. Over that they offer plans on number of contacts. This can be a pain if you frequently receive new visitors.
Now you can either stay stuck with app or switch to a better one. Here Emailwish can offer you better plans based on number of emails sent. If that limit is reached you can either upgrade or you can add extended emails for $0.95 per 1000 emails.
Pros :
Pop-ups
Email as well as SMS marketing
Customizable templates
Other pop up features like spin wheels, banners and cart savers
Free plans
Flyouts
Embedded forms
Cons :
Free version has Privy branding everywhere, cannot remove it
Doesn't sync other email lists users have
Apparently makes the webpage heavier and slower to load
Charged based on just page views not conversions or emails sent
Emails and SMS have different and separate charged rates other than driving the traffic
Traffic builder, Email and SMS marketing are three different services and not all in one app
Price plans :
Privy Convert – Free for first 5000 page views and then $20 onwards beyond 5000 pageviews
Privy Email – Starts with $13/month for upto 1000 Email contacts
Privy Text – Starts at $10/month for upto 100 SMS contacts
Privy Starter – Starts with $30/month for upto 2000 Email contacts along with Convert
Drip by Drip

SHOPIFY RATING : 4.1/5
Drip as an application, can be used by store owners to customize their mails, SMS and social media messages for engaging their customers and converting leads in to sales. Drip uses all the data that they can accumulate about your customer (Data such as which page was visited the longest, the most frequent, what was searched, previous purchases and abandoned cart products) from your store page and uses them to create a database on each customer. Insights are given by drip as to which email campaign got better results and which didn't, which you can use for your own development in making better campaigns.
Drip does offer some good features but they are limited, as in no automations and plans charge based on number of individual accounts of customer. Which can be limiting if you see more non potential customers visiting your site; this way your limit may be over too fast. Yet the app charges high rates.
In contrast to that, Emailwish will charge based on number of mails you send and offers many more features like automation, chat and many more with plans starting from just $25/month.
Pros :
Provides insights on campaigns
Uses customized templates for every customer
Multiple platform compatibility
Detailed segmentation
Custom fields for Emails
Workflow split testing
Uses customer data to show relevant ads on Facebook and Instagram
Cons :
Apparently new application and has payment bug issue reviews
Customer service has been reported to be unresponsive for months at a time
Plans charge based on number of customer accounts
Costly compared to its competitors
Has external charges that aren't shown in Shopify invoice
Price plans :
Starts with $19/month for 0 – 500 Contacts or personal customer database
$19/month for 0-500
$29/month for 500-2000
$39/moth for 2000-2500
And increases upto $1599/month for upto 40,000
Beyond that they want to talk to you
| | | | |
| --- | --- | --- | --- |
| Apps | Klaviyo | Privy | Drip |
| Rating | 4.3 | 4.6 | 4.1 |
| Email | Yes | Yes | Yes |
| SMS | Yes | Yes | Yes |
| Insights/analytics | Yes | No | Yes |
| Customizable templates | Yes | Yes | Yes |
| Pop up features | No | Yes | No |
| Multi-Platform support | Yes | No | Yes |
| Social media ads | No | No | Yes |
| Price | Free + External charges | Starts at $13/month | Starts at $19/month |
Conclusion:
Email marketing in its own sense is important but when added benefits come with it it becomes more than just important, it becomes a necessity in today's e-commerce world and today is such a time when no one cay say it is tough or impossible to make such an app.
We have examples above. But they fit to some extent, beyond that there are other apps that can out do them but don't fit in any section for instance Emailwish, this app is an multipurpose app which includes email marketing in its list of other features.
But if you are talking just about email marketing among the apps above then Klaviyo is the best option because it is free and has the basic necessities for email marketing as well as insights as to which campaign is working better. Other than that if you are willing to spend money then drip is the application for you as it offers social media ads too.
Talk to your customers directly!
Many a time we need to talk to our customers regarding their orders or any other delivery issues or concerns. But at that time you get pretty flustered and frustrated by trying to manage between different applications other than Shopify and sometimes even between different devices. It is hard to keep track of what goes on then.
Save yourself from such hassles by adding chat applications and plugins on Shopify, and contact your customers directly from Shopify without even leaving the browser.
Whatsapp Chat + Messenger Chat by pushdaddy.com

SHOPIFY RATING : 4.7/5
This application is a one stop shop for store managers who are looking for chatting with their customers directly via their store and on any messenger app. This app displays a chat icon on your store for contacting, and once a customer opens the chat box, they are redirected to the respective chat application that they opened and are asked to login to continue chatting with you. This way the app offers multi-platform chat solution.
It has a great multi messaging app compatibility but lacks severely in UI as well as requires customer to login to contact you. Which people are not usually comfortable with. Emailwish doesn't require your client to do anything other than opening the chat box and messaging you. No login credentials and better UI design.
Pros :
Multi-platform integration
Free of cost
Works on both desktop and mobile version of website
Customizable
Allows multiple messenger options to chat on
Cons :
UI design is bad and is tough to set up and use
Requires customer to login on the respective messenger application, which some customers might be uncomfortable with, especially the first time visitors because profile or number is then visible or vulnerable
The application requests you to rate it every now and then, from the time you install it
Price plans :
Free, other than that they charge only for automated abandoned cart messages, which they them selves have said you can send it for free if sent manually.
Tidio Live Chat by Tidio Ltd

SHOPIFY RATING : 4.8/5
Tidio is a whole sole chat application company that offers chat solutions. Their Shopify application offers chatting with customers on their app directly on your site, without you or your customers having to leave your store. Tidio offers three versions of this app, a free version which allows you chat live with your customers and also offers 100 bot triggers, which mean that when you are away, 100 conversations with customers will be handled by the bots. Not just that, they also offer emailing services upto 500 emails per month.
Tidio's greatest down side is is pricing options. It offers only chat bots for $18/month and only communicator features like "typing.." and other for $18/month. It seems if you want both you will have to buy both making the app costly.
In contrast, Emailwish offers them both only for $25/month along with Email marketing which Tidio offers as a different plan altogether. Switching to Emailwish is the Smarter option here.
Pros :
Direct chat on website without using any other application
Can be used for free if just live chat is all you need
Desktop and mobile compatibility
Customizable
Provides visitor's info so that you can offer or talk according to their location and other info
Cons :
Has separate plans for live chat features, bot chat features and email marketing
In some instances the app icon hovers over the check out button and doesn't allow anyone to access the button
Price plans :
Free
Chat bots – $18/month
Communicator – $18/month
Email marketing – $10/month
Gorgias ‑ Live Chat & Helpdesk by Gorgias

SHOPIFY RATING : 4.8/5
Gorgias is an all in one app for store managers who are looking for multi app platform integration as well as customer's feasibility, where the customer can contact from any platform they are on. Also when the customer is trying to contact you they do not need to leave your store page to talk to you. Gorgias also offers chat bots, recognizing customer intent, active personalization, and updating or cancelling orders from the chat box itself. It also handles phone calls. Gorgias has automation rules that you can set for specific keywords like refund or where is my shipping and allow yourself to focus on more important tasks.
As a chat app, Gorgias does offer very amazing features. But, it is ridiculously charged. Apparently it is not an hassle to navigate while chatting and editing order details. If that is what you think, then Emailwish is just for you. Emailwish offers chat box and chat bots along with other automated emailing, pop up and more features for just $25/month. You can see which is reasonable, right?
Pros :
Automated rules
Multiple platform integration
See customer details simultaneously and edit them too
Check the order details while talking on Gorgias and edit the details there itself
Accept Phone calls
Chat bots
Personalize chat with data while chatting with customer in the chat box
Cons :
Mobile app version is unstable
Costly plans
High cost per ticket
Slower in function
Price plans :
After 7 day free trial,
Basic – $60/month
Pro – $300/month
Advanced – $750/month
Enterprise – Custom
| | | | |
| --- | --- | --- | --- |
| Apps | Whatsapp chat + messenger | Tidio live chat | Gorgias |
| Rating | 4.7 | 4.8 | 4.8 |
| Multi-app integration | Yes | No | Yes |
| SMS | No | No | Yes |
| Phone call | Yes | No | Yes |
| Personalization | No | Yes | Yes |
| Automation rules | No | No | Yes |
| Customization | Yes | Yes | Yes |
| Chat bots | No | Yes | Yes |
| Price | Free | Free, $18, $18, $10 | $60, $300, $750 |
Conclusion :
Very few store owners are actually big spenders while the rest are trying to make it by, in such cases if you do spend big and you need features for your big store, then Gorgias is the app for you. Gorgias had terrible performance and worst customer service until early 2019 but this year they have almost no reviews stating having bad service and app functionality and it seems Gorgias can be relied upon.
If you aren't a big spender and can do by just talking to your customer on your website and manually responding to your clients on other platforms, then you can surely go for Tidio. And if you do want them all in one place but cant spend much then go for the Whatsapp chat messenger app.
Know what your customer thinks about you!
Are you delivering orders without knowing how the customer has received it, as in which state the product was received, was it damaged, or tampered, or did they receive it properly? and in the worst case scenario, was a wrong product delivered? And after receiving it, did the product work as expected or fit as expected? are the customers happy?
Even if you keep track of these via manual methods, isn't it time and energy consuming to call or contact and then ask about the whole process and keep record of it. It is time that you as a Shopify store owner have evolved or rather improved with how much efficiency you work. Look below for the apps that do just the thing you require for collecting and storing reviews from customers.
Judge me Product Reviews by Judge.me

SHOPIFY RATING : 5/5
Judge me Product review app is just the app that any Shopify store owner needs for collecting and sharing reviews. Judge me collects reviews from your past as well as present customers who bought products and allows you to offer then discounts or offers to get them back on your store for more. Judge me integrates completely and easily with your Shopify code and works seamlessly. It can collect reviews from mails to post delivery pages on your store.
This review app is free and that is an amazing perk. But it is great only if text reviews are enough for you which are displayed with their branding. If you want photo or video based reviews and do not want their branding, then you need to pay $15 / month. There are other features that you get but all are related to reviews being synced, allowing you to send coupons and placing the review on Google shopping. But this is beneficial only if you have multiple stores and many customers. What about solo stores with less customers?
This plan becomes unfair as they do not need these features. Here such stores can switch to Emailwish and get more than just review feature at $25/month. They can ask for review, do email marketing, display pop ups and do more to make their shop successful.
Pros :
Product reviews with text, photo and video and automatic reminders
Unlimited review requests, orders and imports
Review Carousel (6 free themes to show your best ratings)
Multi-lingual (with 34 languages supported)
Floating Reviews Tab
Question and Answers (Q&A) and custom forms
Product review groups & cross-shop synchronization
30-day refund
Cons :
The API app integration with Shopify code cannot be removed after uninstallation, you need their help to remove those lines of codes.
Every time a customer leaves a review, they receive a discount coupon via email and will do even if same customer leaves multiple reviews giving them multiple discount coupons.
Their developers work live on your code and apply changes almost instantly causing changes in themes you never intended or breaking your Shopify cart.
Price plans :
Free version "Forever free"
Paid version "Awesome" – $15/month
Product Reviews, Photo Reviews by Loox

SHOPIFY RATING : 4.8/5
Loox is one of the many applications that offer reviews from your customers for your products sold to them. Loox offers to collect reviews on autopilot mode, display reviews that help sales, multi-channel review generation, which means it will try to get reviews from your customer on any platform that can be found. This app also allows you to import you reviews from Aliexpress as well as contact your past customers for reviews on products you sold before installing this app.
As a review app, it offers review moderation as to which review should be allowed to displayed on your review list and Loox creates special review pages for your brand on your brand social media pages such as Facebook.
All these features of social media advertising is great but it would be possible only if you can gather reviews. Loox charges $9.99/month for just 500 emails for reviews. This is insanely costly. Emailwish does more than that and gives 30,000 emails/month for $25. Send as much review emails as you want and if you hit limit, you are charged just $0.95 per 1000 emails.
Pros :
Review email campaigns
Multi-lingual (15 more languages)
Collects reviews on old sales made before installing the app
API integration with Shopify code
A special review page on your website as well as on your social media pages
Different ways to show reviews for your products
Discount codes for photo reviews
Post review referral requests
Google shopping support
Review Moderation
Cons :
API integrations means the code doesn't get removed after uninstallation and needs to be removed manually
Free trail bug, customers opting for free trial have received invoices for plans that the app offers
Other language support is not good
Comparatively very expensive, many other apps offer same functionality at lower or almost no cost at all
Loox branding bug on paid plans
Problems with importing reviews from other platforms such as aliexpress
Price plans :
Basic – $9.99/month
Advanced – $29.99/month
Pro – $59.99/month
Unlimited – $99.99/month
Stamped.io Product Reviews UGC by Stamped.io

SHOPIFY RATING : 4.9/5
Stamped.io product reviews takes the concept of reviewing products for increasing your sales to the next level with features that ease the search process of your customer saving their energy and time, which is likely to increase their comfort in searching for products and its reviews and increasing your sales.
This app offers features like review filters based on searched keywords, phrases and topics, as well as offers multilingual support. The app offers you as a store owner to moderate which review gets posted and which doesn't. Other than that the app offers customization and widgets for making the review section more lively and interactive than usual.
As a review application, Stamped.io collects 7 user generated content to be displayed on your site for your customers, so that they can understand and judge the product themselves before they buy it. But stamped.io limits the number of reviews you can take according to number of orders. This can be very limiting for big businesses and will have to pay $39 to $99 per month if they receive thousands of orders. According to their advertisement you collect reviews via email. That means you are limited on sending review emails too.
You can over come this with Emailwish who offers 30,000 emails for just $25 and you can send more after reaching the limit with $0.95 per 1000 emails. Also Emailwish will offer other features like automations, pop ups, chat bots, etc in the same package. It is clearly evident which one is value for money here.
Pros :
Multi-lingual support
Collects multiple UGCs
Offers 10 on site display widgets
Customizable
Review Moderation
Search review via text or topic filter
Product groups, allows to share reviews between similar products
Smart banners and social media ads with re-targeting
Insights on UGCs
Reports and analytics
Cons :
Sends review request as soon as you install the app without your consent even if you are just trying the app.
Some users have experienced very poor support on technical issues
Installation is tough if you are not familiar with codes of Shopify
API integration leaves codes in your store codes and you have to remove them manually
You need at least business plan for using Google reviews
Most of the features are available only after Premium plan
Slow loading speed
Comparatively very costly for some features
Price plans :
Free
Basic – $19/month
Premium – $39/month
Business – $99/month
Enterprise – $249/month
| | | | |
| --- | --- | --- | --- |
| Apps | Judge.me | Loox | Stamped.io |
| Rating | 5 | 4.8 | 4.9 |
| Multi-lingual | Yes (34 Languages) | Yes (15 Languages) | No |
| Review import | Yes | Yes | Yes |
| Insights / Analytics | No | No | Yes |
| Separate review page on social media | No | Yes | No |
| Smart ads | No | No | Yes |
| Review moderation | No | Yes | Yes |
| SEO | Yes | Yes | Yes |
| Review filter | No | No | Yes |
| GDPR compliant | No | Yes | Yes |
| Reply or Comment on reviews | No | Yes | Yes |
| Price | Free, $15 | $9.99, $29.99, $59.99, $99.99 | Free, $19, $39, $99, $249 |
Conclusion :
Collecting review is an important aspect of business where the customer can tell us where we went wrong or where we were great as well as we get to know our customers through their feedback or reviews as to what they like and how they think it should be. But collecting reviews is a tough task, and in today's age automation is everything.
Out of the apps listed above for reviewing, Stamped.io would be the best if prices are ignored, and from an economic perspective Judge.me would be best but we don't get as many as features we would get in Stamped.io.
If we were to come somewhere between, then we will find Loox, and it does what we need and provides features too.
Loox would probably be a great tool in retrieving reviews and using them strategically but it doesn't beat Emailwish in that same spectrum economy and feature laden software comparison. Because Emailwish offers more features at fraction of its cost and yet it is not listed because it devours three segments of this app list alone.
Lead your customers by Pop-ups!
Pop-ups are a great deal of help in online business. They help you offer great discount, product recommendations, and help you notify your customer that they forgot something in their cart. To some people Pop-ups seem annoying, but at he end of the day it drives sales.
Because you never know whether a customer is going to look for your products accessories or not, and when you present it on a platter (which means they don't have to go through the trouble of searching it), they feel better and usually end up buying the product. And if you think too that pop-ups can drive sales, then look no further because we have listed some of top Pop-up applications for your Shopify store.
Justuno Pop Ups & Conversion by Justuno

SHOPIFY RATING : 4.7/5
Justuno makes Pop up apps more than just pop ups,It allows you to integrate pop up apps with other email marketing ans sms marketing applications like Klaviyo and SMS bump, while collecting customer contact details from their pop ups and pushing them to these apps for future contact and follow ups.
It has advanced targeting rules like time on site, UTM source, items in cart, amount in cart, has/hasn't purchased in [x] days, geo-location and various pop up types such as full screen overlay, center pop-up, corner slide out, and top or bottom banner.
Apparently this app might seem cheap, but a cheaper and better option is clearly Emailwish. This app charges based on number of emails you have sent because it is a multi feature app. This means you get access to unlimited pop ups with Emailwish as well as other automation and email marketing features for just $25 instead of $29 which Justuno charges for 10,000 visitors. Just for pop ups.
Pros :
Integrates with other email marketing and sms marketing applications
Targeting rules along with timed rules
Different types of pop ups
Advanced and detailed target rules
Count down timers
Spin wheel coupons
Dynamic message banners.
Exit offers
Age verification
analytics
Cons :
Cancelling subscription is not an easy task
Tracks cursor for exit intent pop ups, thus exit intent pop ups don't work well on touchscreen devices
Customer service is sometime unresponsive or delayed
Dedicated account manager, Onboarding services and Installation support are avilable only for pro users and not even for paid users of normal Justuno users
Also phone support is for Justuno pro users only, Normal or essential paid Justuno users dont get the service either
Price plans :
FREE for <5000 monthly visitor sessions
Pro Plan 1 – $29/month (10,000 monthly visitor sessions)
Pro Plan 2 – $49/month (25,000 monthly visitor sessions)
Pro Plan 3 – $99/month (50,000 monthly visitor sessions)
Justuno plus plans
Exit Intent Popup by OptiMonk

SHOPIFY RATING : 4.7/5
Exit intent by Optimonk is one is the most trusted Pop-up apps on Shopify store because their customer service is top notch and the app does what it promises to do. The application has various types of targeting and triggering options as well as 6 different types of Pop-up display types that allows you to display messages of different importance with different size of pop-ups. You can either use their 200 + library of Pop-up templates or create a custom template from scratch using the drag and drop tool. To make your and your customer's task easy, it automatically applies the coupon code they received to the cart while checking out.
This app offers free versions which is best just for trying out the features but not best, maybe it is for stores which just started out. The rest of plan seems costly. Having only 29,000 page views per month as a limit seems too small. As a pop up app it is great that limit is given on page views and not pop ups displayed, yet it could have been cheaper.
Emailwish, for instance; offers unlimited pop ups as pop ups are one of the many features they offer. They charge subscriptions based on number of emails you send. If you do not send many emails then the cheapest plan of $25 will give you email marketing, automation, pop ups, chat and chat bots, etc. Which is definitely pocket friendly.
Pros :
200 + templates
6 types of pop messages
All kind of pop up triggers
Drag and drop feature for customization
Product Recommendations
Assisted Revenue
Auto Coupon Redeem
Smart Display
Re-cart integration
Hide/unhide for logged in users
Google Analytics
Cons :
Doesn't integrate well with SMS Bump or text messaging apps
Pop-ups don't work via Pinterest app browser
Slows down site loading in some cases despite mentioning that it doesn't
Comparatively Costly
Cannot remove branding until you upgrade to Premium plan
Limited to one domain in free and essential plan
In increased number of domains main domain and sub domain (such as blogs) of the same main domain are considered as two different domains and not a part of one domain
Price plans :
Free
Essential – $29/month
Growth – $79/month
Premium – $199/month
Tada : Email Popup Wheel Game Pop ups by Smartflowlabs

SHOPIFY RATING : 5/5
Tada by Smartflowlabs is a pop up application for your e-commerce store to collect emails and offer discounts to your customers. Tada offers various methods of engaging your customers via pop ups like coupon wheels, mystery box and discount offers either during they stay on page or whenever they are about to leave the page such offers are triggered using exit intent and also when they abandon carts.
Tada also allows you to integrate with other email marketing applications such as Klaviyo or Mailchimp to use customer fed email data for your email marketing purposes. This way Tada halps you to keep your customers stay engaged and reduce bounce rates as well as help you on your e-mail marketing with providing emails.
This app has the perfect rating on the Shopify store, but doesn't has the perfect plans and subscription charges. For instance, Tada charges you based on impressions and not on page views, that means every time a popup is displayed an impression is counted. This way your limit will be over soon if you employ many pop ups and hence you are now limited by it.
On the other hand, Emailwish is offering unlimited pop ups while charging on number of emails you send and not number of impressions your pop up makes. Isn't it cheap? Check all of Emailwish's prices below.
Pros :
Integrates with email marketing apps like Klaviyo and Mailchimp
Coupon wheel and Mystery box templates
Free email address validation
Customizable pop ups
Data analytics and insights
Count down timer
Coupon expiration
Cons :
Cannot use pop ups for any thing else other than Coupons, lucky draw and email id collection
Does not collect phone number and so it does not integrate with SMS marketing apps
Dedicated support only on paid versions
Has very small limit for free version
Has cookie protection set, that means your pop up wont re appear if a customer revisits your store within the day or short time unless the cookies are cleared or user accesses your store via private or incognito mode, it is one of the major reason why pop ups stop appearing on sites
Another cookie protection set drawback is that, if a person knows that clearing cookies allows the pop ups to appear again, they can manipulate the coupon wheel, mystery box and discount offer pop ups to get multiple offers by clearing the cookie over and over again
Price plans :
Free – (500 impressions/month)
Premium – $9.99 (5,000 impressions/month)
Business – $29.99 (30,000 impressions/month)
Enterprise – $49.99 (50,000 impressions/month)
Unlimited – $249.99 (unlimited impressions/month)
| | | | |
| --- | --- | --- | --- |
| Apps | Justuno | Optimonk | Tada |
| Rating | 4.7 | 4.7 | 5 |
| Review or Feedback pop ups | No | Yes | No |
| Exit intent pop up | No | Yes | Yes |
| Coupon wheel | Yes | Yes | Yes |
| Mystery box | No | No | Yes |
| Customization | Yes | Yes | Yes |
| Geo targeting | Yes | Yes | No |
| Data Analytics | Yes | Yes | Yes |
| Email marketing app integration | Yes | No | Yes |
| SMS marketing app integration | Yes | No | No |
| Age verification | Yes | No | No |
| Email validation | No | No | Yes |
| Price | Free, $29, $49, $99 | Free, $29, $79, $199 | Free, $9, $29, $49, $99, $249 |
Conclusion :
Pop ups can do a lot for a business if used properly and has the right tools. But it is hard to get an app that has everything whilst being cheap. The apps listed above are the ones that are commonly sought by new or average e-commerce store owners which allow free versions as well as cheap subscription plans for some features.
Among the ones above, Tada seems to be a great app if collecting reviews is already taken care by you, it offers, email validation and more variety of features to keep your customers engaged. Its plans go well for small stores but not so much for stores that are well established but doesn't has very big customer base, the $249 plan might be costly but really profitable in the future as it is an unlimited plan.
If you really need reviews then you will have to trade with email marketing integration as Optimonk doesn't offer that feature. But there are apps that offer reviews as well as email marketing integration and other functionalities such as the app mentioned below.
If choosing between them seems too hard you can just switch or jump to Emailwish for its all in one features. Here you get unlimited pop ups even on the cheapest plan.
Too many apps for one Shopify store? Try this!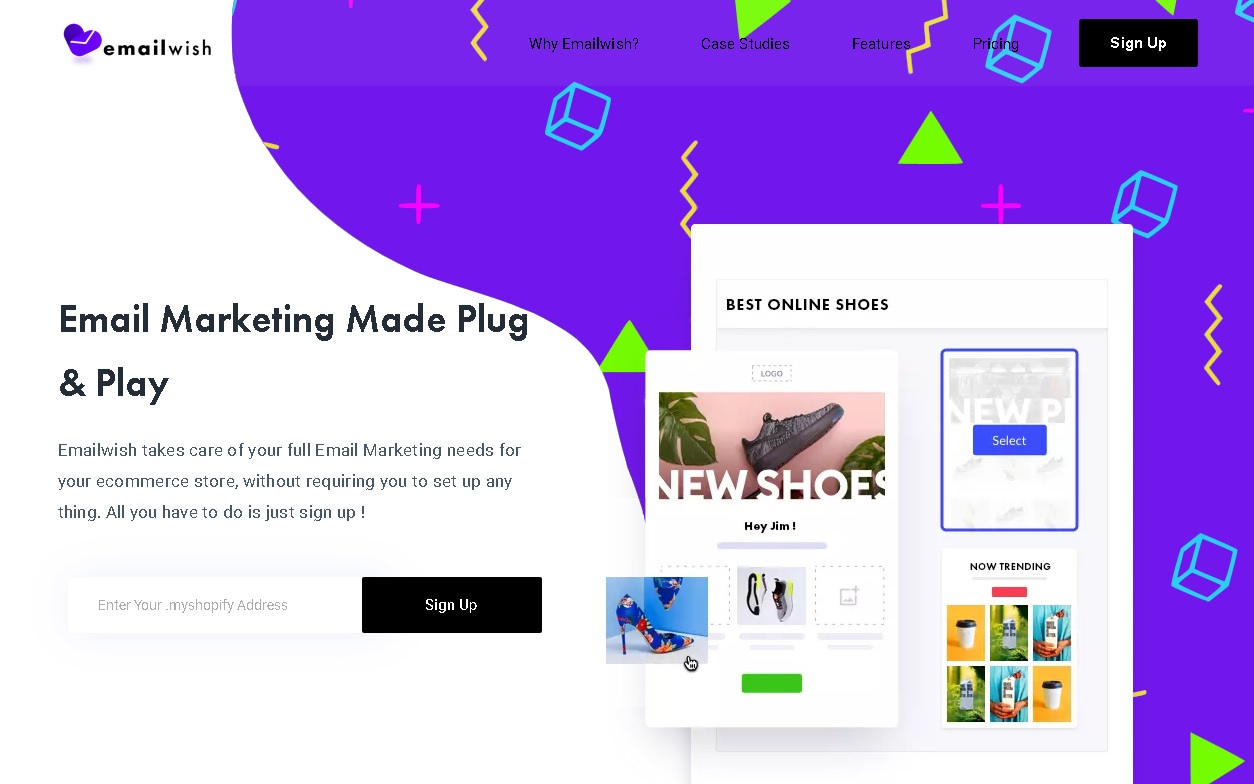 Emailwish is an all in one app that offers chats, reviews, email marketing, pop ups, abandoned cart notifications, email automation templates for all the services under one hood. It has been built by combining the features into one single app, which has most of the process automated for customer ease.
Using Emailwish you can handle multiple tasks in one place easily after investing some time setting things up such as email automations and rules as to what reply should be given to whom and on what condition, when should the app send review requests to customers who bought your products (instantly or a few days later?) and as what pop is supposed to be shown on which page and when.
The feature to Chat is also inbuilt in Emailwish where you can chat to your customers who are replying to you on different platforms to be received on one single platform by you. Emailwish also collects customer data and your previously collected data and they seamlessly flow into Emailwish once you have integrated the app with your Shopify store.
The best part of Emailwish is that the app is charged based on number of emails that you will be sending to your customers and not on any other parameters, such as number of times pop ups are displayed and all. Another good thing about this app is that it automates most of commonly required responses and automations by itself and you do not even need to code, you just need to specify the conditions.
An app with all these features and option will be costly, is what you are thinking right? But no, see the prices for your self. They are unbelievably affordable.
Beginner – $25/month (upto 30,000 emails, with $0.9/1000 emails after crossing limit)
Advanced – $99.95/month (upto 120,000 emails, with $0.87/1000 emails after crossing limit)
Enterprise – $399.95/month (upto 480,000 emails, with $0.85/1000 emails after crossing limit)