Good e-Commerce business reviews are just as crucial as excellent student recommendation letters. 89 percent of shoppers read reviews before purchasing a product, according to Trustpilot. An excellent product review app will have a big impact on your business, from increasing customers' trust to dramatically upselling. This post will go over the finest Shopify product reviews apps in depth so you can make an informed decision.
We believe that there is no such thing as the perfect app, simply the one that is most appropriate. As a result, we carefully weigh the advantages and disadvantages. You can simply choose the best product review app for your Shopify store, regardless of the size of your company.
Ali Reviews: Rated 4.9, based on 7000+ reviews
Ali Reviews is a well-known name among the top Shopify product review apps. It's an effective tool that boosts the visibility of customer reviews to assist store owners develop a reputation. It also helps in enhancing conversion rates. There are many valuable features, easy-to-use interfaces, and four different paid plans to fulfil the needs of various types of enterprises.
Key Features of Ali Reviews:
Send customisable and automated review requests via email and SMS to collect feedback.
Use a variety of widget designs to display reviews on the Home, Cart, or any other page to increase product discovery and encourage customers.
Increase customer retention and repeat purchases by rewarding customers with discounts for photo reviews.
Set up email review reminders to guarantee that your sincere request is received.
Display tailored evaluations based on consumer information and on-site activity.
Edit country, relocate, and copy reviews in bulk.
Migrate reviews from other review apps with ease.
Display product reviews and ratings on google ads.
Work with any store theme
The app is mobile-friendly and responsive.
Key challenges of Ali Reviews:
Plans that are less expensive include fewer features.
There is no video review available.
Reviews can't be shared on social media pages – It's not yet in their plan, but it will be in the near future.
Pricing plans:
Pricing plans come with a seven-day free trial.
Starter: $9.9 per month + $0.3 in free SMS credits
Essential plan: $19.9 per month + $5 in free SMS credits
Premium: $49.9 per month with $15 in free SMS credits
Enterprise: $99.9 per month plus $35 in free SMS credits
Suitability of Ali Reviews:
Small and new businesses looking for an app that will help them display reviews professionally from the start. Ali reviews will dazzle you and propel you to new heights.
Stamped.io: Rated 4.9, based on 5400+ reviews
Stamped.io is one of the most popular product review apps. The addon is powerful, with not only essential but also unique features that can significantly increase sales. Consider reviews or the functionality that allows one review for the same product to appear on numerous websites at the same time.
Key Features of Stamped.io:
Gather Customer feedback from a variety of channels, including email, SMS, Facebook Messenger, etc.
Various displaying widgets enable reviews to be displayed on the majority of the store's main pages.
Moderate reviews on a broad scale with ease by blocking sensitive terms from being added to a list ahead of time.
Enable structured data (rich snippets) that is SEO-friendly.
Allow Google Shopping reviews to appear.
It's simple to interface with a variety of apps.
Shoppable Gallery that generates a lot of UGC from Instagram, allows you to add tags to photos that link to websites, and is simple to control.
NPS (net promoter score) is a metric for measuring customer satisfaction.
Great AI-powered analytic tool.
Including a Q&A section on the product page.
Excellent client service. Even the cheap plan includes support 24 hours a day, 7 days a week.
Key challenges of Stamped.io:
The number of orders is limited. The most popular plan caps the number of orders each month at 500.
Photo reviews are not available with the free plan.
Basic subscription can only be used with Stamped apps. In general, the free and basic plans are deficient in key features.
There is a distinction between the reward and loyalty programmes. As a result, you'll need to buy a separate app or a full suite of apps.
Only the Professional package includes the Shoppable Instagram function.
Pricing:
The Lite version is available for free.
Basic: $23 per month
Premium: $49 per month
Business: $119 per month.
Suitability of Stamped.io:
The premium subscription is ideal for mid-sized enterprises with less than 500 monthly orders who require a strong, feature-rich app with excellent technical support.
Loox: Rated 4.9, based on 7400+ reviews
Loox is a product review app with a lot of positive feedback and popularity. With its well-performing basic features, beautiful looks, and budget-friendly plans, it takes a minimalist approach to app reviews.
Key Features of Loox:
Customize everything from fonts to content of your emails, text, and colour to meet your requirements.
Several lovely Loox widgets that allow reviews to appear on a variety of eCommerce pages.
Effortless integration
Have a referral scheme and a rewards incentive.
Customers' reviews can be collected automatically via email, Facebook, SMS, Aliexport, and other methods.
Rich snippets and Google Shopping should be enabled.
The premium subscription includes unlimited reviews.
From the happy customer widget (which displays overall reviews at the top of the product page) to public responses to reviews, competent evaluations serve a variety of purposes.
For further marketing and sales research, Google Analytics integration is available.
Moderate reviews by deciding which ones can be published on your e-commerce website.
Key challenges of Loox:
Only the most basic reward scheme is available. 
Only the most expensive plan includes the referral programme. 
A loyalty programme can also only be used if it is integrated with another app. This functionality is only available in the more expensive plans.
Many useful features are missing, such as shoppable Instagram and strong AI analysis tools.
Only the most expensive options include video review.
Pricing:
Beginner: $9.99 per month
Essential: $29.99 per month 
Growth: $34.99 per month
Unlimited: $599.99 per month
Suitability of Loox:
Loox is a simple yet efficient solution for customer reviews for all businesses.  Loox is ideal if you have a lot of products and your business get a lot of reviews per month.
Growave: Rated 4.9, based on 1400+ reviews
Growave is more than simply a product review software; it also includes a rewards programme, Wishlist, and gift cards in one package. Growave eliminates the burden of having to acquire and install various products, as well as the excessive site loading that comes with having a lot of apps, thanks to its all-in-one integration. It is also highly cost-effective.
Key features of Growave:
Lightweight with a plethora of helpful features completely integrated
Multiple review widgets, simple review customizations, and a verification badge for verified users are just a few of the features available.
Google Shopping and Google Snippets
Allow your employees or devoted consumers to address questions on product pages using Q&A.
Instagram gallery that may be bought: Instagram tag product that is simple to curate, tweak, and embed.
Allow visitors to log in using their Facebook, Google, Line, Twitter, Yahoo, Tumblr, Instagram, or Amazon accounts. After that, gather genuine client data for more in-depth analysis.
A well-liked loyalty app, referral, and VIP programme with numerous strong features that can be customised.
POS integration with Shopify
Key Challenges of Growave:
Limited number of orders (Only 100 orders per month for the starting plan, 500 orders per month for the medium plan) 
Only the most expensive options provide integration with apps like Klaviyo and Omnisend.
The functions of the less expensive plans are relatively limited.
Data migration from prior apps may take some time.
Pricing:
Starter: 19$ per month 
Small: 29$ per month
Medium: 49.00$ per month
Growth: 99$ per month
Suitability of Growave:
Small to mid-sized businesses, or B2B businesses, with a monthly order volume of less than 1000. Businesses that want to increase sales through strong social media integration and loyalty programmes can also use this.
Yotpo: Rated 4.9, based on 3700+ reviews
Yotpo is a well-known name among Shopify professionals because it is one of the earliest product review apps for Shopify. The app is a little on the expensive side. It is, nevertheless, truly incredible, with top-notch features, powerful integrations with a large app library, AI-powered analyses, and custom-tailored plans.
Key features of Yotpo:
Tool for thorough evaluations: Request reviews by email, SMS, or import from existing data; enable site reviews, multi-product reviews, and AI-assisted review writing.
Moderation of reviews is excellent, with a help desk, a profanity filter, and other features.
Multiple widgets with averaged star review badges, Q&A, and extracts from top product reviews that convert well.
Rich snippets and Google Shopping make it SEO-friendly.
Social integration is strong: embedding the review for your Facebook profile
Excellent reporting and analytics software.
Collect reviews and manage user generated content (UGC) at a centralised location.
Premium and corporate plans are fully configurable.
Even for the free plan, there is excellent support.
There are numerous integration options available.
Key Challenges of Yotpo:
The Growth plan (19$/mo) and the Prime plan (149$/mo) have a significant price difference. In the middle, there are no great-for-value, low-cost options.
With minimal features, the free plan is unusable.
Pricing:
Free: Free
Growth 50:15$ each month.
Growth 100: $24 per month
Suitability of Yotpo:
Big corporations or well-established companies that require a comprehensive, effective review tool with full support and customisation.
Fera.ai: Rated 5, based on 3700 reviews
Fera is a more economical alternative of Yotpo. The apps may not have many integrations or unique features, but they do provide the essentials. The company's "simplicity is best" philosophy, on the other hand, appears to be working brilliantly. Fera has received an absolute 5-star averaged rating from nearly 4,000 people.
Key features of Fera.ai:
Even with the free plan, you have unlimited reviews.
Unlimited reviews, photographs and video reviews, moderate bad reviews, various widgets, a reward incentive, and more are all included in this great free and beginning plan.
Verified shopper's badge
Snippets from Google
Even at the most basic package, there is fantastic live help available.
Key Challenges of Fera.ai:
In cheaper plans, the number of requests that are automatically sent is severely limited. Monthly requests range from 10 to 100. As a result, store owners must solicit reviews manually or import them from other sources.
It lacks a number of useful features such as analytics and SEO tools.
Pricing:
Free plan
Start-up: 9$ per month 
Small: 29$ per month
Medium: 99$ per month 
Suitability of Fera.ai:
Individuals and small enterprises on a tight budget looking for a cost-effective option can use this app.
Judge.me: Rated 5, based on 5900+ reviews
The cheapest app on our list is Judge.me. Not only does it offer simple and useful review operations, but it also includes a slew of extras like review scheduling and Google speed test counselling. When you get down to business, these features will undoubtedly come in helpful.
The fact that Judge.me has a truly excellent free plan with actually useable features is what strikes us the most (no kidding). Individuals and small businesses on a budget should definitely check out this app!
It offers a variety of minor and distinctive features that will assist you in your work.
Key features of Judge.me:
There are no limits to the number of reviews.
The best free plan with a tonne of useful features including video reviews, unlimited reviews, and app integration.
Support for 34 languages is available 24 hours a day, 7 days a week for both free and premium plans.
Excellent and distinctive review features include an average review badge, six different review medals to highlight the quality and number of reviews, Q&A, CSS modification, and shop reviews.
Google Shopping and rich snippets.
Complete personalization is available.
Review moderation that is capable of curating and editing reviews.
An excellent analysis tool.
Excellent integration
Key Challenges of Judge.me:
For advanced functionality, you'll need to integrate with another loyalty app.
Pricing:
Forever Free plan – 0$ per month
Awesome – 15$ per month
Suitability of Judge.me:
Individuals and small businesses looking for a basic review app at an affordable price should check it out.
Conclusion
Have you found your go-to app, or at least reduced it down to a few contenders to investigate further?
We tried to put together a list of the finest product review apps for Shopify, ranging from free to premium and with a variety of features. We hope you find the ideal match for your store. We can already see the reviews rolling in!
Too many apps for one Shopify store? Try this!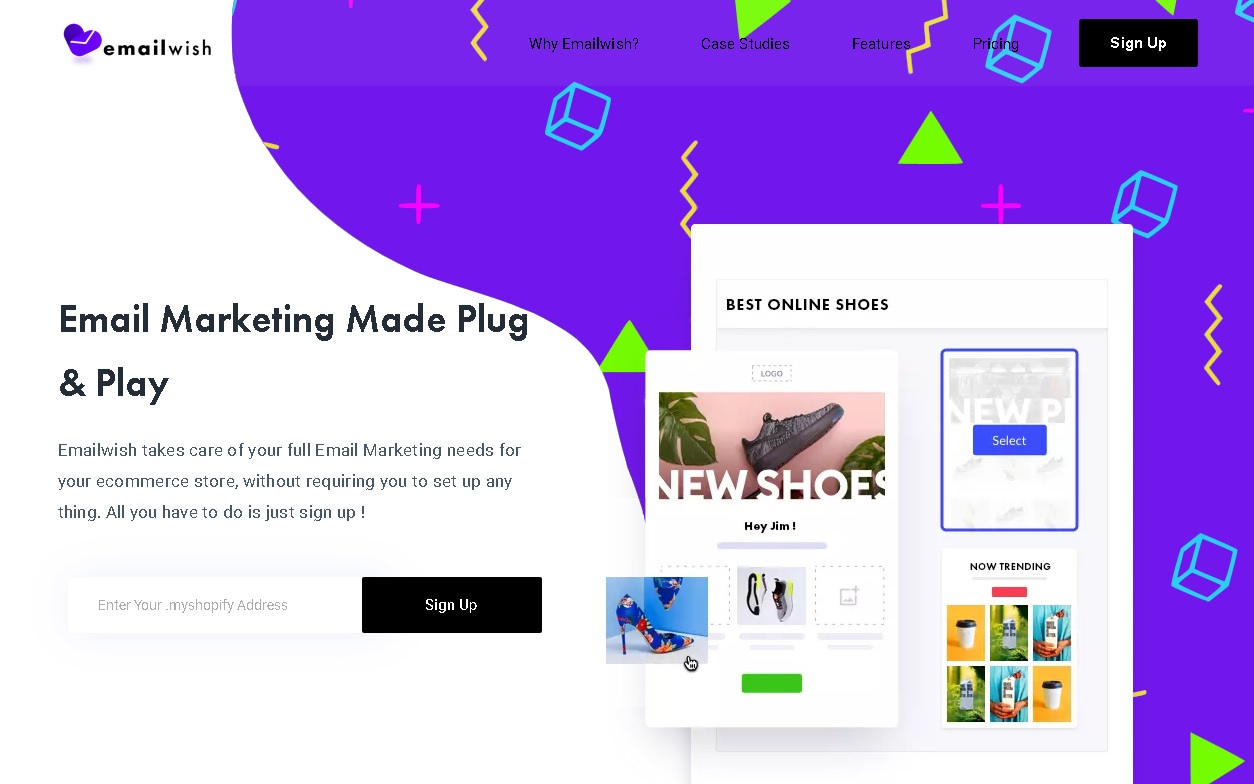 Emailwish is an all in one app that offers chats, reviews, email marketing, pop ups, abandoned cart notifications, email automation templates for all the services under one hood. It has been built by combining the features into one single app, which has most of the process automated for customer ease.
Using Emailwish you can handle multiple tasks in one place easily after investing some time setting things up such as email automations and rules as to what reply should be given to whom and on what condition, when should the app send review requests to customers who bought your products (instantly or a few days later?) and as what pop is supposed to be shown on which page and when.
The feature to Chat is also inbuilt in Emailwish where you can chat to your customers who are replying to you on different platforms to be received on one single platform by you. Emailwish also collects customer data and your previously collected data and they seamlessly flow into Emailwish once you have integrated the app with your Shopify store.
The best part of Emailwish is that the app is charged based on number of emails that you will be sending to your customers and not on any other parameters, such as number of times pop ups are displayed and all. Another good thing about this app is that it automates most of commonly required responses and automations by itself and you do not even need to code, you just need to specify the conditions.
An app with all these features and option will be costly, is what you are thinking right? But no, see the prices for your self. They are unbelievably affordable.
Beginner – $25/month (upto 30,000 emails, with $0.9/1000 emails after crossing limit)
Advanced – $99.95/month (upto 120,000 emails, with $0.87/1000 emails after crossing limit)
Enterprise – $399.95/month (upto 480,000 emails, with $0.85/1000 emails after crossing limit)