A live chat conversation is a real-time digital communication between two or more persons. The only difference is that Shopify live chat takes place on a retailer's e-commerce site.
Companies that utilize Shopify's e-commerce software can give pre- and post-sale support via live chat and social messaging by using a Shopify live chat app. The live chat function in Shopify allows businesses to be more proactive in the e-commerce customer service process, such as assisting customers before they abandon their shopping carts or leave your site.
Zendesk Live Chat
Your firm can offer Shopify live chat to online customers with Zendesk's live chat software, boosting the e-commerce customer experience with customized care while also making your agents more effective with time-saving automations, intelligent chatbots, and more. Zendesk's Live Chat makes it even easier for your team by centralizing all customer interactions and contextual data in one place, in addition to real-time messaging.
Zendesk also connects all of your service channels—social media, phone, email, messaging, and live chat—so your reps can start a conversation in one channel and shift it to another, all from a single dashboard.
Pros:
Use live chat with the click of a button to any Shopify site.
Customize your support dashboards with important customer data.
Access relevant, consolidated customer info to solve support issues faster and more effectively.
Deal with refunds, returns, or cancellations without leaving Zendesk.
Cons:
The integrated platforms in one place might not be easy to use for all
Chatra Live Chat
Chatra is a cloud-based Shopify live chat app featuring group chat, chat notes, multilingual support, and other critical live chat features designed for small businesses and online shops. Chatra has a nice user interface, a handy group chat, and a comprehensive range of easy-to-use functions.
Several reviews, however, have complained about Chatra lagging or crashing, as well as the lack of functionality in the free plan. With the Free, Essential, or Pro subscription, you can add Chatra to your Shopify store. When invoiced monthly, the Essential and Pro programmes cost $19 and $29 per agent each month, respectively. You can also try any plan for free for ten days.
Pros:
Online & offline chat widget
Email helpdesk
Chatbot
Targeted messages and triggers
Real-time visitor list
Complete conversation history
API
Analytics and reporting
Cons:
Reports of regular crashing by the customer
The free plan only has the basic functions
Tidio Live Chat
Tidio's live chat software for Shopify helps businesses of all sizes answer more customer queries and streamline communication. Tidio's visual chatbot editor, automated responses, and customizable pricing are among its most popular features. Tidio users frequently comment on how simple the software is to set up and use.
Other users expressed their dissatisfaction with Tidio's charging for functions that are normally available for free in other apps. Tidio's restrictions in terms of reporting and consumer evaluations were another frequently mentioned disadvantage. Tidio offers a free trial and a limited free plan. Chatbots ($39/month), Communicator ($15/month), and Mailing ($25/month) are some of their subscription options.
Pros :
Direct chat on website without using any other application
Can be used for free if just live chat is all you need
Desktop and mobile compatibility
Customizable
Provides visitor's info so that you can offer or talk according to their location and other info
Cons :
Has separate plans for live chat features, bot chat features and email marketing
In some instances the app icon hovers over the check out button and doesn't allow anyone to access the button
Facebook Messenger
The Messenger app for Shopify is the way to go for firms who want to emulate the look and feel of Facebook Messenger on their Shopify site. It's as simple as downloading the app from the Shopify app store, connecting your Facebook Page, and customizing your look.
The most appealing aspect of this software is that it gives a consumer experience that is already known. It is, however, limited in terms of flexibility and capabilities when compared to other Shopify live chat apps. The Basic option (which is free) and the Premium option ($4.99/month) of the Facebook Messenger Shopify app are both accessible.
Pros:
Custom widget position
Custom chat icon and color
Device targeting
Page targeting
Custom CSS
 Cons:
It has limited flexibility
The messenger app is also limited in functions as compared to other chat apps on Shopify
Gorgia's Live Chat and Helpdesk
Gorgias is a live chat and help desk system designed for e-commerce enterprises with dedicated support staff. Its Shopify app incorporates live chat into a larger omnichannel strategy aimed at reducing support tickets and increasing revenue.
Gorgias' major benefit is its comprehensive approach to live chat in light of this. However, with such a wide range of features comes a steep price tag, starting at $60 per month for the Basic plan. The Pro and Advance programs, which cost $300 and $750 per month, respectively, are also available.
Pros :
Direct chat on website without using any other application
Can be used for free if just live chat is all you need
Desktop and mobile compatibility
Customizable
Provides visitor's info so that you can offer or talk according to their location and other info
Cons :
Has separate plans for live chat features, bot chat features and email marketing
In some instances the app icon hovers over the check out button and doesn't allow anyone to access the button
Tawk.to
The free Shopify live chat tool from Tawk.to allows your support and sales teams to engage with website visitors and customers from a single dashboard. In addition to live chat, Tawk.to also has a knowledge base and ticketing system that you can integrate with your Shopify business.
The fact that Tawk.to's app is absolutely free, as well as its intuitive UI and short time-to-value, are all advantages. However, some Tawk.to users have expressed frustration with the difficulty of contacting a Tawk.to support representative when they have a problem. Tawk.to is absolutely free unless you wish to pay $19/month to remove their branding or engage an outsourced chat agent, as previously stated.
Pros:
Real-time visitor monitoring
45+ languages
Android and iOS apps
Built-in knowledge base
Canned messages
Group messaging
Unlimited agents and chat history
Tags
Cons:
Contacting the support of Tawk.to is sometimes a big problem
The representatives are sometimes unable to help the customers with their queries
The basic plan does not include many features
Jivochat
Jivochat was created to assist e-commerce customer-facing teams in providing live chat that boosts sales and delighted existing customers. Jivochat is a full-featured solution that works on any device and allows agents to easily manage many chats, monitor visits, and track performance.
The biggest features of Jivochat's Shopify live chat software are its easy-to-use UI for clients and agents, as well as its excellent customer service. However, a few reviews have pointed out that the free plan is severely lacking in functionality. To upgrade from the free plan to the Professional plan, you'll have to pay $19 per month (when invoiced monthly).
Pros:
Proactive live chat
Detailer visitor info
Canned responses
File transfer
Unlimited live chats and websites
Mobile, desktop, and browser-based apps
Cons:
Some plans badly lack functional capacity
The upgrade from one plan to another is quite expensive when billed monthly
Too many apps for one Shopify store? Try this!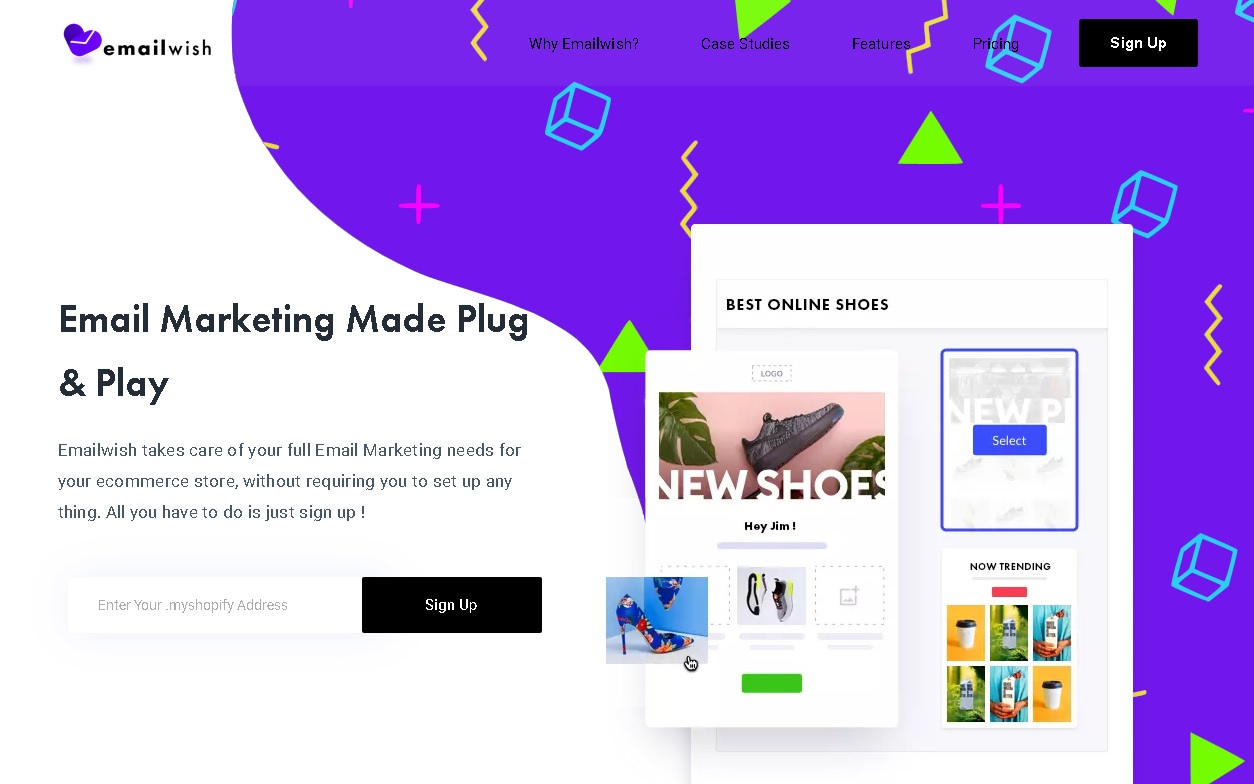 Emailwish is an all in one app that offers chats, reviews, email marketing, pop ups, abandoned cart notifications, email automation templates for all the services under one hood. It has been built by combining the features into one single app, which has most of the process automated for customer ease.
Using Emailwish you can handle multiple tasks in one place easily after investing some time setting things up such as email automations and rules as to what reply should be given to whom and on what condition, when should the app send review requests to customers who bought your products (instantly or a few days later?) and as what pop is supposed to be shown on which page and when.
The feature to Chat is also inbuilt in Emailwish where you can chat to your customers who are replying to you on different platforms to be received on one single platform by you. Emailwish also collects customer data and your previously collected data and they seamlessly flow into Emailwish once you have integrated the app with your Shopify store.
The best part of Emailwish is that the app is charged based on number of emails that you will be sending to your customers and not on any other parameters, such as number of times pop ups are displayed and all. Another good thing about this app is that it automates most of commonly required responses and automations by itself and you do not even need to code, you just need to specify the conditions.
An app with all these features and option will be costly, is what you are thinking right? But no, see the prices for your self. They are unbelievably affordable.
Beginner – $25/month (upto 30,000 emails, with $0.9/1000 emails after crossing limit)
Advanced – $99.95/month (upto 120,000 emails, with $0.87/1000 emails after crossing limit)
Enterprise – $399.95/month (upto 480,000 emails, with $0.85/1000 emails after crossing limit)