Are you on the lookout for the best WordPress live chat plugins? Do you require assistance in determining which one best matches your company's requirements? You've come to the right place!
The greatest WordPress chat plugins and tools are discussed in this post.
Chat plugins are extremely popular. They'd rather chat than talk on the phone or send an email.
Using live chat plugins, you may respond to consumer questions without interrupting their day. As a result, live chat can keep customers satisfied while also converting visitors into buyers.
The following are some of the advantages of using a live chat plugin:
Users are redirected to your company's social media profiles.
Increase your sales.
Boost engagement and lead generation
Boost customer retention
LiveChat
Over 200 products are integrated with LiveChat. Shopify, Zendesk, major CRM software, and email marketing services are among them.
Your team may communicate with consumers using WordPress live chat from practically any device. Furthermore, LiveChat is quite fast.
Pros:
Messages sneak peaks.
Chat widgets that can be customised.
Security measures are extensive.
There are several ways to communicate.
History and transcripts of chats.
Cons:
If you switch to another window, the chat may cease.
It's possible that clients will not receive chat notifications.
HubSpot
HubSpot provides live chat and chatbots to help your customer care representatives do their duties more efficiently. A complete chat history is saved by the application. Members of your team can also leave notes.
You may chat with visitors in real time using HubSpot. Additionally, HubSpot's 24/7 chatbots can provide assistance during non-business hours. Leads can be qualified, queries may be answered, and meetings can be scheduled using HubSpot chatbots.
Customers can also email inquiries to bots for follow-up when the office is open.
Pros:
HubSpot has an excellent CRM system.
Respond to HubSpot's global inbox messages.
Designs that are unique to you
Chats can be targeted based on visitor behaviour.
Several hundred integrations
Cons:
Bots have a limited use in HubSpot's free tier
SendinBlue
You can set up your chat function in seconds using SendinBlue. You may assemble your squad and begin conversing with visitors. When consumers call you, you can see which page they are on.
Agents can also send discussions along as needed, thanks to workflow optimization.
Pros:
Their live chat feature is part of a comprehensive CRM system. Email marketing, SMS marketing, and a shared mailbox are all part of their arrangement.
Cons:
There's a bit of a learning curve here.
Live chat can be used only at the Enterprise level.
Olark
According to Olark, 79 percent of clients prefer live chat to email or phone.
You can provide live chat, a chatbot called CoPilot, or both to your customers. Olark adapts CoPilot to your process requirements. You can qualify leads even if you don't have a support agent.
Salesforce, Zendesk, HubSpot, and other platforms are all integrated with Olark live chat. Olark live chat can be accessed using apps on iOS and Android smartphones.
This live chat plugin allows you to keep track of your visitors and contact them as needed. Real-time reports on volume, agent actions, and ratings are also available.
Pros:
Simple to use.
Chat feature that is proactive.
Reporting in real time.
Significantly less time on the phone and sending emails.
There are no contracts.
Cons:
Some commands must be typed in by the agents.
It's prone to glitches.
Zendesk Chat
Zendesk Chat allows you to communicate with customers via a variety of ways. They don't have to tell their stories again.
It also offers group chat, which allows customers with complex difficulties to communicate with several experts.
Zendesk also offers proactive messaging. You can, for example, notify customers when a delivery is on its way.
Finally, Zendesk Chat can provide you with comprehensive insights.
Pros:
Chat with each customer on a one-on-one basis.
The majority of the work can be done by the customer.
Bot that can be customised
Communication that is proactive
Messaging in a group
Cons:
The time it takes for the admin to load can be a little slow.
Simultaneous chats are difficult to manage.
Chaport
Chaport is a WordPress live chat plugin. It allows clients to contact you via your website, Facebook, or other social media platforms. Chaport, not individual platforms, allows your agents to reply.
The initiative promotes client autonomy. You can programme your bot to respond to enquiries and make recommendations for articles. Contacting a live representative should only be used as a last option.
Using Zapier, Chaport connects to over 2,000 apps, as well as any app that uses an API.
Pros:
There is a free plan available (1 operator)
GDPR adherence
SSL
Photos of the operators
Transcripts of chats sent through email
Cons:
Low-cost choices provide fewer features.
SnapEngage
SnapEngage is an all-in-one chat platform. It assists consumers through a variety of media, including Facebook, SMS, Twitter, WeChat, and others.
For many people, the out-of-the-box functions are sufficient. SnapEngage, on the other hand, can be customised to your heart's content. It syncs with your existing contacts, leads, and support desk.
SnapEngage offers standard privacy protections and is HIPAA compliant.
Pros:
Customer feedback can be collected easily.
Technical assistance.
Live chat solution with several channels.
Using rules and triggers to engage in proactive engagement.
Information-Capture and Answer are two of the bots available.
Cons:
Some people think it's a little costly.
Occasionally glitches are quite common.
Intercom
Onboarding, lead creation, marketing automation, and engagement are all possible with the Intercom chat plugin.
It connects to CRM, email marketing, and other services. Intercom also includes live chat widgets that are automated.
Consumers may be onboarded, announcements can be sent, and customers can be re-engaged via Intercom.
Concerned about customer service while representatives are unavailable? Chatbots are available in Intercom.
Pros:
Utilize data to personalise client interactions.
Over 300 apps are supported.
Workflows can be automated.
Customer contacts take place in a central location.
Cons:
Filters might be perplexing.
It's a bit on the expensive side.
Freshdesk Messaging
Freshdesk Messaging is used by over 50,000 companies.
Regardless of where the messages originate, they all end up in the same mailbox.
Customers first communicate with chatbots. This frees up agents to work on more pressing concerns. Bots, unlike most other choices, can communicate in a variety of languages!
Pros:
There are dozens of integrations with various channels.
A useful blog, academy, and videos are available.
Customer behavior-driven proactive communication
With a free option for up to 100 agents, it's less expensive than others.
Chatbots can communicate in multiple languages
Cons:
It's unclear whether customers are typing or have vanished.
There is no spell check.
Conclusion:
A good WooCommerce chatbot should be simple to set up and include functions like product search and customer help. A flawless bot would send relevant messages, make product recommendations, and grasp the questions your customers have which can improve your conversion rates unbelievably.
Too many apps for one WooCommerce store? Try this!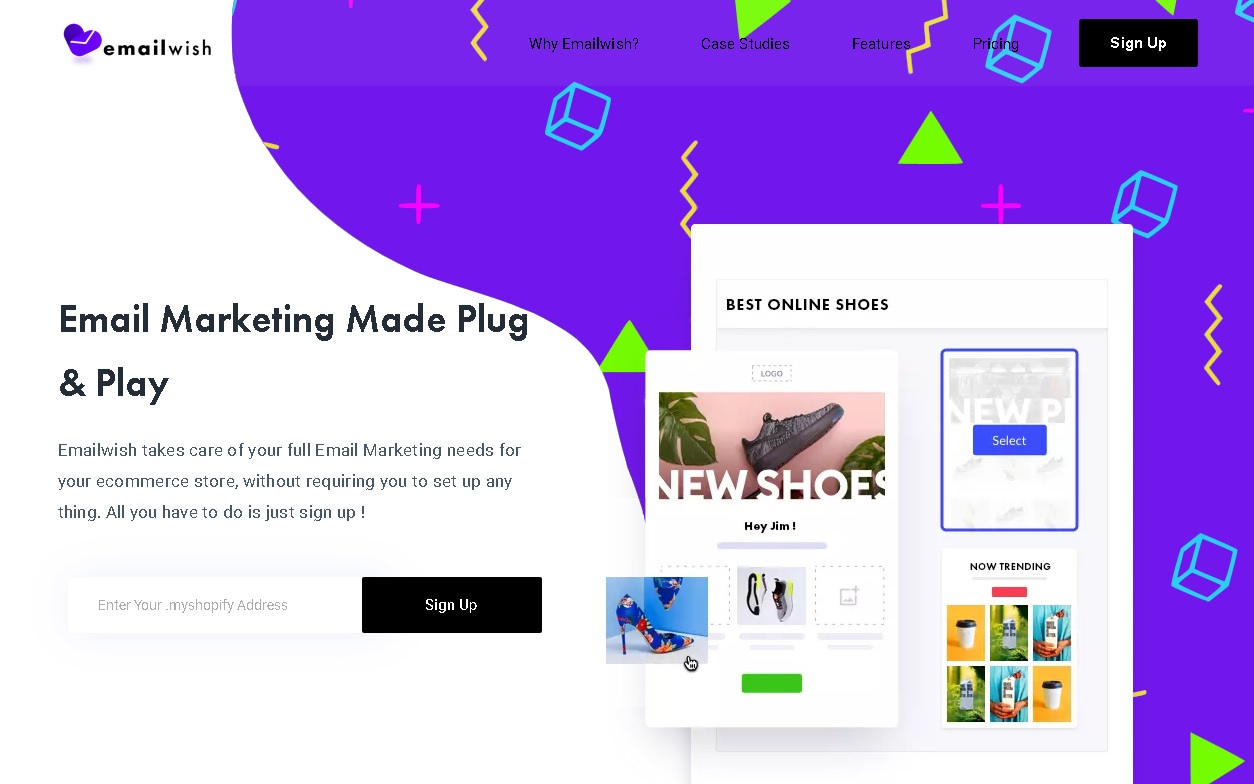 Emailwish is an all in one app that offers chats, reviews, email marketing, pop ups, abandoned cart notifications, email automation templates for all the services under one hood. It has been built by combining the features into one single app, which has most of the process automated for customer ease.
Using Emailwish you can handle multiple tasks in one place easily after investing some time setting things up such as email automations and rules as to what reply should be given to whom and on what condition, when should the app send review requests to customers who bought your products (instantly or a few days later?) and as what pop is supposed to be shown on which page and when.
The feature to Chat is also inbuilt in Emailwish where you can chat to your customers who are replying to you on different platforms to be received on one single platform by you. Emailwish also collects customer data and your previously collected data and they seamlessly flow into Emailwish once you have integrated the app with your WooCommerce store.
The best part of Emailwish is that the app is charged based on number of emails that you will be sending to your customers and not on any other parameters, such as number of times pop ups are displayed and all. Another good thing about this app is that it automates most of commonly required responses and automations by itself and you do not even need to code, you just need to specify the conditions.
An app with all these features and option will be costly, is what you are thinking right? But no, see the prices for your self. They are unbelievably affordable.
Beginner – $25/month (upto 30,000 emails, with $0.9/1000 emails after crossing limit)
Advanced – $99.95/month (upto 120,000 emails, with $0.87/1000 emails after crossing limit)
Enterprise – $399.95/month (upto 480,000 emails, with $0.85/1000 emails after crossing limit)