Customers are the building blocks of any business. A happy and loyal customer could bring in more leads and traffic on your website than any of your marketing campaigns. Customer feedback is a great way to ensure that your business is headed in the right direction.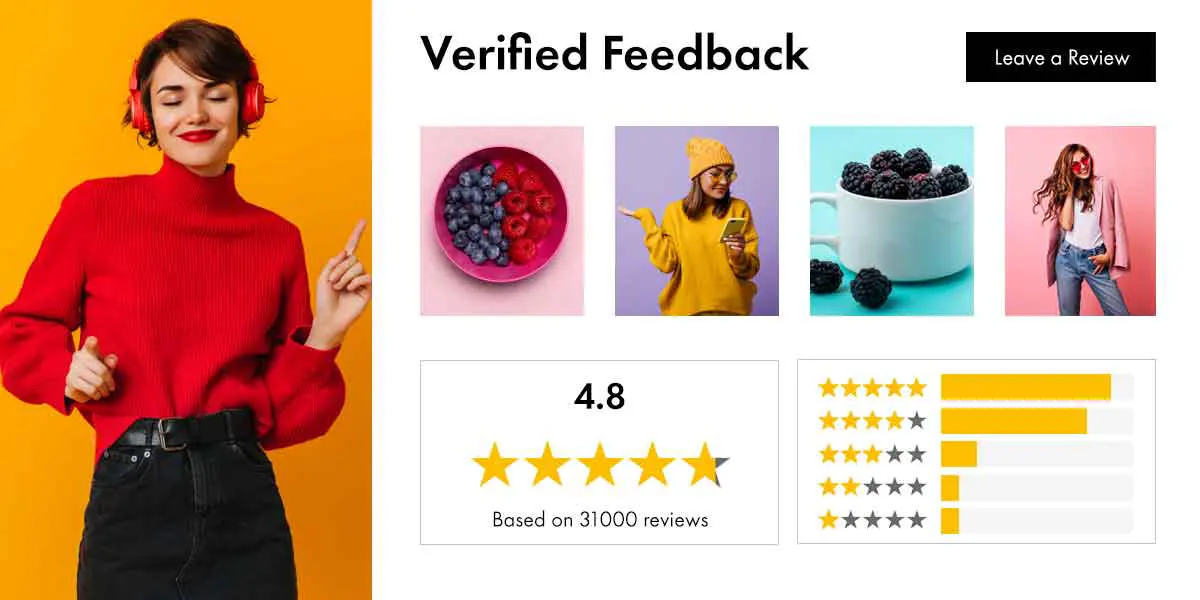 There are many ways in which you can use customer feedback to direct traffic to your website and generate more leads. Here's how you can do that.
What is Customer feedback?
To be able to leverage customer feedback effectively, it's important to understand what customer feedback is. As the name suggests, Customer feedback is a review from the customer on a product or service that he/she has purchased and used.
Customer feedback can be both negative or positive depending upon their experience with the product or service. Both of these feedbacks could be used creatively to enhance the overall structure of your business and your marketing strategies.
How customer feedback can help you grow.
1. Customer Reviews on your website or app.
At some point, you must've been a customer yourself. Therefore, you would know that feedback from another customer who has already bought and used the product carries more waste than a thousand advertisements by the company. It goes the same way for any business.
So including a review section on your website would help you in two ways. First, you'll be able to collect and manage reviews in a single place. Second, You can showcase these reviews to ensure your customers of the validity of your products. A customer who has any doubts regarding the purchase of a product can go through these reviews directly on your website and make an informed purchase.
People would definitely make a purchase if they can be confident in what they're buying. Customer reviews help them in that. You can include the review section under each individual product or dedicate a whole page to the review section.
A great example of such implementation is Tuft and Needle.

The company has designed a separate page answering 12 questions people usually ask before buying. These answers are then backed by customer reviews which are present at the bottom of that page. This way the company first succeeded in informing people by answering their common questions and then providing social proof of the genuineness of their answers.

Including a review section on your page is not enough, you have to make sure that it's easy for a user/customer to provide feedback. If you are using the rating method, try not to include a lot of questions, rather just keep it simple and short asking – How did you like our services or is there anything else we can do to improve our services.
2. Display customer feedback on social media.
Your customer feedback will be your biggest asset in spreading the word about your business. The more people talk about your products and services, the more people would want to check out what you offer. Therefore, make sure that the feedback you receive is displayed on your social media. This will also help you improve your overall rating on google.

Always remember that every one of your prospects on each one of your social media platforms should be aware of what people think of your company. Thus, make sure that you are including your customer feedback on your social media platforms. It can be in any form, a video testimony, a written review, or a rating. As long as it helps your customers clear their doubts regarding your services, it is important. Not only would it enhance your social media presence but it'll also help you collect feedback over your social media platforms.
This will help you improve your brand image and build a loyal relationship with your customers because they will be assured that their feedback matters.
3. Handle negative feedbacks wisely.
Customer Feedback is beneficial in any shape or form. Accept negative feedback without hesitation because it can help you improve your services. To be honest, negative feedbacks are your source of knowing how and what you can improve. As service providers, we sometimes forget what problems a customer might face.

Negative feedback will help you improve your services by telling you how and where exactly are your services lacking. Once you know this, you'll be able to resolve any issues your customer faces no matter where they are in their buying journey.
Some negative feedback comes in the form of comparison with your competitors, may in terms of prices or services. This gives you a wonderful chance to know what your competitors are doing and how customers are reacting to it. You can use this knowledge to enhance your own services and grow your customer base.

One more advantage of welcoming negative feedback on your website is that it limits those feedbacks to your website only. Apart from that, it ensures the customers of your authenticity and transparency. Here's the thing, nowadays, companies can buy reviews on their products and that is why people have a hard time believing even the feedback. So when they see that there is both positive and negative feedback present on a website, they know that those reviews can't be fake.
4. Boost your Google ranking.
Google automatically ranks those websites higher which have a higher Google rating. Customer feedback collected through various platforms will help your google rating grow. One more way to do this is by displaying your feedback on your Google ads.
Approach your audience through email marketing and ask for their feedback. Request them to rate you on Google. Accept praise and criticism equally and use that to genuinely improve your products and services. The more people rate you on Google, the higher Google ranks you.
5. Customer-focused services.
Receiving negative feedback could be eye-opening sometimes. You'll get an insight into what your services are lacking and what the customers are demanding. It can be heartbreaking when people don't leave positive feedback about your services but at the same time, it is an opportunity to exceed your limits and be better.

It's a give-and-take situation. Show your customers that you are taking their complaints and demands seriously and they will start taking your services seriously. Not only that, they will start referring your products and services to more people, helping you generate more leads and make more sales.
Improvise your products as per your customer demands and keep them informed about these improvisations through email marketing campaigns, pop-ups, and social media posts. Imagine how you would feel when you finally get a long-awaited present. That's exactly how a customer feels after seeing an improvisation in your product that they suggested or demanded.

Not only that, you can directly ask your customers – "How can we improve our services?" This communicates your sense of service to the customers and they feel heard. This way you will be able to get a lot of suggestions on how you can improve and make your clients happy. Remember, a happy client is worth, more than multiple marketing campaigns.
6. Use inbuilt chats and reviews from Emailwish!
Emailwish allows you to easily include a customer review section on your online store. You can collect and manage these reviews directly on your website. In the admin panel, you can control and decide what reviews are displayed on your website. With emailwish you also get Live chat and chat bots using which your customers can connect with you easily and seek any help they need regarding your products or services. We make it easy for you and your clients to communicate and help you develop good customer relations.
Get inbuilt chat and review automation with Emailwish.
Conclusion
If you are running a business, always remember your clients are your biggest assets and your dearest friends. How they react to your products and services greatly determines the success of your business. That is why customer feedback is important. Tell your customers that their feedback matters and work upon it to prove it. Nothing would make them happier than loyal customer service.