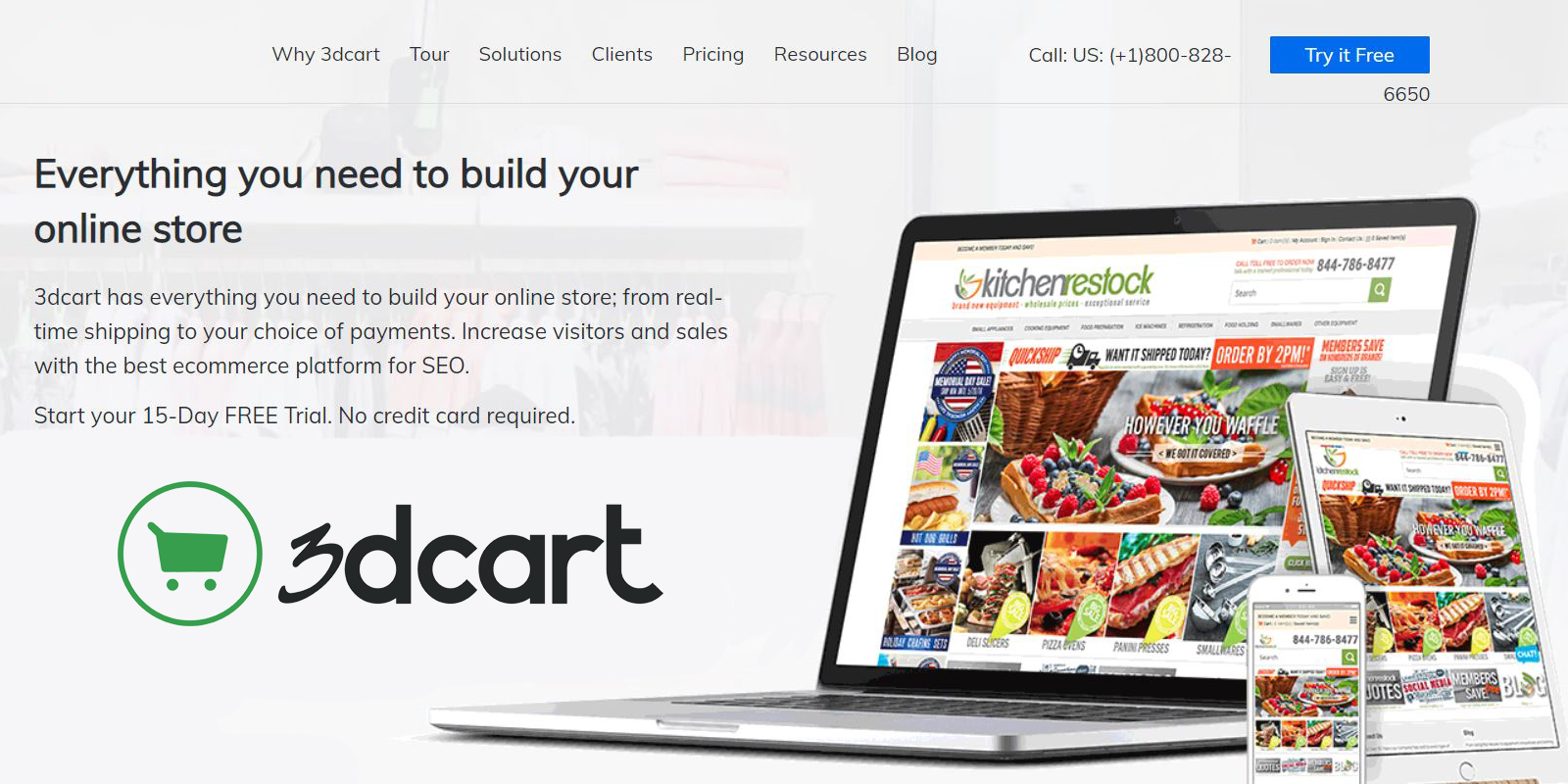 Introduction
You'll need an e-commerce website if you want to sell something online. People cannot pay for goods on a standard website which does not include integrations with delivery companies and payment processing.
An e-commerce website with simple functionality such as web hosting, shopping cart software, and payment processing is the answer. Additional functionality such as bulk upload or real-time stock inventory software may be required depending on the budget, sales volume, or sector.
When choosing an e-commerce site, make sure it matches the technical capabilities, has functionality that maximizes user experiences, and allows for customization. Each component provides distinct advantages to you and your customers. We looked at ten of the strongest choices to help you narrow down your options. Learn all about the best e-commerce sites focused on available plans, models, and ease of use by continuing reading.
Shopify
Shopify is one of the most widely used eCommerce websites worldwide. It is a web application that allows you to quickly and efficiently build an online store using one of the many accessible templates. You may modify certain designs to suit your online retailer's needs, or you can create your own store's style.
"You don't require any engineering or design expertise to effortlessly build a stunning online store," the company said.
Since Shopify accepts a wide variety of credit cards, you won't have to think about payment conflicts in your store. Shopify now has level 1 PCI enforcement and 256-bit SSL encryption for authentication, so you can rest assured that your customers' and store's data is secure.

Shopify's full CMS allows you complete control over the functionality and architecture of your online shop. Another great feature of Shopify is that it helps consumers to run their stores from their mobile devices. The framework is completely responsive, allowing consumers to conveniently monitor, control, and change their stores from any device, including mobile and desktop.
It's a practical and efficient method for business people who are always on the move. This is one of the explanations on why Shopify is the strongest website for sale.
Magento Commerce
Magento is one of the world's most popular eCommerce sites. While it is also well-known for being extremely difficult to use, this interface has a number of advantages that render it capable of being at the top of this list. Furthermore, the release of Magento 2 has elevated the platform, allowing many vendors to develop more viable solutions for B2B eCommerce businesses.

3DCart
In its 20-year history, 3DCart has supported over 22,000 online companies with its strong and stable eCommerce apps. The company's mission is to assist online retailers in creating websites that rate higher and sell more.

3Dcart has more than 200 built-in applications, 50 free skins, SEO options, and over 100 payment providers to choose from.
The platform includes user-friendly functionality, mobile-friendly themes, up-to-date SEO guidelines, and marketing eCommerce resources to help your shop convert more customers and improve conversion rates.
BigCommerce
BigCommerce is well-known for being the world's most popular cloud eCommerce site. The platform's low overall cost of ownership and extremely scalable APIs are both well-known features.
BigCommerce offers a complete suite of eCommerce software with a wide range of applications and choices. It allows your store to work with the majority of the requisite eCommerce solutions right out of the box.

This platform integrates well with businesses that serve both B2B and B2C clients because it makes it easy to build separate price lists or catalogues with different consumer segments.
BigCommerce's initial learning curve is greater than that of several other platforms-as-a-service systems due to the difficulty of built-in functionality. However, thanks to BigCommerce well-thought-out and in-depth guiding documentation and support staff, a new brand will easily learn about this network and put it to use.
WooCommerce
WooCommerce is a free WordPress plugin that allows retailers to easily convert their WordPress pages into online shops. It also has premium features and integration solutions to improve the shopping cart's functionality.
Since it is simple to configure, this open-source framework is an excellent choice for small businesses with WordPress growth tools. WooCommerce guarantees PCI conformity and secures connections between your consumers and your server via its protected payment gateway.
WooCommerce, but, also, will slow down if there are so many themes, extensions, or items in your online store. If you want to grow your company, you should switch to a different platform.
If you're going to use this platform, be cautious about what you install because it could affect the success of your online store. Choose the best hosting environment for your store, which will decide how much traffic it can take.

Salesforce Commerce Cloud
Salesforce is well-known for its customer relationship management (CRM) software. With the world's first CRM accessible with Einstein AI, the business claims to be able to help you improve consumer relationships and expand.
Salesforce Commerce Cloud, formerly known as Demandware, is a cloud-based eCommerce network that caters to both B2C and B2B merchants. It's a component of Salesforce's product line. As a result, it incorporates a variety of other CRM and market offerings, allowing you to expand your company while still maintaining a positive consumer experience.
Other features of Salesforce Commerce Cloud include order processing, AI-powered commerce personalization, globalization solutions for foreign companies, and a variety of other solutions organized by company form, requirement, market, and position.
Salesforce is not ideal for small brands or beginners in selling online due to its high price and challenging technical specifications, despite its ability to accommodate high levels of traffic and revenue.

Squarespace
Squarespace is a user-friendly software that allows people with no coding experience to create beautiful websites. This all-in-one platform offers you everything you need to operate and expand your company website, whether you're a novice or a proven brand.

They provide hosting in all possible bundles and provide various features and resources for creating an eCommerce website.
Squarespace is known for its award-winning creations, which has propelled it to the forefront of website design for top designers. You can personalize the websites by using streamlined models and simple drag-and-drop software.
Yo!Kart
Yo!Kart is a powerful multi-vendor e-commerce site that runs on its own. Yo!Kart is ideal for entrepreneurs who choose to launch online marketplaces close to Amazon, Etsy, or eBay. 1000+ firms, including startups, corporations, and Fortune 500 organizations, have used the app.
Yo!Kart is an e-commerce site that helps business owners to scale their operations according to their needs. It has the best combination of functionality and functionalities for launching multi-vendor e-commerce stores that are future-proof.

Yo!Kart's newest version, V9.3.0, adds new e-commerce functionality including divided purchases, shop pick-up, geolocation, and pre-integrated APIs for tax and shipment management. Yo!Kart offers smartphone applications and progressive online apps to help company owners thrive in the tough e-commerce environment.
It is a self-hosted multi-vendor website with a lifetime license and no annual costs, unlike Shopify or BigCommerce. Both packages come with free download and a year of free technological assistance from the Yo!Kart team.
Volusion
Volusion is an all-in-one eCommerce system that allows you to effortlessly build, maintain, and extend your online shop. It has been in the business for over two decades. With several useful features and simple functionality, the app allows users to create online shops.
With expertly crafted themes, a range of navigation modes, personalized domains, a rich content editor, and more, you can build your online store on the go. All of the features can assist you in creating a website that provides consumers with a fantastic shopping experience.
This framework makes it easy for you to start selling once you've finished designing your website. It has attractive product sites, a robust order system, a versatile payment system, high security, and more.
Volusion also has features that are important for growing your market. You can quickly monitor and maintain all of your metadata with powerful SEO software to make your profiles, brands, and categories SEO-friendly.
Social integrations will help the website obtain more visibility and leads. Furthermore, monitoring functions provide you with information about all that occurred in your online store, including abandoned carts, live carts, and product and segment views.

Prestashop
Prestashop is another efficient, creative, and open-source eCommerce platform that includes all of the functionality you'll need to launch an online store and grow your company. Prestashop has made eCommerce possible for over 300,000 retailers all over the world.
The software is available for download and is free to use. You would only be responsible for charges such as hosting, SSL certificates, and any equivalent expenses.
Prestashop's professional-looking and sleek themes can be used to build the website. It has no restrictions on your creativity and thoughts when it comes to creating your own website. You may personalize certain themes to suit your own personal style and preferences.

A broad variety of addons and plugins are also available to further improve the overall success of your online shop. You will keep track of the inventory, shipments, and consumer relationships, as well as get real-time statistics reports.
It's also simple to add content to the websites, such as blogs. The platform allows you to present your shop in several languages and currencies, breaking down any barriers to your website. You can market your products to any kind of consumer and in any region.
Notably, dropshipping can be quickly integrated with your Prestashop store in only a few measures, allowing you to scale your company without spending time on inventory management.
Wix
Wix is one of the most user-friendly eCommerce sites, offering convenient ways to build a full-fledged website with serverless computing with no coding. With competitive prices, 72 free themes, and a super basic configuration, it's the perfect fit for brand new online shops.
The framework allows you to build a website with your own unique style. You can use a prototype and adapt it to include what you like in your shop. You can still introduce new functionality to your store as it expands to increase its success.
Wix allows you to create a mobile-friendly edition of your shop, which supports both you and your clients.

Get a customized SEO plan by answering a few questions about your website, place, and keywords if you want to boost your SEO results.
You will easily catch leads, create consumer connections, and welcome payments right from your website when you use Wix. The site, however, is not suitable for fast-growing or large-scale online companies due to its accessibility and lack of essential selling resources.
Quick eSelling
Quick eSelling is a SaaS e-commerce website that allows everyone in the world to open a free online shop. More than 25,000 B2B and B2C retailers utilize the app efficiently all over the world. You can create, launch, and manage your e-commerce store with Fast eSelling e-commerce apps, even if you don't have some coding experience.
It's a professionally run and hosted e-commerce website with a robust CRM that lets you handle orders, inventory, and customers all from one location. PayPal, PayU, QuickBooks, SAP, and other common payment gateways and third-party APIs are also built into the platform. In addition, if you choose to adjust the look and sound of your e-commerce site, Quick e-selling supports all types of customization.

The free plan has a limit of 1000 products; but, if you wish to expand your online shop, you can upgrade to one of its paying plans.
Checkout our other article about e-commerce: