The debate of which site is ideal to use in order to sell your products is one that has been well discussed. Each website includes its own advantages and disadvantages.
Which site to pick will be easier for you to decide after reading this article.
1. Introduction
Simply put, Amazon is an already existing market place with 2.5 billion visitors every month, selling on Amazon will be like getting a shop in an already successful marketplace, where your sale is confirmed if you have low rates and quality product but there's a catch, there's a lot of competition.
While Amazon let's you sell your product for a billion customers, Shopify helps you build up your business from scratch.
Selling on Shopify is like getting a particular place to set-up a business, put up lights, banners and advertisements to attract customers and build your brand image. But it isn't as hectic as it sounds, as Shopify helps you with all of this making it simple and easy for you. Shopify currently powers more than 600,000 businesses which have sold over $82 billion products with all the tools Shopify provides to make your dream of a standalone store come true.
2. Amazon FBA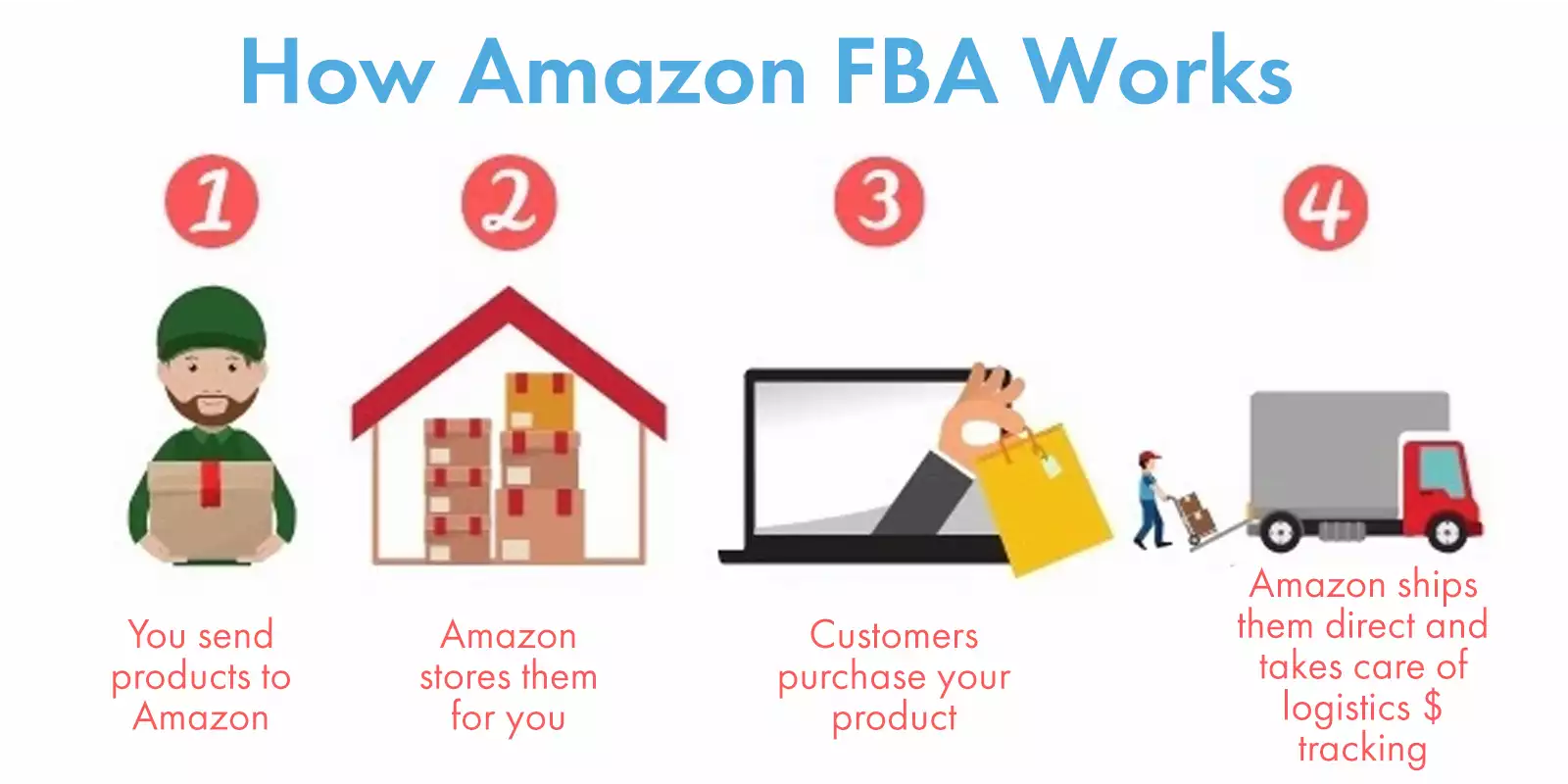 Amazon aims to satisfy all the needs your customers have. They offer their customer service and help you send your products over to the customers. It manages the logistics of shipping products to customers.
The idea is to ensure that all you have to do as a seller is list your products, sell them and finally ship them.
To save you from the shipping hassle Amazon has its fulfillment centre which gives you the space to focus on the business aspect of your company and not the customer service.
Here are a few tips to keep in mind when you use Amazon.
2.1  Traffic with higher intent
When it comes to using Amazon, is that the traffic you get is genuine and authentic. Most times, this is extremely hard to generate, especially when you have your own e-commerce store. It is important to keep this in mind. Amazon helps convert traffic into customers easily since they are able to market your products to the customers who look for them. This is extremely vital to your marketing strategy.
2.2 Choosing your product wisely
Amazon charges you for storage, and even though this might entail customer but if your product is not selling as frequently as you expect it to, Amazon might end up spending a lot of your budget just on inventory and stock space in their warehouses. So, choosing a product that has a high sales response would be in your benefit.
2.3 Constant checking-in for quick delivery
Additionally, you have to constantly check in on your stock and inventory levels on Amazon to make sure that when a customer orders they receive the product as soon as possible.
While this may be painstaking, it assuredly helps in boosting your brand image and you are bound to have more customers returning to your company for more products.
2.4 Doing your own marketing and branding 
If your product is relatively new to the market, your marketing and branding is your own responsibility.
Amazon doesn't really help with boosting your products on their website. They show customers multiple sellers selling similar products at different price ranges. So, you are going to have to be extra vigilant in making your product the best.
2.5 Returns of products is a possibility
The possibility of customers returning your products is also unusually high, especially if there is any damage to the products, which is not under your control.
Ultimately return of products does not bode well for your brand.
More people will likely avoid your brand, once they've returned your products.
This negative effect might generate a severe loss for you, so ensuring that all your products are in the best condition is also a hectic job.
2.6 Commingling is not always profitable 
When and if you opt for the option of commingling on amazon, which is the method that helps you sell similar products with similar brands and companies together, some of the other sellers might send across merchandise that is damaged, which also impacts your brand name as well.
3. Shopify


Shopify is like a person who believes in your business idea and is willing to give everything to watch you get successful. With all the sales tools that Shopify offers, it is as if everything is being done for you in simple clicks. Believe us, it's easier than it sounds.
To list some of the e-commerce tools that Shopify offers: 
Abandoned cart recovery 

Powerful inventory system 

Automatic tax calculation 
Logo maker 
Multichannel selling
App integration
Although Shopify does not have its own warehouse, they do try and make your shipping process easier. This e-commerce website makes your entire experience as a seller, and a company, as easy as it can get. Ultimately you have way more control over the whole process in comparison to what you'd get from Amazon, setting your product apart with branding and customized templates to make your brand unique. Shopify gives you the space to create your own page, and sell any product you may wish to. This helps you be as creative as you want. Which is also an important aspect of creating products of your own. Using Shopify entails the fact that it is your website competing against mass-selling e-commerce websites like Amazon and e-bay. But as the word is out, it's quality over quantity.
3.1 Customization

Unlike Amazon, when a customer is on your website, you are not competing with other vendors. This means that a customer's sole focus is on you and only your products. Since it is your website, using tools like Emailwish is critical and can help you better understand your customer's behaviours and target your marketing and advertising towards them!
3.2 Need to bring in traffic that converts
At the same time, it does become a task to bring in traffic to your website that actually converts into customers. You will need to put in a lot more effort into marketing your products through Facebook and Google ads.
3.3 Creative independence
As mentioned before, you can design your own website. This allows you to create and customize your website to the needs of your customers. Shopify offers his feature and you can create an outstanding website easily or you could use other platforms like Woocommerce, Wix, Squarespace, and many more.
3.4 Fulfillment warehouses are less expensive
To make it even easier Shopify has recently teamed up with Oberlo to support the growing businesses. 
Depending on whether you are using drop shipping or not, using fulfillment Warehouses is definitely cheaper than using Amazon's warehouse. The prices are not fixed, which means it is open to negotiation, depending on your inventories. Be aware that undertaking your own shipping process might be quite hectic if you haven't done it before. Make sure to have gone through ample research before going ahead with fulfillment warehouses.
3.5 Set your own shipping charges
You also have the added advantage of choosing to charge your customers a shipping fee since you can calculate it beforehand and possibly cover any loss you might incur due to the costs of storage which isn't an option if you are an individual seller at Amazon. Shipping charges can be managed by Professional Sellers only. And with Shopify, you can keep the option of not charging your customers a fee to help in boosting your image as a brand.
| | | |
| --- | --- | --- |
| | | |
| | Subscription-based e-commerce platform for online stores. | |
| | 1. Basic Shopify plan: $29 per month 2. The Shopify plan: $79 per month 3. Advanced Shopify plan: $299 per month | Individual: $0.99 per sale closing fee Professional: $39.99 + extra selling fees |
| | Shopify Payments (More than 100 payment gateways) | |
| | Credit Card: 2.9% + 30 cents per transaction Third-party payment providers (including Amazon Pay and PayPal): 0.5% to 2% | Accepts major debit and credit cards Individual sellers: $0.99 per product sold |
| | Standalone Shopify AppStore with both native and third-party applications | Up to 3,000+ integrations through Zapier |
| | Yes, with over 100 free and paid-for themes and templates; SSL-certificate included | |
| | 24/7 phone and live chat support | |
| | Third-party calculated shipping rates for Advanced Shopify plans | Customized shipping rates only for professional sellers Fulfilled by Amazon: $1.97 to $137.32 depending on type of product and unit size |
4. Pros and Cons
Here is a detailed pros and cons list for better understanding. 
Amazon Pros
Free 30 day trial with a Pro account
Instant access to a global audience
Ready-made brand reputation
Setup and start selling immediately
Reach motivated buyers easily
Built-in customer service
Easy refunds and returns service
FBA service available
Shopify Pros
Free 90-day trial
Easy to use
Flexible design
An affordable way to build your online store
Your store belongs to you
More control over your store
Access to powerful e-commerce tools and apps
Simple to create your unique brand identity
Mobile friendly store
Opportunity to build a substantial business
Free Shopify payments
Amazon Cons
Fees payable to Amazon for every sale (15% – 40%)
You must adhere to Amazon's rules or risk suspension
It's a highly saturated platform
No control over your store page
No design options
Undercutting tactics by competitors
Shopify Cons
Marketing must be done yourself
Potential increase in marketing costs
No reputation to piggyback off
Monthly fees add up with the use of additional apps
Access to reports is not available with the basic plan
Transaction fees apply if using a third-party payment provider
5. Using Amazon with Shopify
This technique is recommended by professionals. 
What's better than having multiple platforms for your product but there's something even better. 
Integrating Amazon with Shopify. 
By simply connecting your Amazon selling account to your Shopify account, you can import your products from Amazon and sell them on Shopify without breaking a sweat.
6. Conclusion
It is not an issue choosing between the two platforms once you have your business and requirements clear.
People have made a fortune selling from either of the platforms. 
Now, it is all up to you. See which suits you better.
Good luck.