Print on demand or POD is a business concept where the print products sold online are printed after an order is made for it. It is also a type of dropshipping business where the printing is done by the third party warehouse and dropshipped by them.
But before we start to understand more about Print On Demand or POD as a dropshipping model, it would be best if we are on the same page. If you know what a Dropshipping business model is, then well and good. If you do not know, then it is explained very well with an example in the 'What is a Dropshipping business?' article.
What is Print On Demand?
Print On Demand is one of the popular business models and many e-commerce store owners use this model. "It is as the name suggests" would be the most brief and easy way to explain the concept's function. You print only when there is a demand for it. When order is placed on your online store, you or the warehouse prints the product and it is delivered to the customer.
This business model works best for those niches that have printed products. For example : T-shirts, mugs, posters, banners, phone cases, hats and many other print related objects. Print on demand doesn't necessarily limit to printing but also other forms of creation such as embroidery and stitching. Many dropshipping warehouses offer features or quality where the cloth is first printed and then sewed for making the final product.
How does it work?
It is actually very simple to understand. The customer places and order on your site. Either you print the product and deliver them or you forward the order to your printing partner along with the cost and delivery address. The printing warehouse prints the order and fulfills the delivery. Pretty simple, right? But that was just a brief explanation, so lets dive deeper.
Store setup
At first, you need to come up with your own online store on e-commerce store platforms or the ones that help you develop them; for instance Shopify, Woocommerce, Big commerce, Commerce Cloud, Magento, Wix, etc. After building your own store, you need to integrate apps that support your business model. For example you will need delivery services like DHL or UPS for delivering products you printed or you will Print on Demand Dropshipping apps for the POD dropshipping business model. If you are planning to open a store on Shopify, there is a list that will help you decide the best app for your store.
Are apps necessary?
Apps are tools that we use in our day to day lives to ease our work. As such, online store owners heavily rely on them. Yet we should know whether we need the apps or not. And if we do then which apps should we prefer.
Non-dropshipping business model
If you aren't using the dropshipping business model, then the context below will be irrelevant to you. Non dropshipping models do no t require much apps related to processing orders other than the apps for basic functions like payments app, chat or review apps. 
Such stores or business need shipping apps like Packlink pro and DHL for carrier services. Also such stores need to maintain good customer relations and it is a tedious task if you are printing yourself. Apps like Emailwish is best for such store which provides various functions and automations with its multi-functionality built in.
Dropshipping apps or plugins
Apps that are specifically developed for Print on demand dropshipping usually have higher product costs and usually that is not the case with other vendors. You only need apps when you are dealing with multiple dropshipping suppliers and are dealing with huge orders. In such situation handling orders and payments becomes a headache and a hassle. Apps are provided just for solving those issues.
Without dropshipping apps
On the other hand if that is not the case with you, then you do not need to install these apps. You can very well handle the orders and suppliers easily. One of the common methods is to create a .csv file of orders and delivery addresses and export that file to the pod supplier with payment. They will handle the rest.  In this scenario you will be dealing with the supplier directly and not through any app.
However, if your store niche isn't popular it will be difficult to get hold of pod suppliers who deals with your niche. In such situations it is natural to look upon the pod dropshipping applications. But pod specific apps charge the prints at higher rates. As a result your product prices will go up and it will affect the sales.
Cheaper dropshipping options
An alternative to them is ordering POD products from major dropshipping suppliers like Alibaba, Aliexpress, HKTDC and Global sources. They deal with both product reselling and POD dropshipping. To find POD dropshipping products, just search with the 'custom' word before the product you are searching. You will be shown suppliers that offer POD dropshipping for the product you searched for.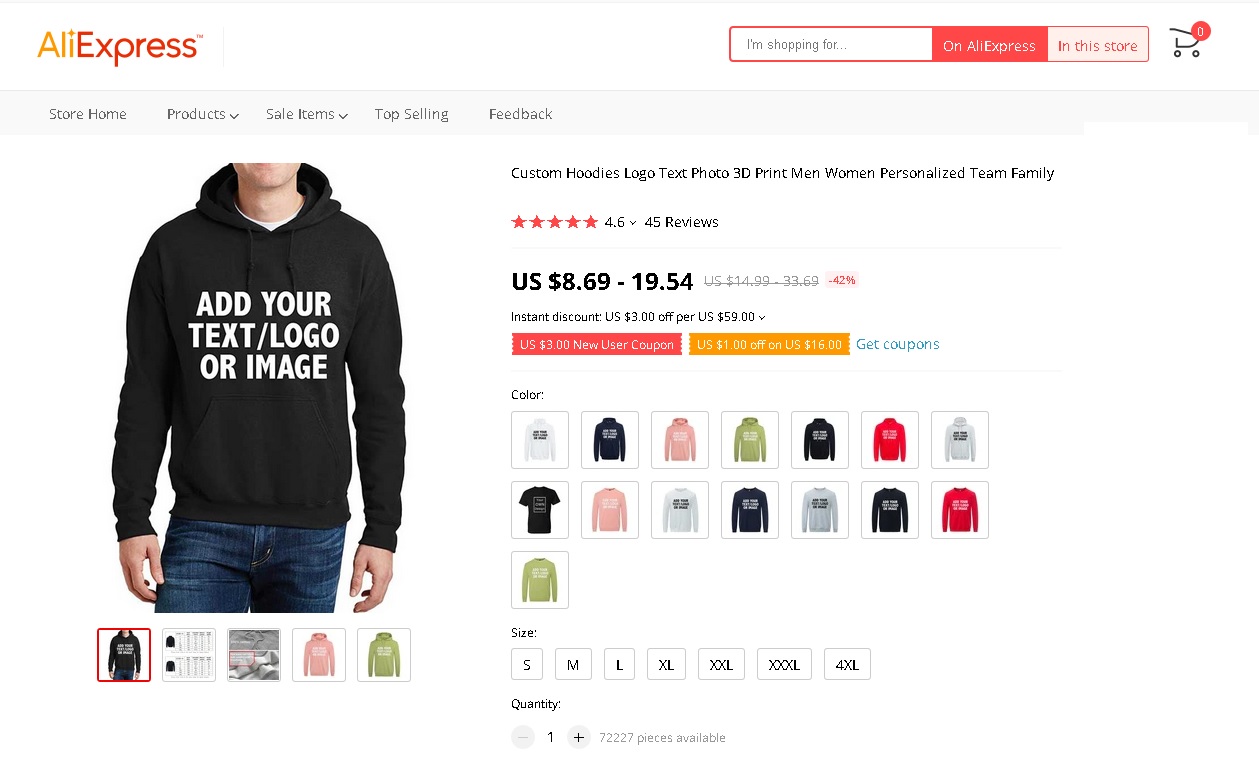 These suppliers list their prints at very low costs compared to these POD specific apps. This will help drive better sales and allow more profit margin. In such cases you can search the internet for free mock up .psd  files of your relevant product to edit and list it on your store.
Delivery or Dropshipping
After you work on advertising, you start getting sales. Your first customer orders a plain white shirt with some text on it. That very moment, your POD dropshipping app will forward that order along with the amount and delivery address to their hub. The hub forwards the data to their printing house closest to the delivery location. It helps deliver faster.
The hub or the main warehouse has many other branches that helps them distribute the printing task as well as shorten delivery time. But many large warehouses have other non-branched printing houses that started locally and is in partnership with them.
It is similar with the Alibaba or Aliexpress POD dropshipping. And if you are doing it manually with your own supplier, then forward the list of orders and delivery address in a .csv file  or in any other suitable format along with payment to the POD supplier.
 Stores that aren't using apps or dropshipping model will need to use carrier or delivery services (as mentioned before) DHL and Packlink Pro to fulfill the delivery.
The Down side of Print On Demand
There aren't any big downsides, rather some subtle ones. Yet they wont stay as downsides forever because future technology can solve them. So, what are they?
Longer delivery time
Print on demand has a big issue of delivery time. Delivery duration include printing as well as delivery time. This can be essentially fatal when large orders start coming in, or the warehouses are understaffed for such situations. The delivery duration increases a lot and upsets customers and business together. If customers got to know about delivery time before ordering and witnessed that it will take weeks, then that reduces the possibility of the customer ordering the product.
In future, new and innovative transport solutions will solve this problem. And improved printing machines will help print faster.
Higher prices
Individually printed products require setup change after every order. This increases the duration and effort, which increases the cost of printing. In contrast, mass produced goods don't require setup change at all. This reduces time and effort required.
This can too change in future. Applications will be built that can be set for changing the printing setup by itself when the next order comes in. All you will need to do is check the inventory and feed the right printing product.
Fulfillment risks
Here Fulfillment is referred to delivery and solving any problems related to delivery. Some major brand printing houses do have great fulfillment services or hire one like that. But when things go wrong, they solve only if the fault is at their end. For instance, to refund or replace a lost product will be Printing house's responsibility.
On the contrary, if a delivered product hasn't really reached the customer; the store owner has to bear the charges of delivery and refund or replacement. This is true in the cases of wrong address, wrong clothing size, wrong product order and low quality print file too.
In future this can be tackled with precise tracking solutions, double conforming while ordering on websites and printing machine supporting custom or wide range of material sizes.
Stores that print themselves have higher risk here. In such cases of product delivery issues, the store handles most of the cost while the shipping service only covers lost product and probably delayed deliveries. 
Few things to consider before starting a Print on Demand business
After reading all the way down here, we can assume that you know the basics of print on demand dropshipping. It is natural if you want to start working on it right away. But only if you have thoroughly thought on what niche are you going to conduct your business. If you haven't then it is high time that you do. This will help in choosing which business model will suit you best.
This is being mentioned because starting a print on demand business for some regular or popular print products does not make much sense. Also it is the same if you choose this just so you don't have to store inventory. Rather this model might turn out to be greatest reason your business might fail. In that case a standard product reselling model will be best for you.
A print on demand is best for those business or store owners who plan on bringing uniqueness in to the market. Printing your own custom designed shirts, apparels or other products that are not out there in the market has the best use of this dropshipping model.
That way you can be a leader in the domain or a very successful business given some time to grow. In this model other than the business idea, your product creativity will be the only factor that can decide the growth nature of your business. After all Sky is the Limit, or have we crossed it already?
What ever it maybe, staying creative and unique is the key.
TL;DR
The model is as the name suggests. When stores drive sales related to printable products, the order is sent to the print houses that print the products ; for example : shirts, posters and other printable products. The printing house fulfills the printing as well as the delivery of the product.