What is Dropshipping?
Dropshipping is a retail fulfillment method where a store doesn't keep the products it sells in stock. Instead, when a store sells a product, it purchases the item from a third party and has it shipped directly to the customer. As a result, the merchant never sees or handles the product. Which reduces the hassle of handling and storing products and the risk of buying the wrong goods.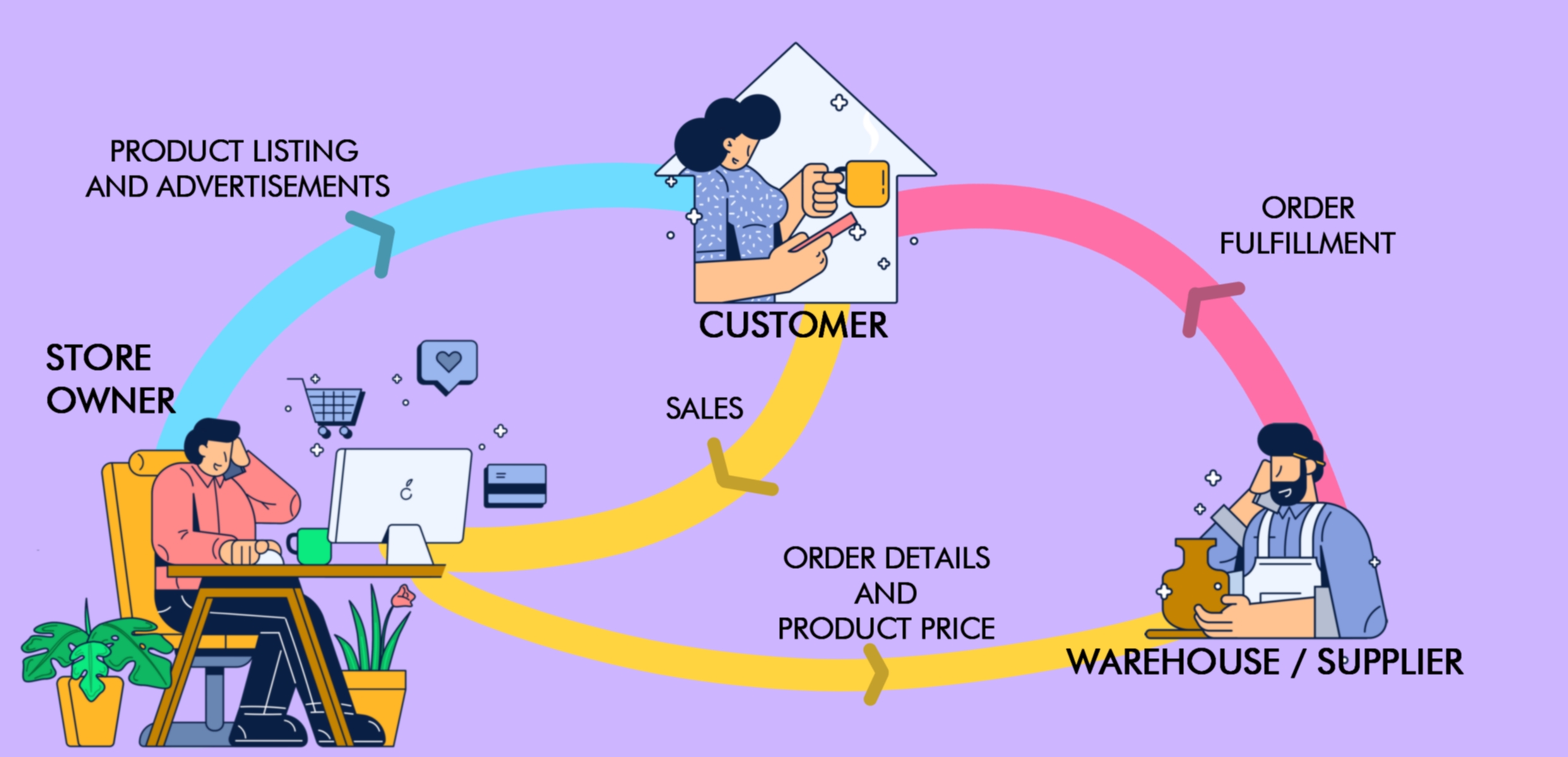 How do people carry out Dropshipping?
You just read the dropshipping concept, now I'll try to elaborate it with an example. You want to start a garment shop from ground up. But you lack in funds and space. It's the 21st century. You went online to search cost effective methods and you found the concept of dropshipping. But how to start?
Research
Research is unavoidable when it comes to projects like this one. You need to know who are your competitors? What trend is going on? You need to know the successful and the unsuccessful dropshipping stores and their stories because they teach a lot on how to maintain a dropshipping business. Their failures will teach you what should not be done in order to sustain in this competitive market. Dropshipping is not a brand new concept. It has been around since years and there are already some people who are making millions out of it. Study on how successful brands in your niche are conducting the dropshipping business and their prices and other customer engaging offers. This will help you understand your position in the market and help you take decisions based on it. It will definitely help you make a good business plan.
Setup your online store
In today's age, physical stores are not a must if you want to start a business and it does not limit to dropshipping business. You can just setup an online store by developing a website and getting the paperwork done with the officials. After that you need to find warehouses or production companies that are willing to take orders and deliver product according to it. Right now there are many warehouses that do exactly what we need and have been developed specifically for dropshipping business models.
Setup dropshipping suppliers using apps
You can develop your store website on Shopify and use the Oberlo app for dropshipping business. You select the products of your niche from the list of products that the Oberlo warehouses are offering. Oberlo offers three suppliers which are Oberlo suppliers (Oberlo's own group of tracked and verified suppliers), Verified suppliers (suppliers outside Oberlo's group, but are verified and tracked by Oberlo) and lastly Aliexpress suppliers (suppliers completely outside of Oberlo, who provide the goods but aren't verified or tracked by Oberlo).
Whether you conducting a product reselling dropshipping business or print on demand dropshipping business, there are some suppliers that offer similar types of products at very cheap rates. Among the above suppliers, Aliexpress and another (not mentioned above) called Alibaba are suppliers that offer both type of dropshipping at cheaper rates than others.
Setup dropshipping suppliers without using apps
Setting up dropshipping business doesn't necessarily mean that you should install Oberlo or Aliexpress apps. You on;y use apps if you are dealing with hundreds of products on your store, get large order volumes and have many suppliers in your list. If you are just starting out, have small list of products and very few or one dropshipping supplier, then there is no need for apps.
You can manage the dropshipping business just fine by yourself. Common methods of exporting order data to suppliers include forwarding a list of orders in a .csv file and payment through other mediums. This way you wont have to go through apps which offer higher prices for similar products and you will be able to maintain your business easily.
Whatever method you choose is fine, the above texts are suggestions and options for you to adopt the best one according to you.
You select the products based on which supplier you are comfortable with and  add them to your store and start selling them. Setup until here is bare minimum requirement. You can add other dropshipping apps, suppliers and other functionality apps too.
Prepare ads and get sales
Unless the public hears of your store, it is as good as a ghost. Advertisement will help with sales. Good advertisement will bring in good amount of customers, which will in turn drive your sales giving you profit. You can use apps that do the advertisement for you or you can make your own advertisements on Google marketing platform and manage them through apps that link your Shopify store with Google marketing platform.
There are other multipurpose apps with built in functions of advertisements, email marketing, chat bots and others such as Emailwish. Such apps will help you with managing many things that are considered as hassle by many online store managers.
How do you earn the profit?
You import products at wholesale prices. Then these products are sold with certain amount of margin, which is your profit and other recurring costs that you need to take care of as a store.
Thus whenever a customer orders a product, the amount is processed and you earn the margin. The warehouse receives the amount along with the shipping address.  The warehouse then fulfills the delivery.
Dropshipping has 4 distinguished models
Dropshipping has 4 types of models, them being :
Print on demand
Product Reselling
Business extensions
Product creation
The first type of dropshipping model is the Print on Demand or POD model of dropshipping. The model is as the name suggests. When stores drive sales related to printable products, the order is sent to the print houses that print the products ; for example : shirts, posters and other printable products. The printing house fulfills the printing as well as the delivery of the product while you just drive your sales.
The second type of dropshipping model is the normal dropshipping model that we discussed above. You drive the sales and the warehouses fulfill the delivery.
But there are plenty of differences between them both. Mainly the cost and the delivery time. Dropshipping PODs require time, and when any business grows large or many people adopt the dropshipping business style, then delivery time increases significantly. Store owners face some risk in this system. Orders are non refundable and non replaceable, unless it is the manufacturer's fault. Other than that the store owners need to replace and refund the customer's orders.
In the second type, it is all reverse. Faster delivery is possible due to mass produced goods. It reduces waiting time of production and makes products cheaper. Here the store owner receives a lower risk. Production houses replace and refund the faulty, damaged and wrong products.
The third type of dropshipping business is very similar to product reselling but it is for very local stores,  unique shops or sellers that do not have online presence due to their own reasons. Such business needs to have good relation, bond and trust with the local stores or shops to be successful. Updating inventory can be a hassle.
The fourth type is the product creation type; where the people who are selling products combine many  other objects and create one single product and sell as a whole. For example DIY kits or craft kits.
How to start your own dropshipping business?
You now know how dropshipping concept works and want to start one of your own. Look no further, we have our own guide on how to setup a successful dropshipping business. And when you do setup a business, you will definitely need the tools to manage it hassle free. Go through our list of apps that will be best for your Shopify store.
TL;DR :
Drop shipping is a retail fulfillment method where a store doesn't keep the products it sells in stock. Instead, when a store sells a product, it purchases the item from a third party and has it shipped directly to the customer. As a result, the merchant never sees or handles the product. Which reduces the hassle of handling and storing products and the risk of buying the wrong goods.
In a more elaborate manner, the website displays the products and customers order them. The third party or warehouse automatically receive the order and shipping address. The third party then delivers the product to the address. Between this, when the customer pays for the goods, the amount is processed, your profit is deducted and the price at which it was sold to you is forwarded to the third party.