1.Introduction
Selling on Shopify is similar to having a specific location where you can set up shop, hang lights, banners, and advertising to draw buyers and create your brand image. But it's not as stressful as it sounds, because Shopify takes care of it for you, making it quick and straightforward.
Whereas selling on Squarespace is like hiring an architect and designer to make you look as professional and colourful as you imagined it. Where people come and get impressed in an instant. It is said that it is not even a fair comparison to compare these two platforms, but here we are to make things for you.
2.Shopify
Shopify is a subscription-based e-commerce platform for an online store that offers four plans, ranging from $9/month for Lite to $299/month for Advanced Shopify.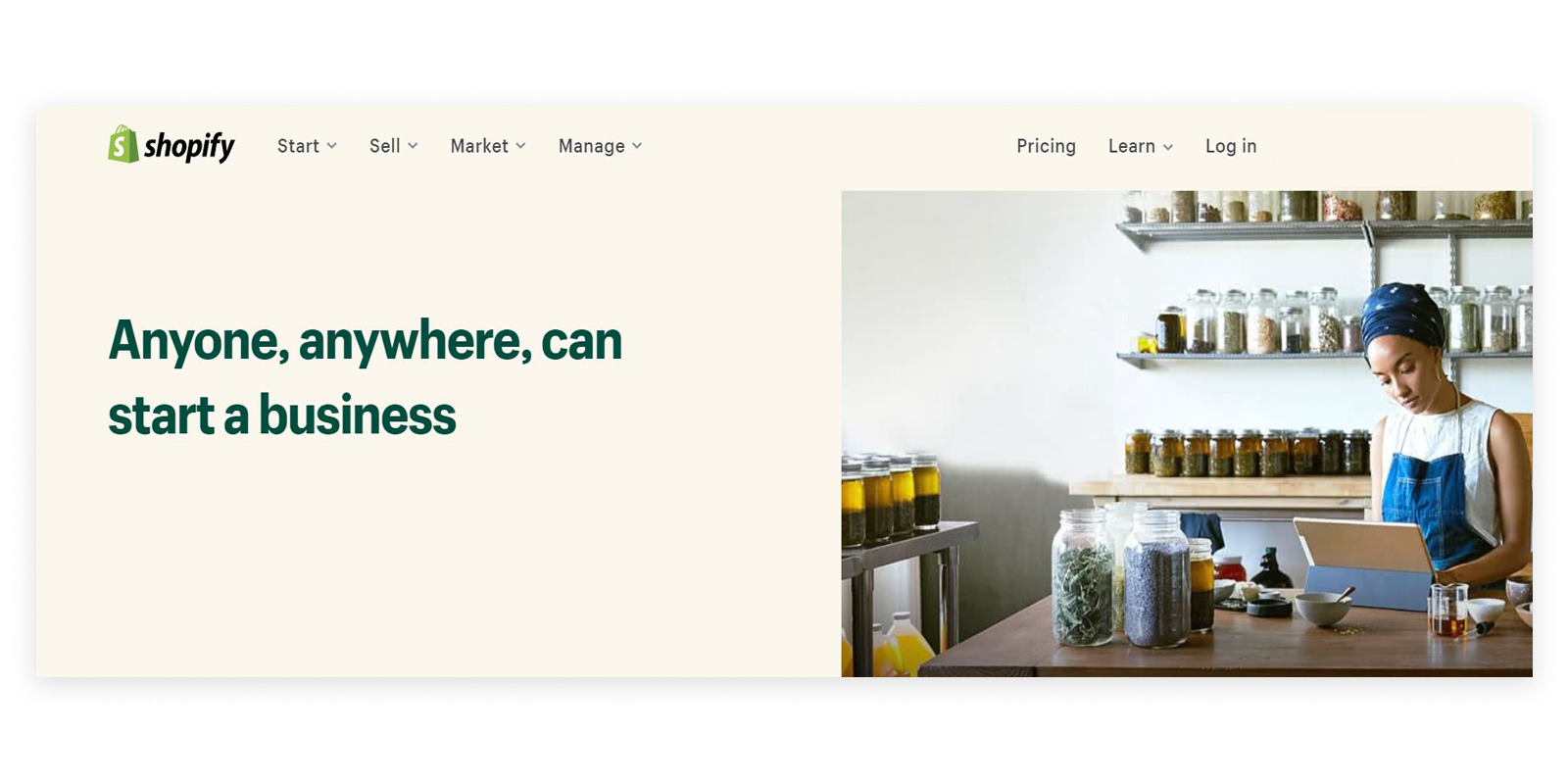 Shopify outperforms its rivals in a variety of areas, including Customer Support, Payment Gateway, and Ease of Use.While Shopify hosts your website, you are entirely responsible for its creativity.
2.1 Ease of use
Without a doubt, Shopify is one of the easiest to use platforms for launching a full-fledged online store. This is because, from the moment you create an account, they help you through the complete setup procedure.
They'll host your store for you, and you'll be able to play around with it until it goes live. It goes without saying that you don't need any geeky expertise to get started quickly.
2.2 Customization

The themes serve as your virtual storefront. And as you may already know Shopify has its own theme store, with over 180 different themes to choose from.
In most of the themes, you can change their look and feel without having to know how to code. There's no need to be concerned since all of the themes are mobile-friendly.
2.3 Pricing

You can choose from the 3 main plans that Shopify offers:
$29 / month for Basic Shopify
$79 / month for Shopify
$299 / month for Advanced Shopify
On top of the plan, your online expense would consist of shipping that would also return once you get your delivery payment.
2.4 Integrated tools
With all of Shopify's sales tools, it's as if everything is done for you in just a few taps. Believe us when we say that it's a lot simpler than it seems.
To give you an idea of what Shopify has to offer in terms of e-commerce resources, here are a few:
Abandoned cart recovery
Powerful inventory system
Automatic tax calculation
Logo maker
Multichannel selling
App integration
Customer Service
2.5 Customer Support

Any platform needs good customer service to be regarded as one of the best and no other platform does it better than Shopify.
With 24/7 customer support, you'd never feel like you're doing a business alone. There's a doubt in your head at 3 A.M, no worries, Shopify is there for you with support options like:
24/7 Phone
Social media
24/7 live chat
Forum
Email
Video tutorials
Advanced specialist support (on Plus plans)
The Shopify Help Centre
3.Squarespace
Squarespace is an entirely different experience. Squarespace is a web content management system in the technical sense. To put it another way, it was a system designed to host websites rather than just eCommerce sites. Customers from eCommerce stores make up a small portion of their total customer base.

3.1 Imagination canvas
"What you see is what you get." This means that your website will look exactly as it is written in the editor, and you will be able to see any changes as they occur.
The best part is that you don't even have to know a single line of code.  You can use code if you like, but one of Squarespace's greatest benefits is that it allows anyone to create an effective website without worrying about their coding abilities.
This is a very easy method of designing a website that allows you to see exactly how much progress you're making.
3.2 Integrated tools
You can not only use Squarespace's designs to create a unique brand, but you also have access to resources that make your life easier, such as:
Email marketing campaigns
Built-in analytics 
E-commerce features
SEO tools
And these are only a couple of examples of online resources that can be used in Squarespace.
3.3 Your window to the world
As you've probably already discovered, Squarespace is ideal for creating a portfolio or photography website. Its templates are all designed in-house, and you can fully customise them to make them as unique as your work. To build your own personal style and web presence, do things like replacing photos, altering fonts and colours, sharing on social media, and integrating with third-party apps like Adobe Creative Suite and Google Drive, and more.
3.4 Pricing
You can choose the plans from the following options under "online store":
Basic plans start at $26 per month if paid annually, or $30 if paid monthly.
Advanced at $40 per month payable annually, or $46 per month if you want to pay weekly.
On the other hand, under "websites," you have the following options:

Personal is $12 per month billed annually, or $16 per month billed weekly.
Business costs $18 a month if paid annually, or $26 if paid monthly.
3.5 Customer Support 
Squarespace has very few customer services options. Most problems, however, can be addressed by visiting their excellent forum, which we believe is one of the best and most reliable in the industry. If you can't find a solution in the information forum, there's also live chat support available Monday through Friday from 4 a.m. to 8 p.m. (EST).
4.Basic comparison
4.1 Page Editors 
A visual drag-and-drop page editor is available in Squarespace. It is as easy as dragging and dropping the content blocks into columns and rows. There are also parts that have been pre-designed to ease the process for you.
Squarespace offers a ton of content blocks including forms, maps, menus, buttons, audio players, image galleries, charts, and many more.
Squarespace's page editor is its strength: In eCommerce websites, the most common pages are often pages such as product or selection page which are obviously always dynamic, rather than static pages like contact us and about us, where the information isn't changed frequently. Since eCommerce websites aren't as important as blogs, Shopify's page editor isn't as strong.
VERDICT: Squarespace, because of its aesthetics and ease of use. 
4.2 Templates

Squarespace is particularly popular with photographers and online stores because its templates have a familiar vibe and tone: bold fonts, blank space, and plenty of room to display the art. Squarespace focuses on creating beautiful websites, and they have about 70 beautiful, modern website templates to choose from.
Squarespace offers all of their templates in-built and offers customer service for them as well.
One of the best features of Squarespace is that the templates look great even after users have customised them.
One of the issues with other website builders is that they release attractive models that are almost impossible to change without causing havoc. The same is the issue with Shopify.  With the hectic job of coding to make a theme according to your taste, although there are third-party apps that would provide you with themes.
VERDICT: Squarespace, because of ease of use and total independence of creativity. 
4.3 Customization of the template
Squarespace's theme customization feature is the finest of any website designer.
Basically, you can easily add your own brand colours and fonts while still being able to fine-tune how they're applied.
You can choose a base font and size for the different fonts that you want to use. This is a convenient and straightforward solution for users who are uncomfortable changing individual font data.
In a case where you want to change the navigation's font colour and scale. There is nothing else to do with Shopify other than to edit the CSS code. The Style Editor in Squarespace allows you to change the font colour, height, and more.
Shopify's Customizer allows you to change a few broad colours and fonts, but it's more about activating and disabling theme options rather than serious theme customization.
In conclusion, if you badly need a custom Shopify theme, you won't be able to build one without diving into code or getting a Shopify theme freelancer.
VERDICT: You would have guessed it, Squarespace.
4.4 Shipping
Squarespace's shipping is straightforward enough, but it can't compete with Shopify when it comes to eCommerce genius. Shopify is a much more sophisticated platform. On the plus side, Squarespace allows you to customise your shipping fees based on factors such as weight or destination country. Squarespace also allows you to handle your inventory even easier than Shopify, Weebly, or even Wix.

With Shopify, shipping and managing your goods is a dream come true. Everything is handled including the shipping labels, built-in integrations with UPS and NHL, and also dropshipping tools to ease your delivery.
In the end, Shopify may be superior to Squarespace in terms of delivery options, but Squarespace holds its own when it comes to inventory management.
VERDICT: Shopify all the way. 
4.5 Social media marketing
Squarespace doesn't have an app store where you can add buttons to your website, so if you're trying to sell with multi-channel social integrations, you could outgrow it easily. Unfortunately, you get to sell on Instagram and nowhere else on Squarespace.
Shopify's app market, on the other hand, offers a diverse selection of applications and social media advertisement resources. In seconds, you can add a vast range of fantastic marketing and accounting resources. Shopify's app store also allows you to add integrations, allowing you to sell through up to ten different social media channels.
VERDICT: Shopify, because of options.
4.6 Email marketing 
Squarespace has a built-in newsletter platform called Campaigns that can be used for "Email marketing" It's straightforward, easy to use, and reasonably priced. They even have a simple Mailchimp integration. If you're in the content marketing game, Squarespace's excellent blogging platform can come in handy.

None of this is available on Shopify. At the very least, not right out of the box. Fortunately, there is an overabundance of free tools to choose from. In addition, they have integrated features for running Facebook and Google Adword campaigns.
VERDICT: Squarespace, as it has its own email campaign tool.
4.7 Payment Options
Squarespace's payment gateways are extremely limited; PayPal, Stripe, and Apple Pay are merely the totality of options provided.

Squarespace's payment system is left in the dust by Shopify. It accepts all major payment gateways, including Amazon Pay, Square, and even cryptocurrency, in addition to over 100 other options.
VERDICT: Shopify clearly, as multiple payment options mean more orders.
4.8 Blogging
Squarespace may be a design pioneer, but its blogs are at the same level or as some may say "even better." It excels in blog research, with built-in analytics, archive support, and a search feature, along with all the necessary tools anyone needs to run a blogging website.
Such SEO features are not a subject known to Shopify, where it has a good SEO rate but not so much in the case of blogging.
VERDICT: Squarespace, as it is ideal for blogging.
4.9 Customer Support
Shopify goes beyond any other platform with 24-hour support via phone, email, and live chat.
Whereas Squarespace has very few customer services options. Most problems, however, can be addressed by visiting their excellent forum, which we believe is one of the best and most reliable in the industry. If you can't find a solution in the information forum, there's also live chat support available Monday through Friday from 4 a.m. to 8 p.m. (EST).
5.Conclusion
With all the information provided above, we can make sure that it is now easier for you to decide what to choose. 
Just to sum it up, you should choose Shopify if:
You want a large scale e-commerce store with massive email. marketing strategies
 You want great customer support.
You want complete flexibility about the feel and functionality of your site.
Whereas, you should use Squarespace if:
You want to make a pretty looking website, 100% according to your style with emphasis on aesthetics more than functionality. 
Blogging is your top priority. 
You are fine with the provided designs and don't feel the need to modify them. 
Best of luck. 
If you want to read about Shopify v/s Amazon FBA, click here.