Despite the introduction of numerous promotional and marketing platforms, email marketing is still widely used for marketing purposes. It allows you to connect with large masses of audience and send relevant messages to each one of your customers. Emails can be of different types, depending upon their purpose and intent. One of these types is Promotional Emails. These are the emails that are used to promote your products and services to your customers.
What are Promotional Emails?
As can be figured from the name, promotional emails are the emails that are sent to your clients, subscriber, leads, or clients informing them about certain deals and offers or any other promotions you are running.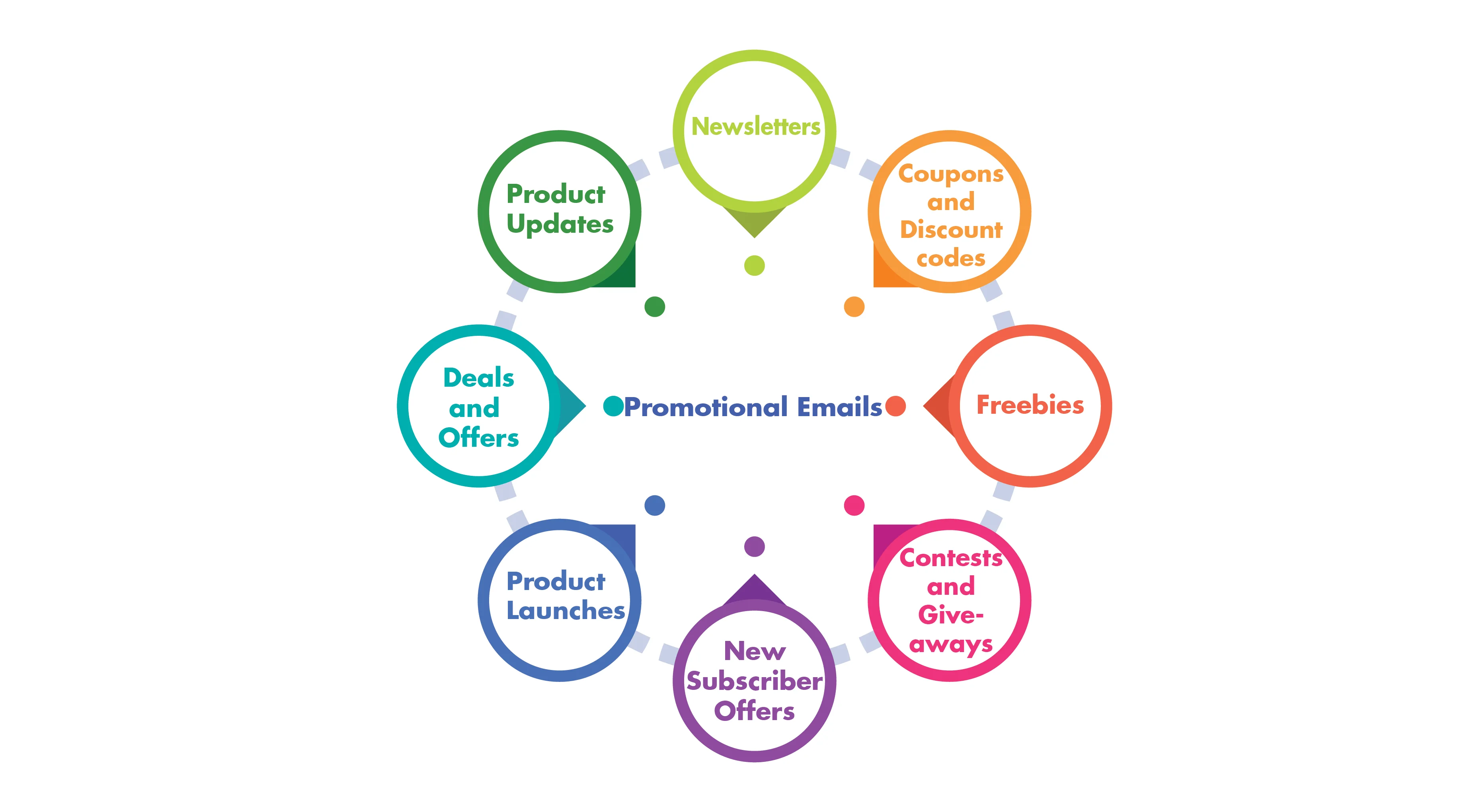 Promotional emails can be of many different types depending upon your marketing strategy. They depend on what you're promoting and how can you attract a large number of clients. These are also used for the purpose of re-engagement if a customer hasn't visited your website in a long time or hasn't checked out. A few types of promotional emails are listed below –
Product updates
Limited time offers and deals
Product launches
New subscriber offers
Contests and giveaways
Freebies
Coupons and Promotional codes
And many more
The research.

Before starting to write the copy for the email it is necessary to do your research and have a clear understanding of what you're promoting, why you are promoting, and who you are promoting to. Before discussing the tips for writing, let us discuss the above points in detail.
1. What are you Promoting?
To be able to promote a product, you need to know every tiny detail about it. This is the only way in which you'll be able to bring out the best features of that product and present it to an audience.
Your writing should be able to clearly answer what you are offering to the client. That is the basic purpose of a promotional email. This will help you in coming up with intriguing and relevant subject lines and messages for your promotional emails.
2. Why and how are you promoting it?
Once you know what you're promoting, you need to find out why you're promoting. Is it free content to get more leads? Or is it a giveaway to get more engagement or is it a webinar to launch a new product? All of this information will help you create your message with a clear idea of what this message should achieve. This will also later help you in giving you a measurement of how well your campaign worked.
3. Who are you promoting to?
This is the most important question of all the three mentioned here. It is not important to send an email to everyone on your mailing list. Send a message to only the ones who actually asked for it. This will increase your click and open rates. Knowing who your audience is will help you write relevant messages that people would want to open and read. This will also prevent your email messages from landing in spam folders and avoiding spam filters.
Now that we know the answers to these important questions, let's have a look at the tips and tricks to write good promotional emails.
Tips for writing good promotional emails.
1. Work on catchy subject lines.

Research shows that 47% of the time subject lines are the reason that a person decides to open an email. Therefore, it is important to come up with subject lines that pique the curiosity of the user and also give them a hint of what the email might be about.

Avoid using words like "free" or "prize" and other catchy words. These words might trigger spam filters and your email might end up in the spam folder. This will hurt your conversion rates drastically.
2. Send the emails from a person's email address.
Always remember, a user should know who they are talking to and if they're even reliable. Besides the subject line, the "from" field in an email also plays an important role in deciding if an email would get opened or not. Instead of using a company's name with an email address such as "noreply@xyz.com", send your emails with a genuine name. This way people can be assured that they can trust you and your brand and reach out to you if there's an issue.
3. Highlight the benefits of the products you're promoting.

This goes without saying as you're writing a promotional email, promote your product in a positive way. Try not to focus too much on what benefits you can provide, instead, focus on telling the user how you can help him. Tell your users you understand their problems and are offering them a solution.
Instead of bragging too much about the offer in your message, rather link it to your landing page where users can find out more about your products and services. Your email message should be able to clarify how this promotion is beneficial to the user and what value it can provide.
4. Use preview text.
A preview text or pre-header text is also one of the three main things a user checks before opening an email, i.e. – Sender's name, Subject Line, and Preview text. It is usually a very short description or introduction to the email. It clarifies the purpose of the email and helps the reader to judge if an email is relevant to him or not before actually having to open it.
If you find it difficult to write an appropriate preview text then your email automation tool will automatically fill this field using the first few characters of your email. Thus, try to start your email message in an engaging manner so that the user is convinced to read further.
5. Avoid writing lengthy texts and pay attention to your grammar.

Let's face it, no one likes reading long paragraphs of messages. The same goes for your email clients. They wouldn't want to read 300 words before they can actually read about the promotional part. This is why it is important that you keep your promotional messages short and crisp.
Try to deliver your message in as few words as possible. Try focusing on getting the main message across rather than beating around the bush.
Besides the length of the letter, the grammar also matters. It is very unprofessional if your email is grammatically incorrect. To avoid making such mistakes, use tools like Grammarly, which continuously checks and corrects your grammar. A well-written message will always have a positive impact on the reader.
6. Include a proper CTA.

The main purpose of a promotional email is to direct customers to your website. Add a loud and clear CTA in the center of every promotional email you create.
Don't add abrupt CTAs, try to be more natural. Your email message should have a nice flow that eventually leads to a CTA. For the CTA button, try to come up with creative copy ideas that make the user want to click them. For example, instead of using the usual, "Buy Now" button, you can use "Make them all yours".
7. Use graphics to enhance the looks of your email.

What can be a better way of making your message interesting than images? But you have to be creative in order to stand out from the crowd. To do that, try to use original photos of your own products. Ou can also create graphics from scratch, using platforms like canvas.
You can also create a catalog and link it to your products page. This way, the user can directly go to the page where he can buy an item if he likes anything from the catalog and even check out other products.
However, keep in mind that you don't overuse the images. Too many images can affect your promotional emails negatively. Email service providers mark emails with too many graphics as spam and your emails may end up in spam folders. This will reduce your conversion rate and put you at a great loss.
We can help!
With EmailWish's ready-to-go email templates, you don't have to worry about subject lines or preview texts. The emails are well-structured and well-written. All you have to do is make minimal changes as per your business needs and you're good to go. Writing emails couldn't be easier!
Conclusion.
Promotional emails are the building blocks of advertisements. They can help you generate new traffic and re-engage the previous one. It is important to understand that these emails are vital to business and marketing and need to be paid more attention to. It is beneficial to invest in a good email automation tool and make your marketing campaigns faster and more effective than ever!