Today, it has become very important for businesses and digital marketers to be good at keyword research. The world of digital marketing is expanding as more and more businesses are pushed online. The competition is fierce and if you don't want your products and services to get lost among many other such products, you need to extremely good at marketing your product. In order to do this, it is important that you know your brand and the right keywords that will help you rank on Google.
What are Keywords?
Keywords are the words that marketers use in the content that they post on their websites. These keywords help in increasing the ranking of their websites on google. Keywords can be defined as the words that people type in Google's search box to find something on the internet. If you successfully find out the keywords in your niche and implement them in your content, you will be able to drive immense traffic to your website and grow organically as a business.
Types of Keywords –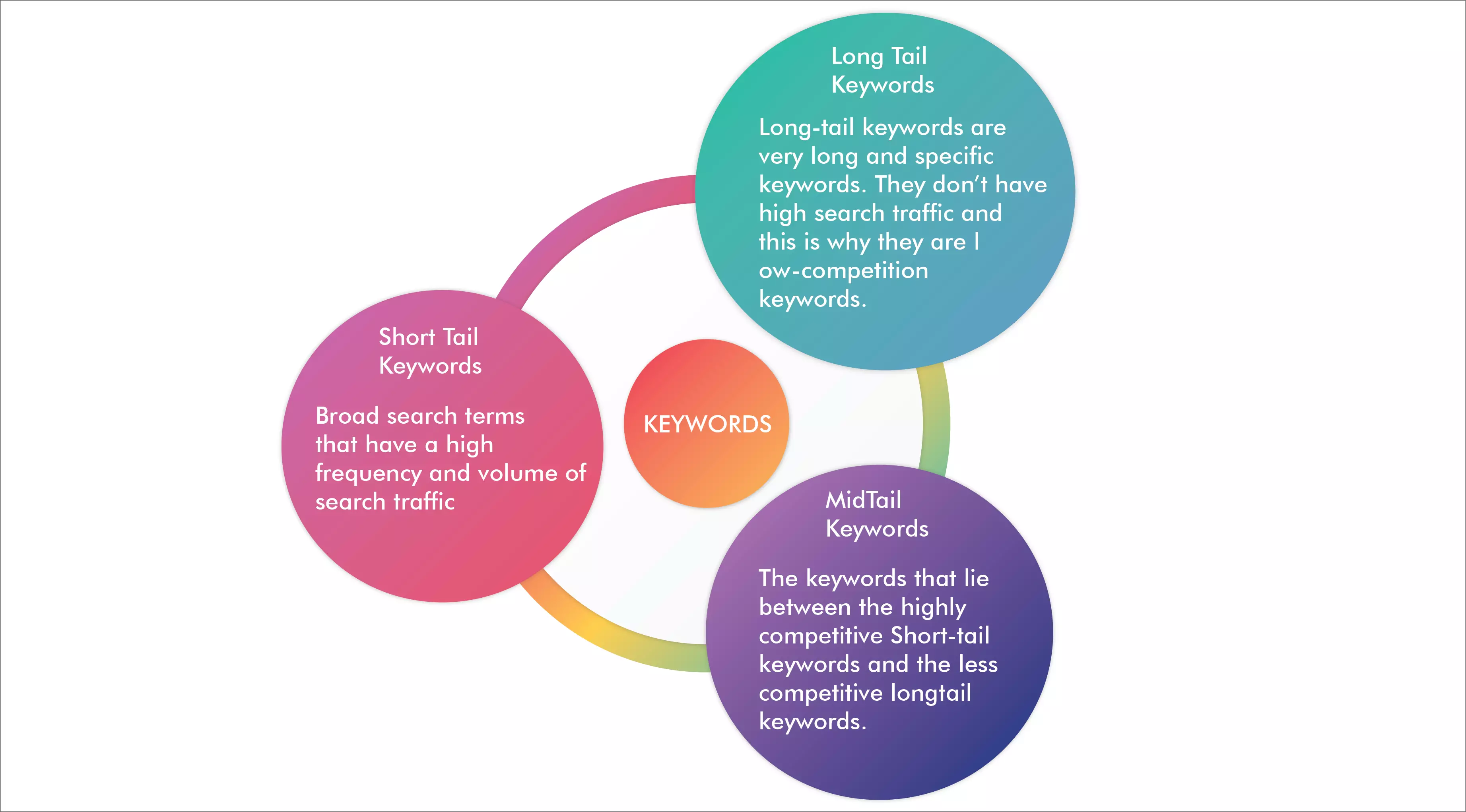 Keywords have been used since the 1900s. In fact, every form of writing includes some keywords around which the whole writing revolves. Since the keywords have been in existence this long, they have evolved and changed meaning over time. They have been divided into different categories depending upon how people use them in their content. There are three main types of keywords. They are categorized according to their length.
1. Short-Tail Keywords –
These keywords are also called Head Keywords. The reason for this is that the whole piece of writing revolves around a single, head keyword. These are usually broad search terms that have a high frequency and volume of search traffic. These are usually very basic words that can belong to a wide number of niches and this is why they are highly competitive These keywords can help you rank only when you have the best content among all the other companies with the same head keyword. For example – The keyword "clothes" can be used by many types of businesses such as online jeans sellers, online western dress sellers, online
kids dress sellers, etc.
2. Mid-Tail Keywords –
Mid-tail keywords, as indicated by their name, are the keywords that lie between the highly competitive Short-tail keywords and the less competitive long0tail keywords. These keywords are a further niched-down version of short-tail keywords. For example – "Western dresses". This keyword will only show the stores selling western dresses in the results.
3. Long-Tail Keywords –
Long-tail keywords are very long and specific keywords. They don't have high search traffic and this is why they are low-competition keywords. They are specified into particular niches and have high conversion rates because these keywords help the user find exactly what they are looking for. For example – "Western dresses for women". The results will directly lead the user to the stores which offer western dresses for women instead of viewing a hundred stores that sell clothes.
How Google judges keywords?

1. Keyword intent and relevance –
Google ranks the websites based on how relevant and helpful their content is to the users who search for a particular keyword. Google continuously measures how people are reacting to your content based on factors like how much time they spend on your website. This is a way in which Google makes sure that only the websites that genuinely help the users solve their problems rank on top.
Therefore create quality content using the right keywords that answer people's questions and directly target a specific problem without beating around the bush. Make sure you're putting relevant content on your website and Google will automatically rank you at the top.
2. Keyword Search Volume –
Another factor that plays a role in your keyword research is how much people actually use that keyword in their searches. The volume of a keyword is measured by the number of times that keyword was searched in a month.
One way of doing this is by using the most common words related to your niche as keywords for your website content.
3. Keyword ROI –
ROI stands for Return On Investment. ROI is defined as the ratio of net income and investment in a business. A high ROI means the business owner is gaining profit from the business.
Google checks how many people visiting a website using a specific keyword are actually converting into leads. Generally, it is observed that long-tail keywords generate more traffic than short-tail keywords. The reason is that they are more specific in their goals and clearer in what they offer as a service.
The steps for effective Keyword research.

The above factors tell us about the factors we need to consider while conducting our keyword research. Now let's dive into the process of searching for good keywords for your website that actually works.
There are mainly three steps involved in searching and creating a keyword list. They are.
Creating a rough, seed list.
Creating a keyword list
Revising and redefining your keyword list.
Let us understand all these steps in detail one by one –
1. Creating a rough, seed list.
You cannot directly create a fine and refined list of all the keywords in your business. This is why it is important a seed list of the keywords. This list will contain all the keywords you can think of related to your business.
Divide these keywords into 4-5 categories. You can categorize them based on their length or what problems you are targeting using a particular keyword.
In order to create a good seed list, you should have complete information about your brand and your product so that you can choose the keywords that highlight the main traits of your business.
Before creating even a rough list of the keywords, you need to know some things that can help you in your research. These factors include knowing what audience you're targeting and what are keywords they are searching currently. Once you know that, you can check if these keywords will work for you by checking your nearest competition in business. Check how those keywords are performing for them and why. This will also give you more clarity on your customers' choices, likes, and dislikes.
If you find it difficult to come up with and categorizing keywords, you can use some keyword research tools for getting started. Some of the best free tools available for searching what people have been asking – Google Search engine, Soovle, etc. These tools give you a head start on your keyword research.
There are also a few tools available that help you find out your these keywords are performing for your competitors. Tools such as Semrush and Talkwalker help you with competitor analysis. These tools give you insights into what content your competitors are creating. Based on the results from this research, you can choose what keywords you want to use in your business.
2. Creating a keyword list.
Once you have a rough list of the keywords, you can narrow down this list to come up with mid-tail and long-tail keywords. These keywords are more specific to your business and have higher conversion rates.
Start entering your keywords into a keyword research tool and check how people have been using them in their research and what are the top results. During your research, keep your keywords categorized based on different products and services. Such as, you can enter trousers and linen trousers at the same time but put "tops" in a different category. This will give you a detailed analysis of how and when to use the long-tail keywords in your content.
Most Keyword research tools allow you to download your keyword list as an excel spreadsheet. This list will contain all the keywords with their search frequency and volume. You can choose the most appropriate keywords for your business from this list.
3. Revising and redefining your keyword list.
It's not necessary that you will come up with a perfect list of keywords in the very first attempt. That's okay. There are millions of keywords that people can search for and this is why it is important to redefine your keyword list and narrow it down to the best interest of your business.
Make sure that your keyword list has a healthy distribution of audience and product keywords. If this isn't the case, try to eliminate some keywords that you feel are not that useful for your business niche.
Also, make sure you use keywords that are more precisely understand the intent of the search. For example – if you are a B2B company dealing with Email marketing, then – "Email Marketing Automation" is a more suitable keyword than "Marketing jobs". The former is a product-based keyword while the latter is an audience-based keyword.
Lastly, check what keywords your competitions are ranking for. A list of keywords downloaded from a keyword research tool, keywords are rated low to high. The higher the value against a keyword, the more the frequency of its search and therefore, the higher the competition. This analysis will help you choose long-tail keywords that are specific to your business niche and increase your chances of ranking on google and getting more conversions.
Paid tools like Moz help you give you a keyword difficulty score for SEO. This way, you'll be able to focus on the keywords that are unique to your business and raise your chances of ranking higher on Google.
Conclusion
Keyword research is important if you want to beat the competition in the digital market. Many businesses fail to survive digitally because they can't rank on Google and people never even get to know they ever existed. Don't let this happen to your business. Invest in good keyword research tools and then leverage marketing tools like EmailWish to create awareness about your brand. Establishing a business online is not easy but that's exactly why we help you on your journey of spreading brand awareness and help you get more clients through effective marketing.