So it doesn't have to be said that if you aren't using email marketing, you are leaving money on the table
. But don't worry, in this article, you'll find multiple email marketing series tailored specifically to convert your store visitors into sales. You website can be running on any platform like shopify, woocommerce, wix etc. Not only that, you will also learn how you can implement these email series within 5 minutes, without even writing or editing a single email !
But before we get started, here is a quick explanation of Email Marketing.
What is Email Marketing ?
In simple words, email marketing is the use of email to promote products or services while developing relationships with potential customers or clients. It is a powerful direct marketing channel. 
Now that it has been made, the next question which naturally arises is how you can use it to your benefit. In the below section we will cover exactly that.
When to use Email Marketing for your ecommerce stores ?
Even if you are just getting started with ecommerce, then you must have a rough idea of what email marketing is. If you are killing it with ecommerce
 then of course, you know how important it is.
However a lot of people don't know when you should actually use it. A lot of people believe it is sending emails to 
random
 prospects they found on a list which they bought from somewhere.
 This form of email marketing is called 

cold emailing

.
I do not advise cold email marketing for ecommerce stores because it doesn't work. It can work for B2B products and services but it rarely works for ecommerce stores. You should not expect any relevant traffic from cold emails. Your primary source of traffic has to be something else, which can be Facebook ads, google ads, seo or anything else. You can expect email marketing to bring in an extra 30% of revenue on top of revenue which you are already doing. In some cases, we even saw an increase of 120%. Even if you are not doing any revenue from your store, it's still very important to implement a good email marketing strategy so when you start doing revenue, you can get the maximum bucks for your money spent on advertising. The extra 30% can be a determining factor if you are profitable or not. 
So if cold emails don't work for ecommerce stores, what kind of email marketing actually works for ecommerce stores? Well the answer is simple, email flows and campaigns. 
In this article we will cover only email flows, and also how you can implement them within 5 minutes without writing any emails. Email flows are also know as email automations. Here is a quick explanation of an email flow.
What is an email flow ? 
An email flow also know an email automation is an automated email that is sent when certain conditions are met. These conditions are known as triggers and they can be based on the subscriber's contact information, behavior, or preferences. An example of a trigger is when a person subscribes to offer/newsletter through a popup. That's when generally ecommerce stores are supposed to send an email with a discount or welcome email. When multiple emails are sent, it is termed as email series.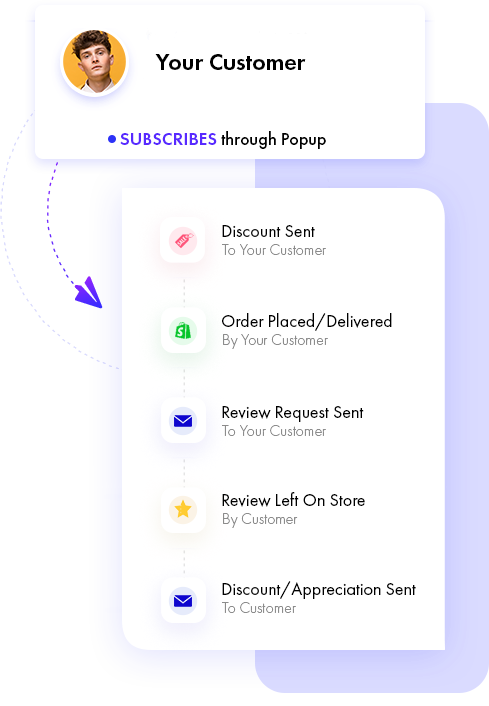 Here are some other examples of when you can implement an email flow to increase your revenue. 
When someone leaves a cart without buying (
Abandoned Cart Flows
)? 
Someone buys a product ? That's a good time to ask them for a review.
(Review Request Series)
Did they leave a positive review ? Upsell them
(After review series).
Did they signup for your newsletter? Welcome them (Welcome email series)
I have been into ecommerce industry for the past decade, both working for myself and working for other clients. In the last 3 years alone, have done about 2 million in sales from my own stores and worked with a lot of clients
(doing about upto USD 10 million per year)
for their email marketing. And each time I faced many issues which not only took weeks to implement but required a lot of reading through the documentation of different apps to integrate them. For e.g
If you want to do review request emails you might need to use loox or stamped.

You will have to separately pay for these apps of course

Want to send something standard like abandoned cart emails ?

Great,

install klaviyo

, mailchimp or some other app. You will start for free but be ready to pay upwards of 1000s of dollars once you start making consistent sales.

Want to implement

'After review series' ?

Good, you just learnt that the review app you installed doesn't have apis to integrate with klaviyo. So uninstall it, setup a new review app and then figure out a way how to integrate their apis together so you can send them.

Want to integrate popups and discount codes?

Use a different

app

like

privy

and design the emails there again.

Want to use chats?

There are many

apps

like

tidio

, intercom etc. Once again, pay for them separately and design the emails again for chat transcripts and follow ups.

Maintaining a consistent brand was not only a nightmare but impossible.

Because all these apps/tools are from different providers, we had to use different email builders. Imagine uploading your logo, brand colors, signatures to 10 different apps if you just want to get started with email marketing. Then you have to play with their settings and design the emails.

Even when everything is consistent, your design ends up looking different

for each of these flows because of a separate builder being used.

A lot of templates

these providers have, are useless. They will almost

always land in spam or promotions tab

. You get tempted with those fancy looking templates but if you start sending them, that's when you will know how useless they are. Why? Because they have a lot of images and html content. And that's why they look fancy. You might ask why would they even provide these templates if they go to spam ? Honestly, I do not blame them. They sell what an average Joe demands. But you have to remember, higher the amount of HTML in your email, higher the chance of it going to spam. So we tried to keep the html and image content low. And of course, there are also many technical factors like Sender's ip reputation, SPF & DKIM signatures etc. 

Imagine spending months designing emails and your customers can't even read them. And you end up again spending months trying to figure out why.

Then comes the price.

All these prices add up and even though many of them have free plans, once you start getting even a few orders, be ready to pay upwards of $500. These apps lure you in with their free plans and once you start getting a few orders you end up paying a lot. In almost all cases we saw Klaviyo alone costing us upwards of $1000. On some stores our clients paid over $3000. Once you actually start growing, that's when you realize how much money these apps actually cost. It feels outrageous paying that amount but it's too late to do anything because setting these flows up takes a lot of time and you usually don't have the energy to implement them again.
We ended up being so frustrated that we started using our own inhouse tools to get these things done.
Anyways, on to the next step
Here are the top  email series and flows which we implemented regularly and saw most of the revenue coming from.
1. Review Request Series:
(Total Emails: 3)
2. After Review Series And Upsell:
(Total Emails: 5)
3. Cart Abandonment Email:
(Total Emails: 3)
4. Welcome Email Series:
(Total Emails: 2 Sent After someone is added to the list Newsletter.)
5. Ordered Placed Thank you Email:
(Total Email: 1)
6. Order Fulfilled Thank You Email:
(Total Email: 1)
7. Popup Series:
(Total Emails: 3)
8. Chat Transcripts:
(Total Email: 1)
I am sharing here the email templates (with minor changes) which I personally use. You can start using them and expect your revenue to go up by 30% minimum.
Review Request Series: (Total Email: 3)